Teaching English, making a difference and instilling the love of learning in Costa Rica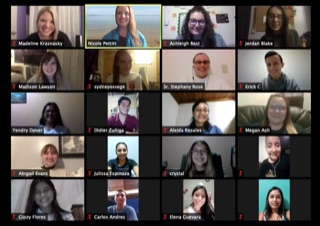 College students are always looking for ways to make themselves more marketable when they enter the increasingly competitive job market after graduation.

That's one of the reasons Madeline Krasnasky, a senior Education major at Youngstown State University, decided to pursue TESOL - Teaching English to Speakers of Other Languages.

"At first, it was just an additional endorsement to my education degree," said Krasnasky, who plans to graduate from YSU in May 2021. "But as I have continued to grow as an aspiring educator, I realize it is much, much more."

Krasnasky is part of a group of nine YSU students Participating in an optional virtual TESOL program this Fall in Partnership with the Universidad Nacional de Costa Rica (UNA). The YSU students are meeting weekly via Zoom with UNA students and with students at a Costa Rican high school next to the university, helping them learn English.

"This allows our students to gain additional practice teaching English as a new language, to learn more about life and the education system in Costa Rica, and to meet several of the TESOL teacher standards related to intercultural communication," said Nicole Pettitt, YSU assistant professor in the Department of English and World Languages' Linguistics and TESOL program who was a visiting scholar at UNA in 2018.  

"We hope that the students and teachers at UNA will learn more English, and more about life in Northeast Ohio."

Pettitt works with YSU Education students seeking K-12 TESOL licenses, increasingly in demand across the region and the nation. In the Spring, the students' TESOL field work in local schools was cut short due to COVID-19. "So, this semester, I wanted to give them a chance to gain additional practice," she said.

Krasnasky said working with the Costa Rican students has been a great experience and has only fortified her desire to pursue a career in TESOL.

"My teaching philosophy has always been that every student has the ability to learn: we as educators just need to find the right tools and strategies to teach them, and this includes emergent bilingual students who are learning English as a new language," she said.   "I want to change the lives of so many future students that some other educators may leave out. I want to be the person that makes a difference in each child's educational career and be the reason why they love learning, just as much as I do."

YSU offers an undergraduate 18-credit TESOL licensure endorsement for K-12 teachers in Ohio. For those who desire to teach English overseas or in higher education, YSU also offers an undergraduate Linguistics Minor or a 12-credit graduate certificate in TESOL. For more information, call 330-941-3414.