Student says "the sky is the limit" after winning Golden Addy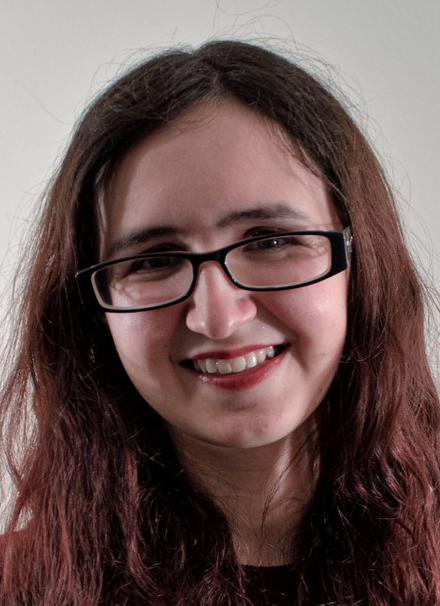 Youngstown State University student Taylor Valerio earned a Golden Addy award at the American Advertising Federation Pittsburgh Addy Awards earlier this spring.
Valerio is a senior Graphic + Interactive Design major from Campbell and also a member of the YSU Honors College. She was the only student featured during the awards ceremony.
"I am truly honored that my work is successful and publicly recognized. I couldn't have done it without the aid and guidance of faculty member Rich Helfrich, assistant professor of Graphic + Interactive Design," Valerio said. "With his support, I truly feel like the sky is the limit."
The American Advertising Awards is the advertising industry's largest and most representative competition, attracting more than 40,000 entries every year in local AAF Club competitions.
"We are very proud of Taylor's accomplishments," said Joy Christiansen Erb, chair of the Department of Art. "Her success is a testament to the strength of the Graphic + Interactive Design program and is reflective of the dedication of our faculty teaching in that area. It is exciting to see one of our undergraduate students making a mark on the world before her graduation."
Valerio winning entry was an assignment from the Publication Design course at YSU, which directed students to create an engaging and informative piece that showed the artistic creative process.
The Golden Addy is the second recognition for Valerio from AAF Pittsburgh. Last fall, she was a member of winning team in a competition called, thePitch, a one-day event focused on advertising and associated disciplines. Students from 11 colleges and universities comprising seven teams received hands-on experience by working at one of Pittsburgh's advertising agencies on a real-world project for a local non-profit organization.
Valerio's team, hosted by the advertising agency Chemistry, won the competition and was also recognized at the Pittsburgh Addy Awards ceremony. Students on the winning team represented YSU, the University of Pittsburgh, Chatham University, Point Park University and Duquesne University.
Other YSU students who participated in thePitch and their host advertising agencies are Carly M. Redmond, Garrison Hughes; Jayde E. Faustino, Brunner; Ryan T. Lantz, Tonic; Andrea J. Minotti, Gatesman; Brooke M. Lissy, Marc USA; and Elaine Ngo, Moxie.
More information at 330-727-7514.