Student recognized for campus COVID-19 research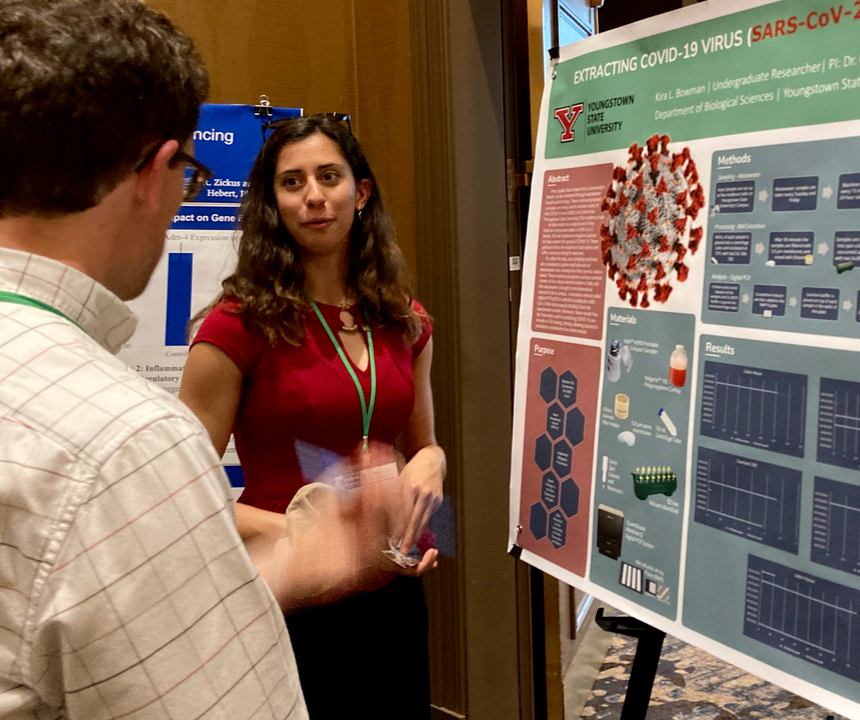 A senior Biochemistry major at Youngstown State University has received national recognition for her research on extracting COVID-19 from human excrement.
Kira Bowman's project, titled "Extracting COVID-19 Virus (SARS-CoV-2) from Excrement," placed second in the Environmental Sciences category at the National Collegiate Honors Council Conference in Dallas earlier this month.
Bowman's research was selected from among 178 academic posters presented at the conference, which attracts students, faculty and administrators from around the world.
"Kira is a true role model of an undergraduate researcher and a most valuable member of our laboratory family," said Chet Cooper, professor of Biology and Bowman's advisor on the research. "Her work ethic is impeccable and her enthusiasm for research is infectious."
The research is an outgrowth of a program funded by the Ohio Department of Health and the Centers for Disease Control to detect COVID-19 virus in the wastewater of five residence halls at YSU. Samples are taken twice a week, and results are used to predict COVID-19 cases among students in the residence halls and to allow for mediation procedures in the buildings.
The award continues YSU's winning ways at the conference. In the past decade, YSU students have received five awards for research, a top award for community engagement and two awards for honors publications.
Bowman, of Vienna, Ohio, and a graduate of Mathews High School, was among nine students in the YSU Sokolov Honors College attended this year's conference, with four presenting in the poster competition and five presenting at a general session.
"NCHC is an inspiring event that allows you to step outside of the box and open your mind to the outstanding things your peers are doing around the nation," said Emily Vo, senior Biology major who also presented at the conference.
Amy Cossentino, dean of the Sokolov Honors College, added: "Our students gain so much from the experience. To be recognized at the national level is a testament to their preparation, as well as the dedication of the faculty mentors who guided their learning."
In addition to her research on COVID-19, Bowman has volunteered more than 500 hours over the last four years to St. Elizabeth Hospital and the Pen Pals Program in the Honors College, as well as leadership for the annual Guinathon fundraiser on campus.