Student earns top prize at national honors conference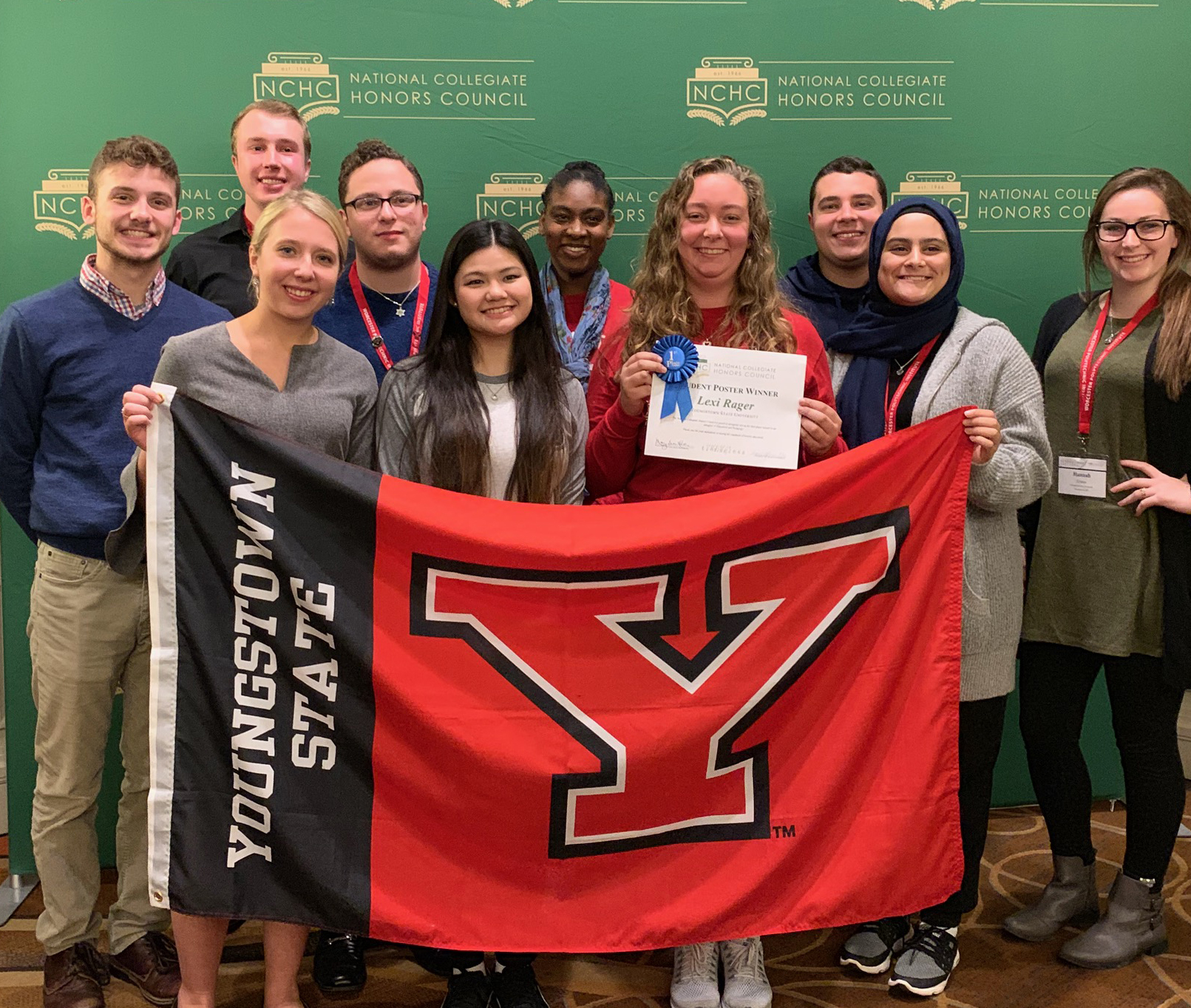 Lexi Rager, senior Mathematics and Psychology major at Youngstown State University, won first place at the National Collegiate Honors Council Conference earlier this month in Boston, besting 300 other students from around the country.
Rager won for her poster depicting her research project titled, "A data driven analysis of counseling services at Youngstown State University," advised by associate professor of Mathematics Alicia Prieto Langarica. Rager's research advisor is Alicia Prieto Langarica, associate professor of Mathematics and Statistics at YSU.
More than 400 students submitted research ideas, and approximately 300 presented their findings at the conference.
Other YSU students presenting were Jordan Zackasee, senior, Chemistry; Hunter Thomas, senior, Early Childhood Education and Early Childhood Intervention Specialist; Gianna DeToro, senior, Early Childhood Education and Early Childhood Intervention Specialist. Students sharing in idea exchange were Rager and Nick Tancabel, senior, Mathematics. Student moderators were Noor Khalayleh, junior, Psychology, and Sarah Elizabeth Oddidika, junior, Biology. And other YSU attendees were David Gessler, sophomore, Chemical Engineering; Alanis Chew, junior, Business, Economics and Mathematics; and Hannah Crites, senior, Exercise Science and Psychology.
The NCHC conference brings together students, faculty and administrators from across the world to collaborate and inspire new ideas and energy into honors education. YSU students have been attending the conference since 2008. In the past decade, YSU students have received three top awards. Ten YSU students attended this year with four presenting in the poster competition, two sharing best practices in the idea exchange and two moderating sessions.
Students attending NCHC described the experience as eye opening.
"Walking around other poster sessions, I enjoyed getting to see what else could be presented. Our discipline doesn't typically give us opportunities to research and present, but NCHC opened that door," said Hunter Thomas, a senior majoring in Early Childhood Education and Early Childhood Intervention Specialist.