Ribbon cut on Excellence Training Center at YSU

The Mahoning Valley Innovation Commercialization Consortium and other federal, state and local political and education leaders today cut the ribbon on the new $12 million, 54,000-square-foot Excellence Training Center on the campus of Youngstown State University.
The Center, funded via $7 million in state capital dollars and $5 million from the U.S. Economic Development Administration and the Appalachian Regional Commission, is the centerpiece of the Mahoning Valley region's continued efforts to create a workforce development ecosystem to ensure skilled workers are available to meet the region's growing advanced manufacturing needs, from automation, robotics and industrial maintenance to 3-D additive manufacturing.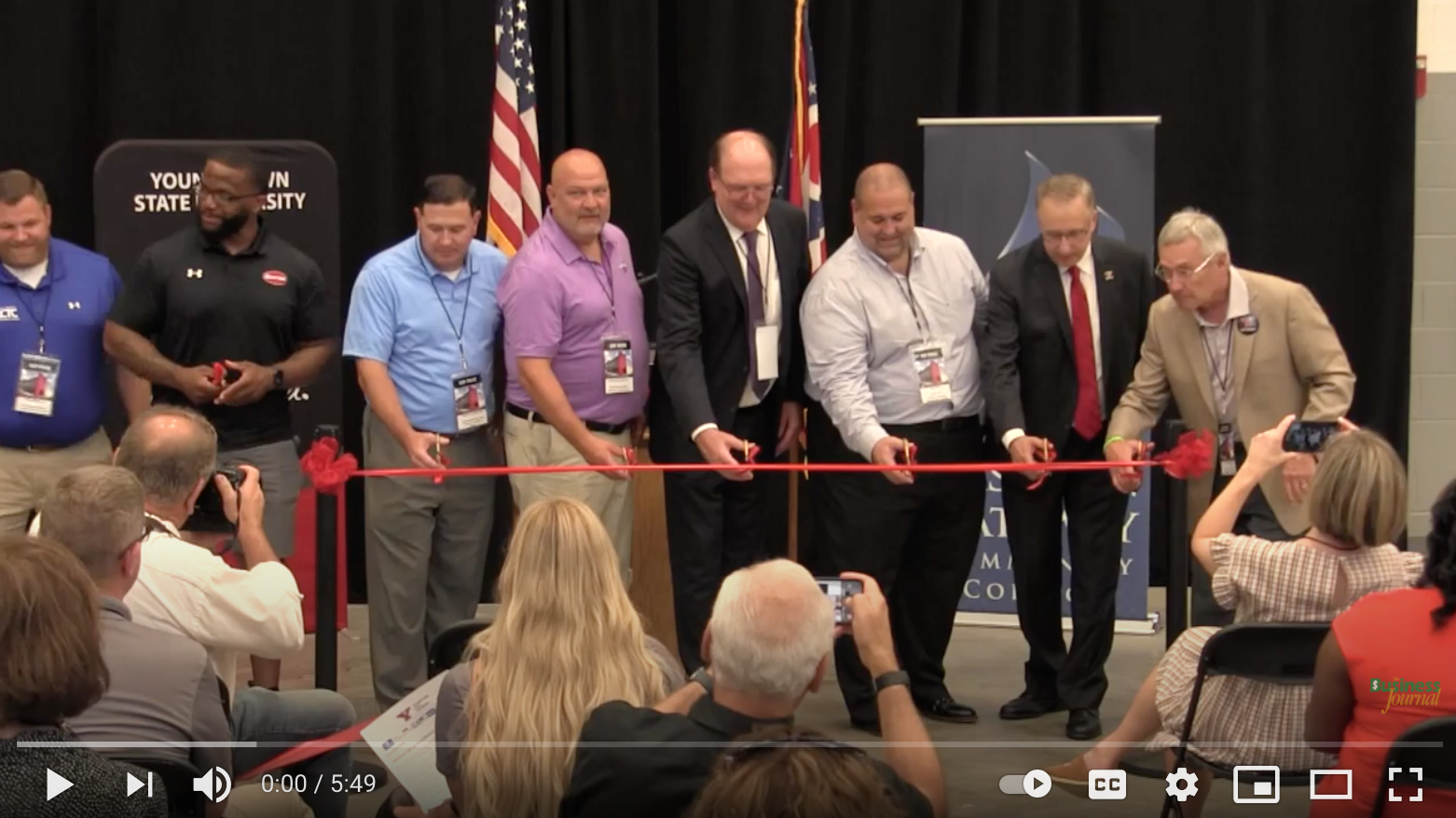 "A project of this magnitude does not happen without the support and commitment of literally dozens of people across a wide spectrum of government, industry and education leaders," YSU President Jim Tressel said. "Our particular thanks to former Gov. John Kasich and former Ohio Budget Director Tim Keen for believing in our dream five years ago. We thank our Ohio General Assembly, Gov. Mike DeWine and Chancellor Randy Gardner, as well as our local state and federal legislators, and, of course, our many industry partners and educational colleagues, for their dedication to this project.
"Our collective vision to create a place where we can research, teach, train and prepare the workers of the future culminates in today's opening of this wonderful facility."
The ETC is a partnership of YSU with Eastern Gateway Community College, America Makes, the Youngstown Business Incubator, the Mahoning, Trumbull and Columbiana County Career and Technical Centers and the Youngstown City Schools.
"The Excellence Training Center demonstrates how the Mahoning Valley will continue to address its economic challenges – by creating partnerships with common missions to ensure we move forward together," said Eastern Gateway President Michael Geoghegan. "The Center will ensure that the regional workforce is ready to be competitive in America's 21st Century economy."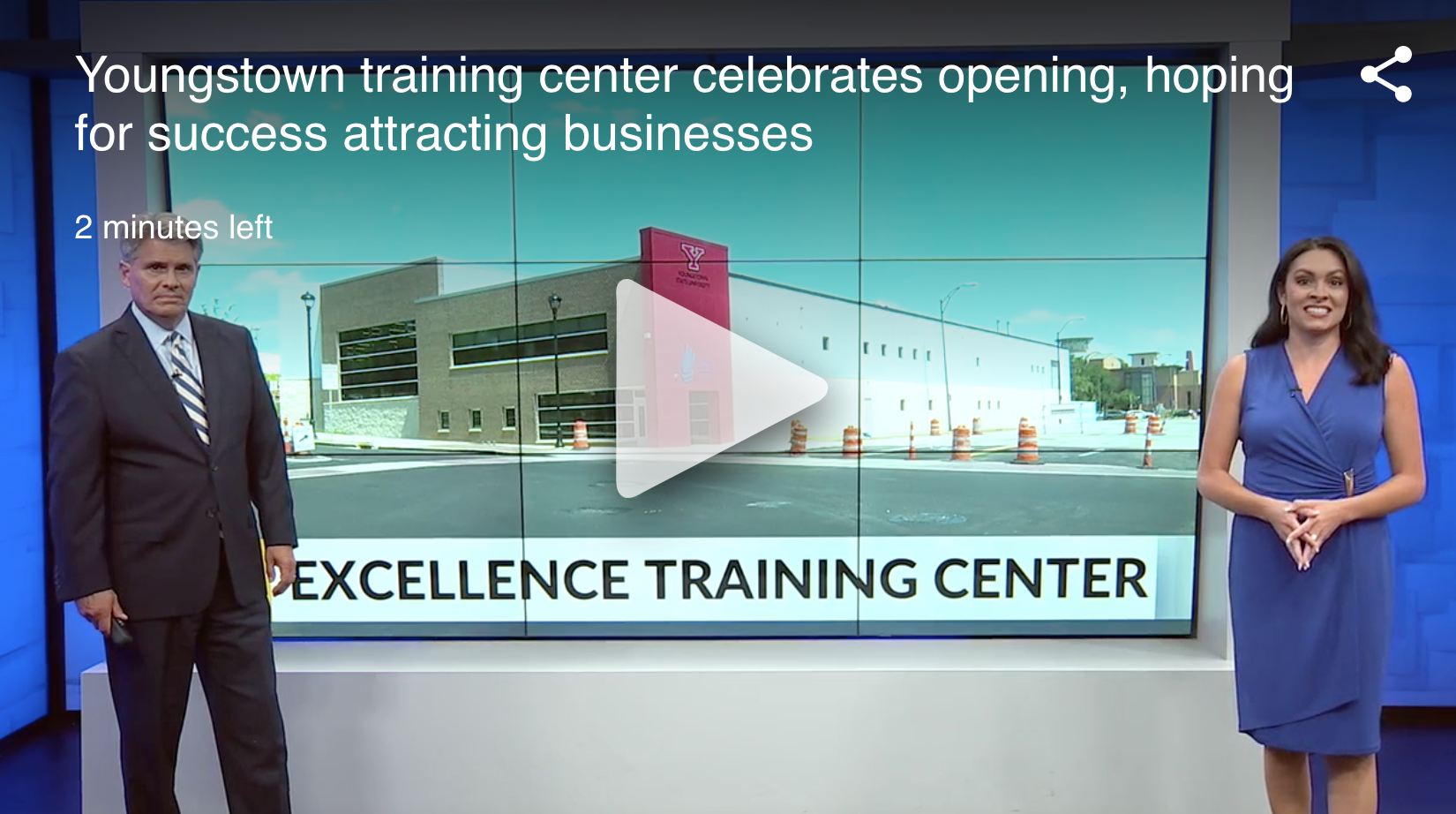 The two-story center includes space for additive manufacturing research and design, automation and robotics training, CNC machining classes (in conjunction with Eastern Gateway Community College), metrology and CT scanning, industrial maintenance training, and a "Foundry of the Future" that includes advanced mold-making technology. The Center also includes office suites that will rented by industry partners.
"We have designed the Center to be a teaching factory, filled with outstanding, cutting edge technology, as well as classroom, lecture, lab and research spaces, where students will learn on real world, advanced machines that they won't be able to get anywhere else," said David Sipusic, YSU associate general counsel for Research and executive director of the ETC.
"On top of that, our industry partners will be right here alongside the students and workers. Those connections are invaluable. Opportunities will be available for K-12 students, Eastern Gateway and YSU students, professionals looking to grow and displaced workers, among others."
The ETC is among several initiatives underway at YSU aimed at providing the training, research, innovation and workforce development for the region's future. Others include YSU's new online, on-demand Skills Accelerator, the YSU IT Workforce Accelerator, in partnership with IBM; the YSU Energy Storage and Innovation Training Center to support the battery and electric vehicle manufacturing industry in Northeast Ohio; Virtual Career Fairs to connect the community with in-demand career pathways, training and jobs; and the YSU Division for Workforce Education and Innovation, led by Executive Director Jennifer Oddo, formerly with IBM, that oversee all of the university's workforce initiatives, focusing on workforce innovation, education, research and commercialization.
"If we are going to fulfill our vision and reach our goal of being a center of high-tech, advanced manufacturing, we must have a workforce trained and ready to fill positions that emerging manufacturing companies need now and into the future," Oddo said. "That is what the ETC and YSU's continuing efforts in workforce education and innovation are all about."