Prof earns international honor from Beta Gamma Sigma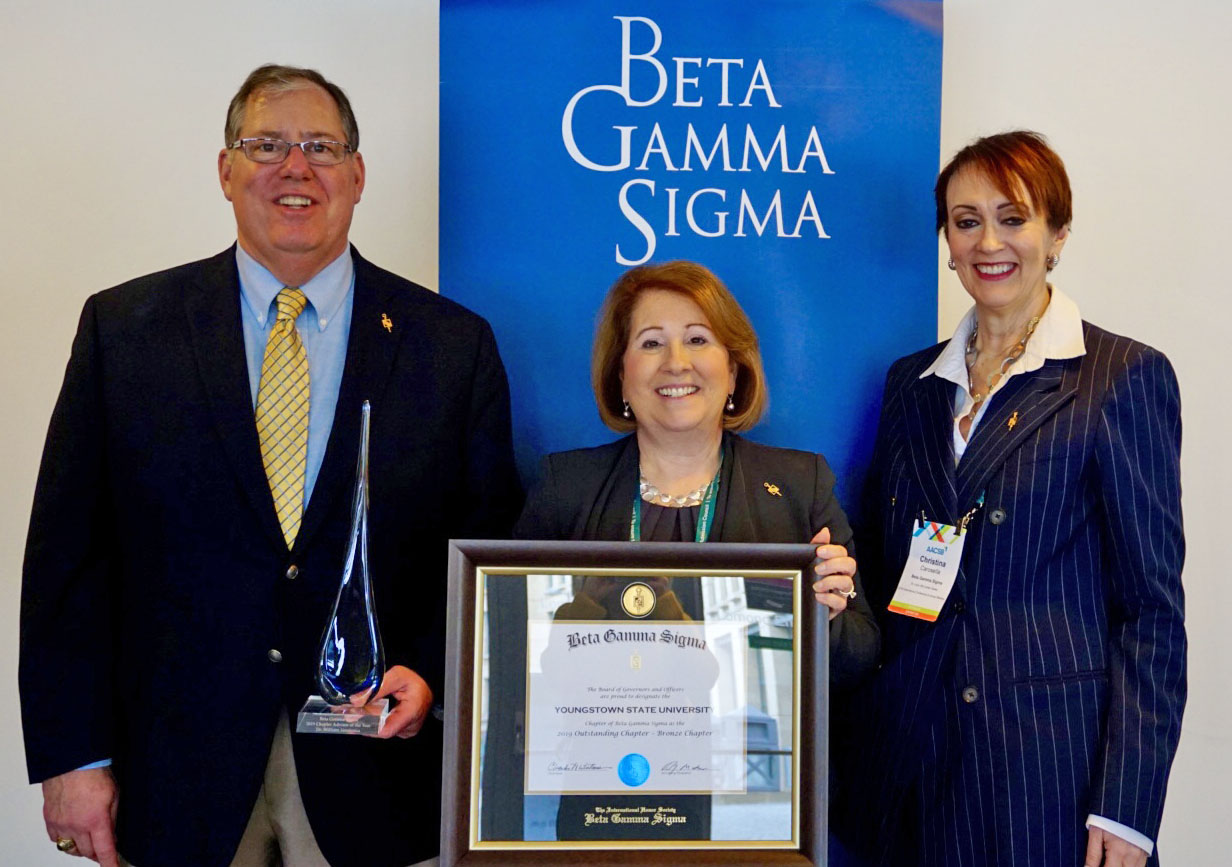 William Vendemia, professor of Management in the Williamson College of Business Administration at Youngstown State University, has been named Chapter Advisor of the Year by Beta Gamma Sigma, the world's premier business honor society.
The international award, presented earlier this month at the annual BGS Dean's Luncheon in Edinburgh, Scotland, recognizes outstanding advisors who make great contributions to the success of their chapters and support BGS' mission throughout the academic year.
"We are very proud of Dr. Vendemia's accomplishments and his many contributions to the success of our Beta Gamma Sigma chapter," said Betty Jo Licata, dean of the Williamson College of Business Administration. "Our students benefit from his commitment to their academic success and professional development."
Meanwhile, the YSU chapter of Beta Gamma Sigma has been recognized as the winner of the International Beta Gamma Sigma 2019 Bronze Outstanding Chapter Award. The award includes a plaque and a $750 BGS scholarship for the chapter to award to an outstanding student.
Student officers of the YSU chapter of BGS are President Morgan Sanner and vice presidents Emily Huggins, Dylan Anders, and Evan Landgraff.
Vendemia earned his bachelor's degree in accounting from Ohio State University and went on to earn an MBA and Ph.D. in operations research from Kent State University. He's been a professor at YSU for 37 years, teaching a variety of courses at both the graduate and undergraduate levels.
In cooperation with student officers, Vendemia develops new programs and events for the YSU chapter, like the business case competition and a variety of activities with Junior Achievement and Youngstown's Youth Leadership Mahoning Valley. Throughout the year, Vendemia represents BGS at a variety of YSU events, including freshman orientation, Dean's List receptions, and the Celebration of Student Engagement—where he introduces new BGS members and recognizes students who attend the Global Leadership Summit, along with those who win YSU's own case competition.
The mission of the International Honor Society Beta Gamma Sigma is to encourage and honor academic achievement in the study of business, to cultivate and celebrate leadership and professional excellence, to advance the values of the Society, and to serve its lifelong members. Only AACSB accredited business schools can host a chapter of Beta Gamma Sigma and only 10 percent of undergraduate business majors and 20 percent of graduate students are invited to join.
There are 590 chapters of Beta Gamma Sigma around the world. Beta Gamma Sigma is the premier business honor society at AACSB accredited business schools.