Prof earns Governor's Award for "City of You"
RJ Thompson, assistant professor of Graphic & Interactive Design, will receive the Ohio Governor's Award in the Arts for Community Development for the "City of You" project later this spring.
The award is given to individuals or organizations that work to create or strengthen interactive arts participation among diverse community members while increasing public awareness about the role of the arts in community life. Thompson was selected from a pool of 65 applicants.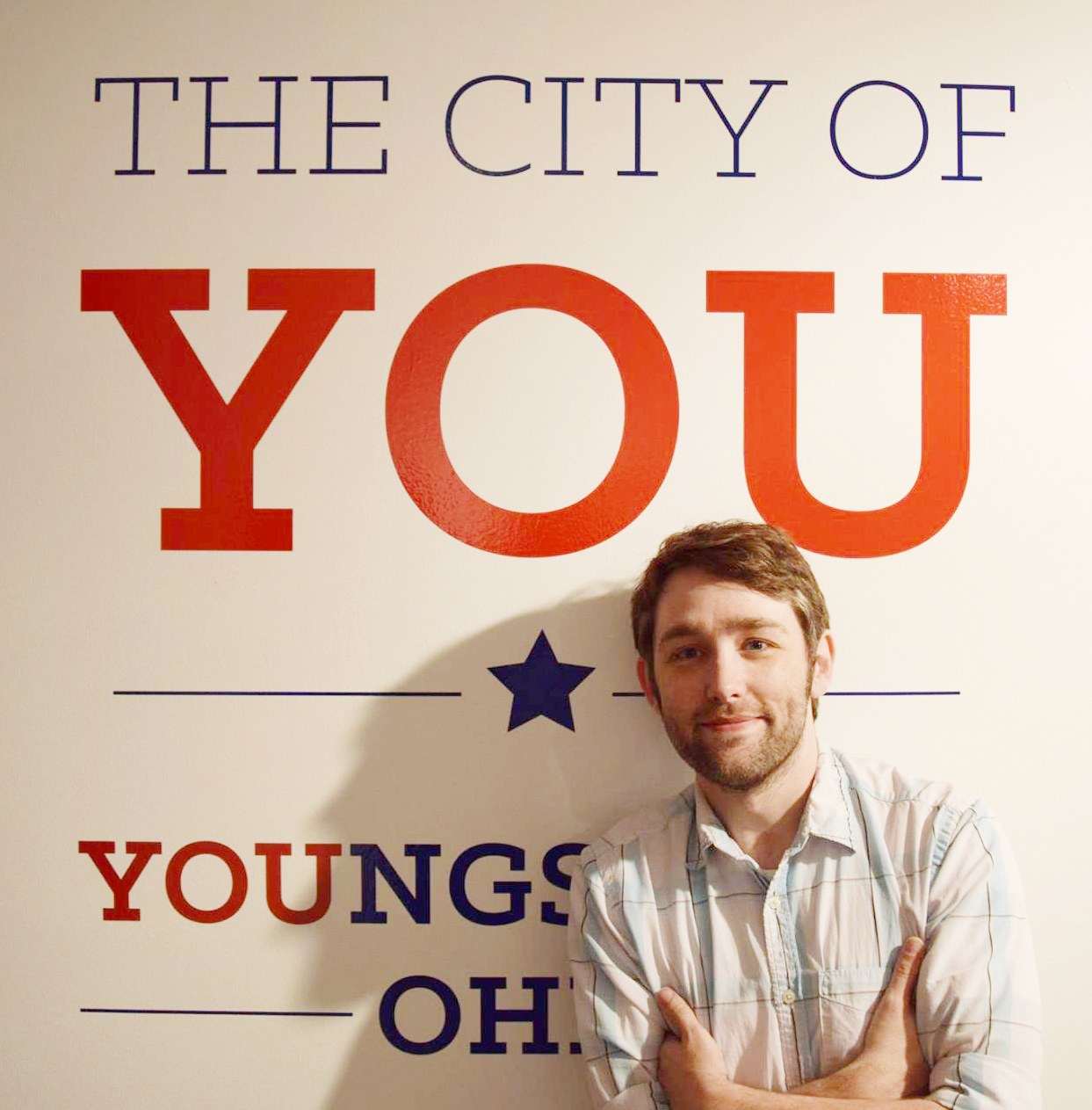 The City of You is a marketing and advertising platform for the city of Youngstown that supports local culture, events and programs. The campaign uses residents' stories in the form of nearly 200 podcasts to change negative perceptions of the city.
Several members of the community submitted letters of nomination for the award on Thompson's behalf. SOAP Gallery owner Bill O'Rly wrote, "I have spent the past 15 years advocating for and creating art in Mahoning County, specifically in Youngstown, and in that time, I can only think of a small handful of individuals who have shown the level of care, dedication, and effort towards advancing arts and culture in my city as much as RJ Thompson."
The City of You campaign has been recognized by the Ohio Economic Development Association with the Best of Marketing Award in 2017. Thompson has served as primary investigator, financial manager, and author of the campaign since its inception in 2016. Thompson is currently part of the National Arts Marketing Project and was just announced as a 2019 fall YSU research professorship recipient for a project called "Catalytic Communications and Connectivity Project for Communities-In-Revival."
Thompson joined the YSU faculty in 2012. In that time, he has been awarded nearly a dozen grants, including $175,000 in support from the National Endowment for the Arts for the Our Town project in 2016. That funded INPLACE, the Innovative Plan for Leveraging Arts through Community Engagement. Five projects were chosen to improve wayfinding, parking, lighting, technology and green infrastructure through art.
Prior to coming to YSU, Thompson taught at LaRoche College, Carnegie Mellon University and Edinboro University of Pennsylvania. Thompson holds three degrees in Graphic Design—a master of Fine Arts from Savannah College of Art and Design in Georgia, a bachelor's degree from California University of Pennsylvania and an associate's degree from the International Academy of Design and Technology in Pittsburgh.
The Governor's Awards for the Arts in Ohio is a statewide program that showcases and celebrates Ohio artists, arts organizations, arts patrons and business support of the arts. The program is presented by the Ohio Arts Council and the Ohio Citizens for the Arts Foundation. The award will be presented in May in Columbus. To learn more about the City of You project, visit www.cityofyou.org.