Nursing students cloaked at "white coat" ceremony Jan. 28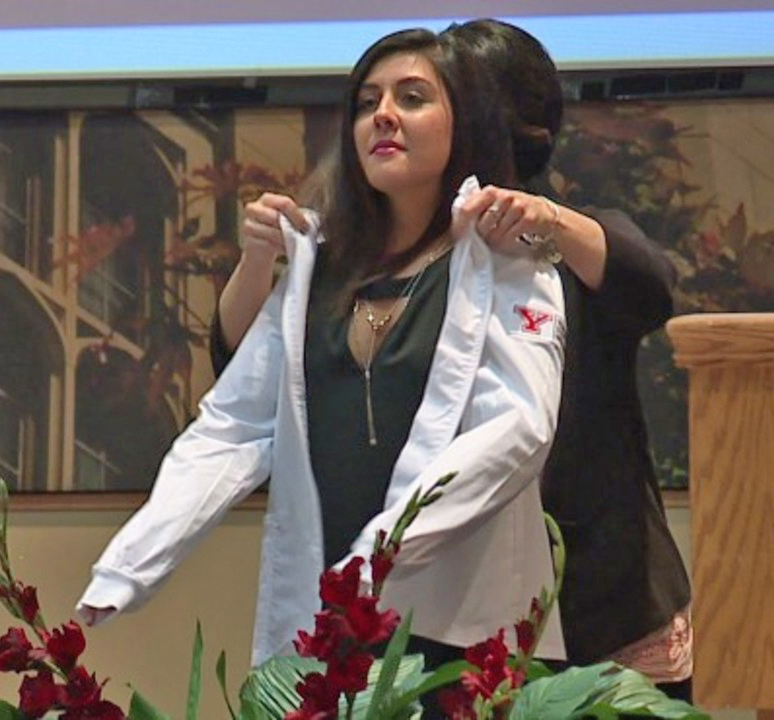 More than 100 sophomore nursing students at Youngstown State University receive their "white coats" during a ceremony 6 p.m. Monday, Jan. 28, in the Chestnut Room of Kilcawley Center on the YSU campus.
The 4th annual ceremony is sponsored by Sweeney Chevrolet, Buick, GMC and the Blackann and Sweeney families.
"The white coat ceremony is a formal welcome into our prestigious and rewarding nursing profession," said Nancy Wagner, chair of YSU's Department of Nursing. "The white coat reminds our students to be kind and compassionate patient advocates. It is a highlight of their YSU education and we appreciate the support of our families, faculty and our generous sponsor."
While white coat ceremonies are typically a ritual at medical schools, the American Association of Colleges of Nursing has started to promote the ceremonies as nursing students transition into their clinical studies. Students will be cloaked by nursing faculty as they take an oath to promote humanism and excellence in their nursing care.
The ceremony signifies the transition to clinical learning as students begin their clinical experiences caring for patients in long term care facilities and in local hospitals, including St. Elizabeth Youngstown Hospital, St. Elizabeth Boardman Hospital, St. Joseph Warren Hospital and Trumbull Memorial Hospital.
Featured speaker at the event is Michael Blank, manager of Ambulatory Services at Mercy Health's St. Joseph Hospital. Also offering greetings will be Wagner, YSU President Jim Tressel, Interim Provost Joseph Mosca, and Tammy King, interim dean of the Bitonte College of Health and Human Services. Laura Calcagni and Lori Fusco are chairing the ceremony faculty committee.