Nursing grads get medallions at drive-through ceremony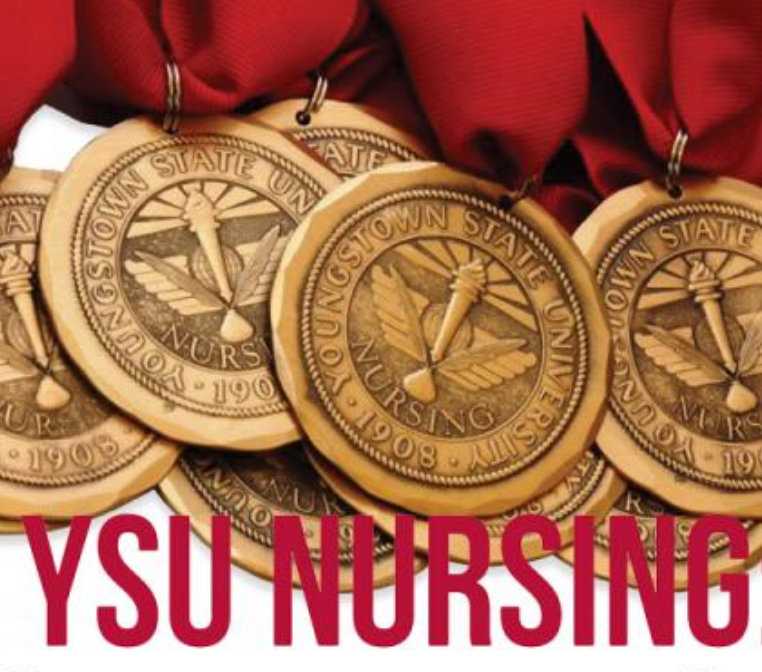 Eighty-nine students earning bachelor's degrees in Nursing from Youngstown State University will receive their Nursing Medallions in a drive-through ceremony 5:30 p.m. Thursday, May 7, in the M-70 parking lot adjacent to Stambaugh Stadium on campus.

Due to the coronavirus pandemic, students (and families) will remain in their cars for the ceremony, which will include greetings by President Jim Tressel, Provost Brien Smith, Tammy King, dean of the Bitonte College of Health and Human Services, and Nancy Wagner, Nursing department chair.

The students, who officially graduate at the virtual Spring Commencement this Saturday, will also have the opportunity to take pictures at a YSU backdrop station. All Nursing faculty and staff will attend to cheer on the graduates.

Since 2009, the YSU Nursing Medallion ceremony has been held on campus where the students receive a unique nursing bronze medallion created by Wendell August Forge in Pennsylvania. The medallion, held on a thick red grosgrain ribbon, is proudly worn by all graduates annually at commencement. The ceremony is similar to the historical nursing pinning ceremony, a symbolic welcoming of newly graduated nurses into the profession. It is held during National Nurses Week and commemorates the birthday of Florence Nightingale, the founder of modern-day nursing.
This year's ceremony was organized by the department's Honors and Awards committee, chaired by Assistant Professor Laura Calcagni.