New exhibit at Steel Museum focuses on pipemaking - past, present, future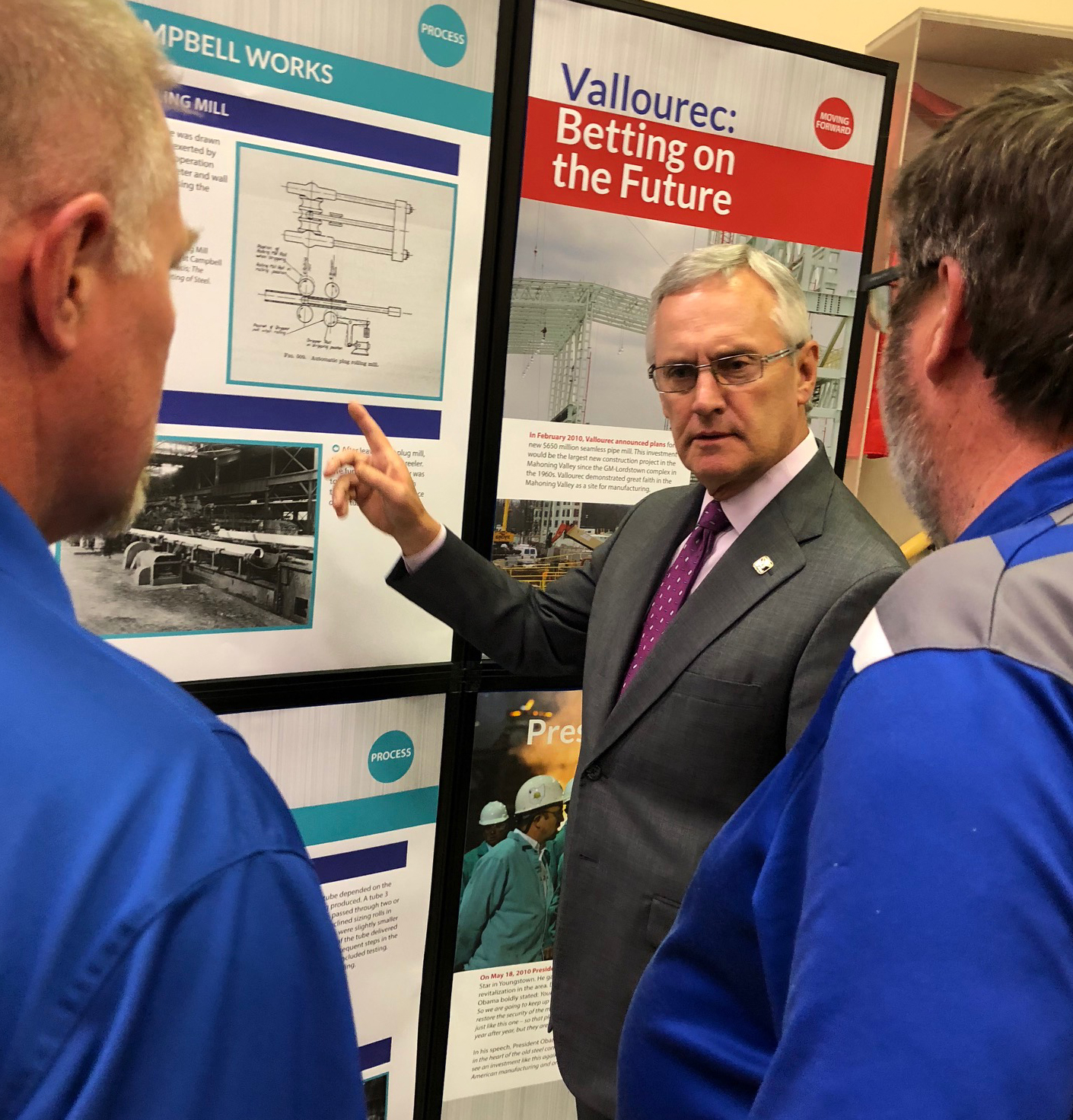 The presidents of Vallourec Star and Youngstown State University were on hand for the official opening of "Seamless Transition," a new exhibit at the Youngstown Historical Center of Industry and Labor that traces the history of pipe making in the Mahoning Valley, from the early 1900's to the construction and 2013 startup of Vallourec's $1 billion nvestment state-of-the-art pipe rolling and finishing mill.
"We are honored to partner with Vallourec Star on this important exhibit that recognizes the substantial legacy of pipe production processes in the economic and cultural history of Youngstown," said Kristine Blair, dean of the YSU College of Liberal Arts and Social Sciences.  "We are equally proud of the YHCIL's role in connecting the campus to the community in celebrating the Mahoning Valley's industrial traditions and the significant impact of manufacturing technologies not only in our past, but in our present and future."
The exhibit, developed by YSU students in a History class taught by Tom Leary, associate professor of History, honors the memory of Atty. Kim Stefanski, who consulted on the planning of the Vallourec project in its early stages. Paula Stefanski, Atty. Stefanski's wife, contributed a number of items to the display.  "Kim spent hours upon hours at the center while researching the land ownership and history for his work on the Vallourec project," she said.  "I'm pleased to share some of his memories."
Judson Wallace, Vallourec Star president, added, "Kim worked tirelessly helping secure the land and navigating the challenges of this project on Vallourec's behalf.  We are happy to recognize his role and that of the women and men who made history with the construction of the mill."
Vallourec, a world leader in premium tubular solutions primarily serving the energy markets, operations two facilities in Youngstown - Vallourec Star and VAM USA - employing about 750 people. The  operations, spread across a campus of more than 400 acres, encompass a steel plant, two pipe rolling and finishing mills and premium threading, in addition to supply and pipe storage and administrative and training offices.