Hispanic Heritage Month events kick off this week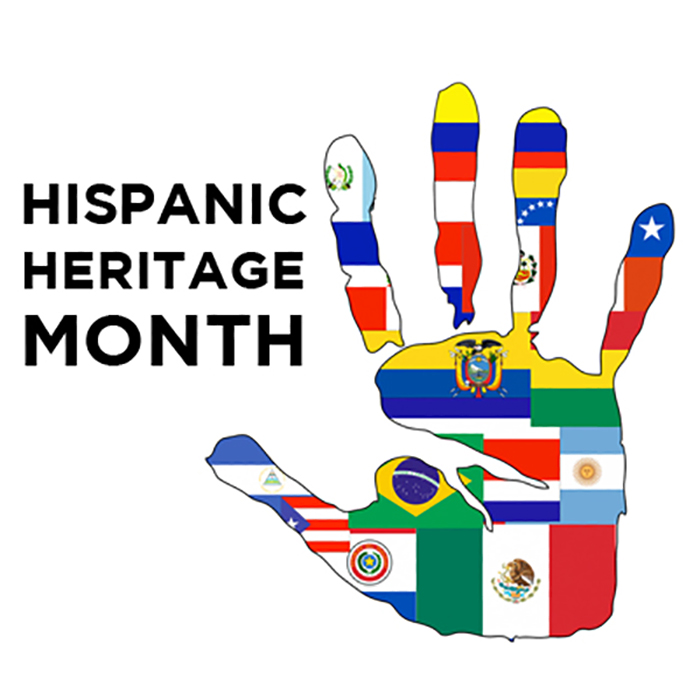 Youngstown State University and the Mahoning Valley region celebrate Hispanic Heritage Month with a variety of events throughout the community Sept. 12 through Nov. 16. The theme for the month is "Celebrating the Hispanic Culture and Its Influence in Our Nation."
Sponsors include the YSU LatinX and Hispanic Student Organization, the Hispanic Heritage Planning Committee, the YSU Office of Student Activities Diversity Programs and the community.
For more information of any of the event, call 330-941-1717 or email amtorres02@ysu.edu. 
Thursday, Sept. 12, 12:15 p.m., opening ceremony, Mahoning County Courthouse rotunda, 120 Market St., Youngstown, with remarks from Victor Cruz, YSU alumni and corporate director of Revenue Management for Sandpiper Hospitality The event features a flag ceremony representing 22 Hispanic countries as well as a musical performance.
Friday, Sept. 13, 3 p.m., Hispanic Heritage Month Colloquium Series, "How Computers Communicate Using Math", Lincoln Building, Rm. 510, on YSU campus, with speaker Hiram Lopez.
Sunday, Sept.15, 2 to 6 p.m., Our Lady of Guadalupe Fundraiser Dinner, fiesta Latina dinner, Casa Ramirez Mexican Restaurant, 1578 Mahoning Ave., Youngstown. Cost is $12. Tickets can be purchased at the door or by calling 330-719-7839.
Tuesday, Sept. 17, 5:30 p.m., NEA Big Read Kick-off Event: An Evening of Immigrant Narratives, First Unitarian Universalist Church, 1105 Elm St., Youngstown. The event centers on the Big Read selection "Into the Beautiful North" and includes a presentation of the Wick Poetry Center's Traveling Stanzas, presentations and narratives from recent Youngstown immigrants, followed by a potluck dinner. Free. The NEA Big Read is an initiative of the National Endowment for the Arts in partnership with Arts Midwest. For more information, 330-744-8636 Ext. 50066.
Friday, Sept. 20, 3 to 5 p.m. International Students Coffee Hour with A Latin Flair, Jones Hall at YSU, Lariccia Family Intercultural Collaboratory, Main Floor
Saturday, Sept. 21, 3:30 p.m., Mesoamerica Celestial Mythology, YSU Ward Beecher Planetarium. The show journeys through the stars and explores the different ways they take shape across cultures and time, focusing on Mesoamerican lore.
Thursday Oct. 3, 4:30 p.m., "Salt of the Earth" movie and panel discussion, Youngstown Historical Center of Industry & Labor, a.k.a. Steel Museum, 151 W. Wood St.
Sunday, Oct. 6, 3 to 5 p.m., 9th Annual Non-Violence Parade & Rally, Youngstown. The parade line-up is at 2:30 p.m. on West Wood Street and Wick Avenue and proceeds downtown to the Covelli Center parking lot for the rally. Registration deadline Sept. 15. Contact Penny Wells at 330-788-0545 or pennywwells@sbcglobal.net.
Monday, Oc. 7, 5:30 to 8 p.m., Cultural Celebration at OCCHA. Tickets $25 for MVHS members and $30 for non-MVHS members. For reservations, call 330-743-2589.
Monday, Oct. 7, 6:30 p.m., NEA Big Read: Hands-On Cooking Demonstration, Casa Ramirez Restaurant, 1578 Mahoning Ave., Youngstown, a hands-on cooking demonstration (and eating) of sopes, a traditional Mexican dish, made of thick corn cake with toppings of your choice. Free.
Thursday, Oct. 10, 5 to 7 p.m., NEA Big Read: "Crossings" art exhibit and opening, YSU Maag Library. YSU students display artwork through Oct. 27.
Saturday, Oct. 12, noon to 3 p.m., Hispanic Heritage Celebration, YSU Kilcawley Center, Chestnut Room. Free and open to the public, featuring music and dance performances, cultural displays, vendors, resource tables, children's activities and light refreshments.
Wednesday, Oct. 16, 7 p.m., Skeggs Lecture Series featuring Martin Sheen, Stambaugh Auditorium, 1000 Fifth Ave., Youngstown. Tickets are free and available on a first-come first-served basis with a limit of four tickets per person. For tickets visit www.stambaughauditorium.com or the Stambaugh Auditorium box office. For more information, call 330-941-2136 or email jmleviseur@ysu.edu.
Thursday, Oct. 17, 5:30 p.m., Breast Cancer Awareness Seminar, OCCHA Community Room, 3660 Shirley Rd., Youngstown. Dr. Consuelo Mendez, Internal Medicine, and Dr. Zoraida Mendez, Oncologist, provide information on cancer awareness and early detection, such as colon, breast, and prostate cancer. Free. Pre-registration requested by calling 330-781-1808.
Friday, Nov. 1, 5 to 1 p.m., OCCHA 47th Annual Fundraiser Gala, Stambaugh Auditorium Ballroom, 1000 Fifth Ave., Youngstown. The Organización Cívica y Cultural Hispana Americana, Inc., a social service agency serving the Hispanic and Multicultural community, is celebrating 47 years of service with an adults-only fundraiser at the Stambaugh Ballroom. Cocktail hour begins at 5 p.m., dinner/program 6 p.m., and entertainment 8 to 11 p.m. Tickets are $50 per person available at www.stambaughauditorium.com or the Stambaugh Auditorium Box Office. For ticket and sponsorship information, call 330-781-1808 or email occha@outlook.com.
Saturday, Nov. 16, 5:30 p.m., Veteran's Appreciation Dinner. OCCHA Social Hall, 3660 Shirley Rd., Youngstown. Tickets are $12 per person and includes dinner and drink. For tickets and information, contact Will Pacheco 330-755-0430 or Hector Colon 330-782-0512.