High schoolers join YSU Wind Ensemble for 105-piece concert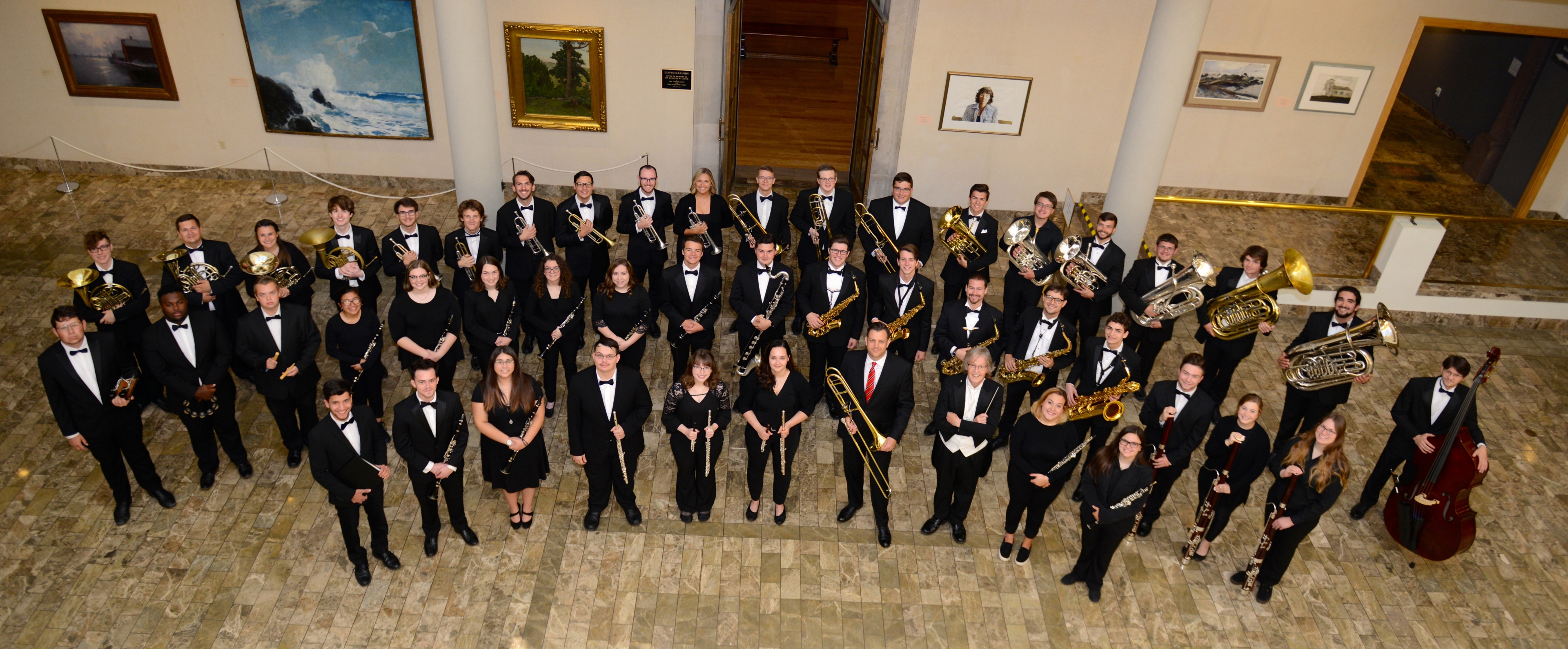 The Youngstown State University Wind Ensemble and the 2019 YSU High School Side-By-Side Honors Wind Ensemble join forces for a combined concert 7:30 p.m. Monday, Oct. 21 in Stambaugh Auditorium, Youngstown.
The combined ensemble will consist of 105 members.
Tickets are $7 for adults, $6 for senior citizens and students from other schools, and free for anyone with a YSU ID.
Twenty-two area high school band programs are represented by students performing alongside the YSU Wind Ensemble during the final portion of the concert.
"This is a fabulous way for high school students to experience all that goes into a college performance," said Stephen Gage, YSU professor of Music. "They will sit right beside our Dana School of Music students on the Stambaugh stage during a rehearsal and performance."
The concert begins with the Wind Ensemble performing Saint-Saens' Marche Militaire Francaise and then Claudie Smith's composition, Festival Variations. Next is a medley of Michael Kaman's 1991 soundtrack from Robin Hood: Prince of Thieves and John Mackey's Asphalt Cocktail, conducted by graduate student, Ryan Dutton. Following intermission, 54 high school instrumentalists join the YSU Wind Ensemble. The combined 105-piece band performs Variations on a Korean Folk Song featuring soloist, Misook Yun, soprano, singing the "Arirang" lullaby. That is followed by Julie Giroux's One Life Beautiful and then Stars and Stripes Forever!
High School band programs represented in the honors wind ensemble and their directors:
Ashtabula-Edgewood – Connie Sommers
Austintown-Fitch – Wesley O'Connor
Blackhawk (Pa.) – Eric Baker
Boardman – Thomas Ruggieri, Tim Tuite, & Mike Shevock
Canfield – Michael Kelly & Jim Volenik
Canon McMillan (Pa.) – Eric Shrader
Crestview – Eric Bable & Brady Amerson
East Liverpool – Alaina Cornfield
Grove City (Pa.) – John Habarka
Howland – Greg Rezabek, Sarah Penney, & Shawn Reynolds
Hubbard – Daniel Nestich & Andrea Lewis
Lakeview – Nathan Sensabaugh
Laurel (Pa.) – Brian Croach
Lincoln Performing Arts (Pa.) – Todd Goodman
Mineral Ridge – Justin Brown
Mohawk (Pa.) – Jason Zeh
North Hills (Pa.) – Len Lavelle & Lucas Beaver
Shaler Area (Pa.) – Milan George Tepsich
South Range – Jeff Decesare & John Veneskey
Trinity (Pa.) – Daniel Hilty
United Local – Nome Baker
Wilmington Area (Pa.) – Jonathan Nickel