Hey Alexa, YSU graduate's paper on Echo Dot wins statewide award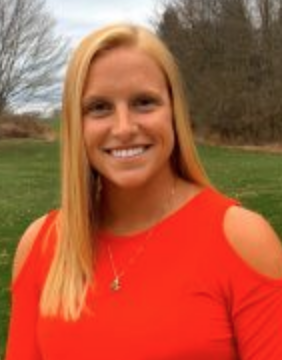 Adaline Cook of Vandergrift, Pa., a Gerontology major at Youngstown State University, won the Ohio Association of Gerontology and Education Outstanding Undergraduate Paper in Gerontology Award.
Cook graduates summa cum laude from YSU on Saturday, May 9, with a Bachelor of Arts degree from the College of Liberal Arts and Social Sciences.
"We congratulate you on this tremendous honor," said Amy Roberts, chair of the OAGE Awards Committee and a professor of Social Work at Miami (Ohio) University.
Cook's paper, titled "Promoting Healthy Aging using the Amazon Echo Dot," is based on her Gerontology Capstone project, directed by Tiffany Hughes, YSU associate professor of Gerontology.
She is the third YSU student to win the OAGE's paper award.
OAGE's website includes this explanation of Cook's paper: "Maintaining the health and well-being of the growing older adult population is a public health priority. Technology is rapidly changing for all age groups and has the potential to improve health behaviors among older adults. Through various types of technology, older adults have the potential to improve their health by doing cognitive exercises, physical exercises, and relaxation techniques. By using technology, older adults are able to have access to various applications or skills that can support healthy behavior. This paper explains the importance of these behaviors and shows how voice-activated technology, like the Amazon Echo Dot, has the ability to promote healthy aging in older adults."
Cook was to receive the award at OAGE's annual conference in April, which has been cancelled due to the coronavirus outbreak. OAGE is the premier aging related association for scholars, students and policy makers in Ohio. Members come from public and private higher learning institutions, Area Agencies on Aging, aging related employers and state government. Adaline is the third student paper award winner from Youngstown State University in the 45 years of OAGE.