Four Business students named Beeghly Fellows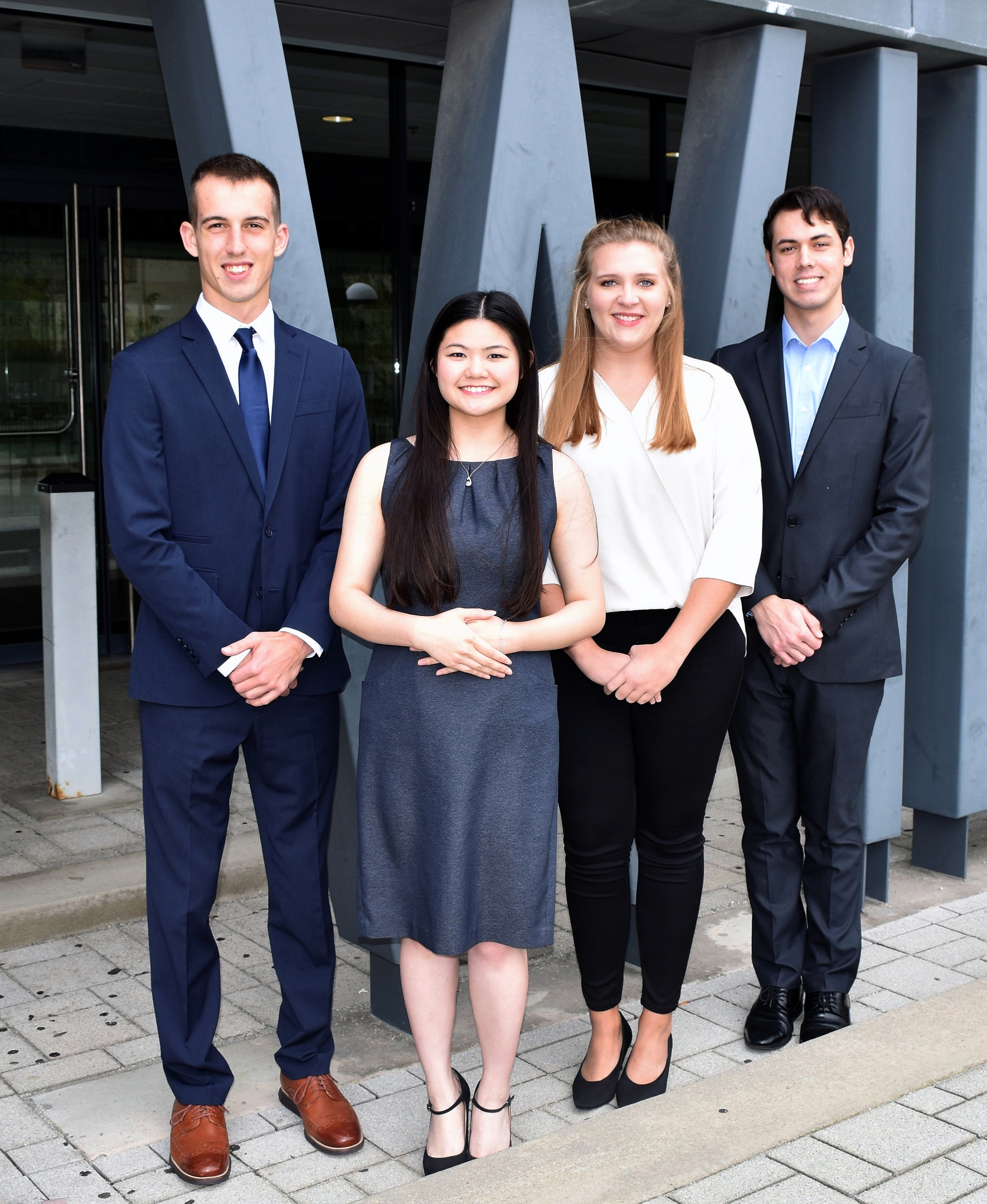 Youngstown State University students Jenna Binsley, Alanis Chew, Richard Fisher and Ryan Sheffield, have been selected as the John D. Beeghly Fellows in the YSU Williamson College of Business Administration for the 2019 Fall Semester.
The program, made possible by an endowment established at the YSU Foundation by Beeghly's wife and children, provides students with a paid fellowship working with the Ohio Small Business Development Center at YSU. Projects include marketing research, preparation of financial statements, export readiness studies, country research, business plan development, cash flow analysis, and sales forecast.
"We are extremely grateful to the John D. Beeghly Family for making this generous investment in our business students," said Betty Jo Licata, WCBA dean. "Providing our students with career-related experience contributes to the success of our regional businesses and the professional preparation of our students."
John David Beeghly was a lifelong resident and businessman in Youngstown, and son of area industrialist and philanthropist, Leon A. Beeghly. From 1967 until his death, Beeghly served as vice president and director of Standard Slag Co. and Stancorp, Inc., a holding company for industrial businesses.
This semester's Beeghly Fellows are:
Jenna Binsley of New Springfield is a junior Marketing major with minors in Advertising and Public Relations and Nonprofit Leadership. In addition to her work as a Beeghly Fellow at the Small Business Development Center, she is student assistant in YSU's Dental Hygiene Department. Binsley is a member the Honors College, Phi Kappa Phi Honor Society, Student Nonprofit Leadership Organization and is vice president of the campus Habitat for Humanity Chapter. This is Binsley's first semester working at the SBDC, where she conducts market research for local businesses and assists with the center's website content development. Upon graduation in May 2021, she plans to pursue a career in marketing within the nonprofit sector and apply to YSU's MBA program.
Alanis Chew of Youngstown is a senior Business Economics and Mathematics double major. IN addition to working as a Beeghly Fellow at the Small Business Development Center, she is a peer assistant for the YSU Honors College. Chew is president of Beta Gamma Sigma, the Association for Women in Mathematics, and the Amateur Radio Club. Over the summer, she participated in the X-Culture Global Symposium, where she travelled to Calgary, Can., and worked in an international team to help solve a business problem. Upon graduation, Chew will pursue a career in business analytics.
Richard Fisher of Boardman is a junior Finance major at YSU. In his second semester working at the SBDC, Fisher conducts in depth analyses for local businesses, as well as assisting clients with government procurement. After graduating, he plans to receive a joint MBA, JD degree to pursue a career in either Law or Finance.
Ryan Sheffield of Youngstown is a junior majoring in Management with a focus in Operations Management, also minoring in International Business. This past summer, Sheffield completed the Ohio Export Internship Program where he worked as an export/import and supply chain intern for Haltec Corp. He is president of the Student Information and Supply Chain Association in WCBA and also is the NASBITE Ambassador for YSU. In September, Ryan passed the NASBITE CGBP exam and is now a Certified Global Business Professional. Upon graduation in May 2021, he plans to pursue an operations management career on a global level.