FBI recognizes YSU for help in criminal investigations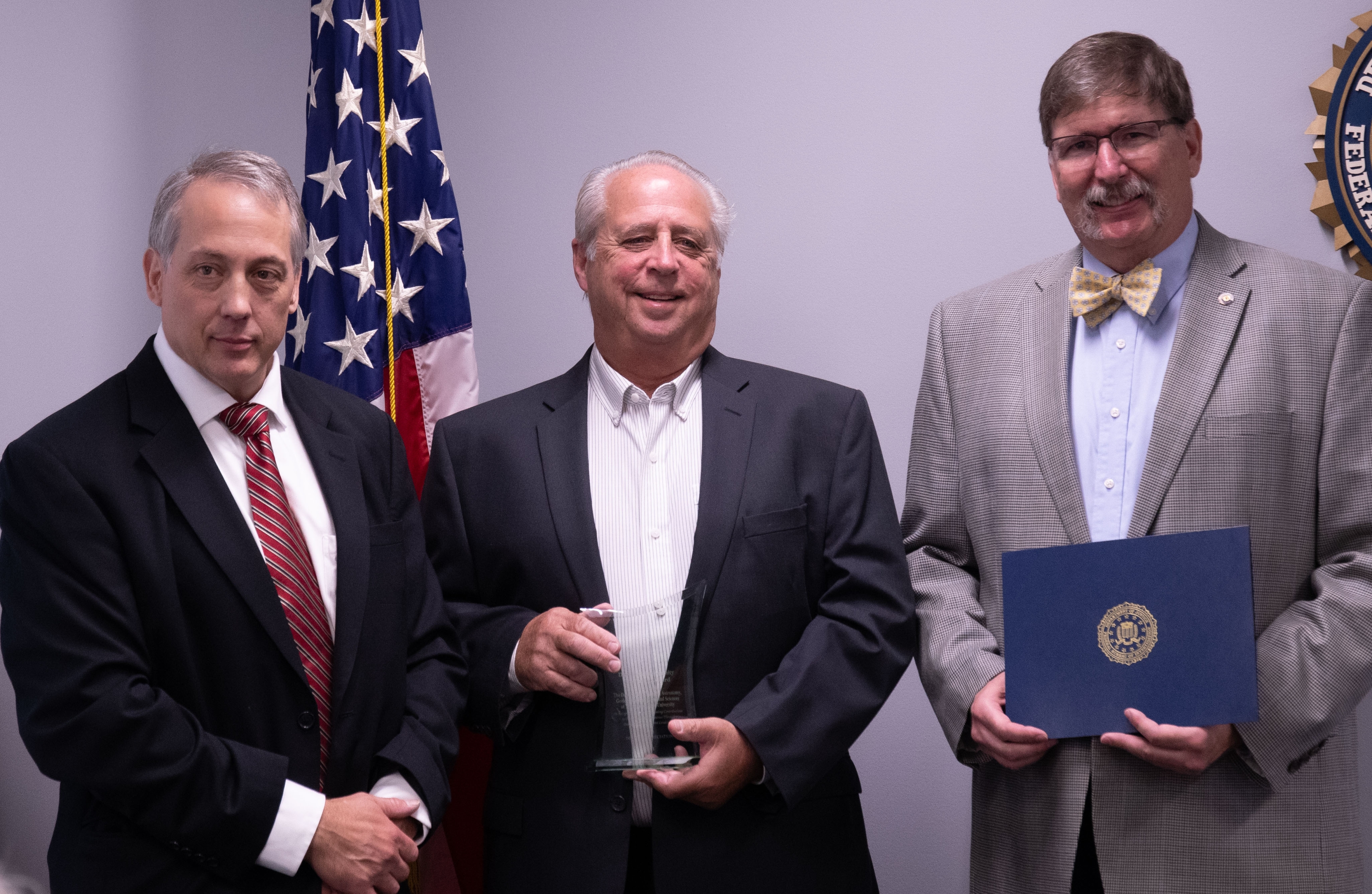 Youngstown State University's Department of Physics, Astronomy, Geology and Environmental Science received the FBI Director's Community Leadership Award in a ceremony Tuesday, September 6 at the FBI field office in Boardman.

The award recognizes YSU for assisting the FBI Evidence Response Team in several recent criminal investigations.

"This is an important award for us," said Jeff Dick, professor of Geology. "The academic mission of our program is focused on providing students with exciting real-world applications of Geology. Our work with the FBI is directly reflective of that mission."

Gregory Nelsen, special agent in charge, FBI Cleveland Division, added: "We are proud of the work by the Youngstown State team to bond the fields of science, technology and investigation that augment the work of the FBI ERT. The department's commitment to enrich student learning through real-world engagement and collaboration further solidifies the worthiness of this award."

Nelsen and Corey Taylor, supervisory senior resident agent, FBI Youngstown, will present the award to Dick and Tom Jordan, YSU adjunct professor of Geology.

YSU received the award for assisting the FBI ERT by using Ground Penetrating Radar equipment, a geophysical locating method that helps capture images below the surface in a minimally invasive way, in three recent criminal investigations.

While YSU has GPR equipment, it is not readily available at the FBI Cleveland. Dick said the department has also assisted sheriff's departments in Mahoning, Trumbull and Van Wert counties in crime investigations.

The FBI Director's Community Leadership Award, established in 1990, recognizes significant contributions assisting law enforcement in its mission to educate about and prevent violent crime in the community.

Dick said the award is related to a larger research program in YSU's Geology program that focuses on simulated clandestine burials. Dick said the research has two objectives: to improve the understanding of human decomposition in shallow graves and to use the burial field as a site to educate students and train law enforcement officials on the use of geophysics in forensic geology.
The research involves burying hogs in a variety of geological and forensic situations and monitoring their decomposition using non-intrusive geophysical methods. Dick said hogs are logical substitutes for humans for a variety of physiological reasons. The research site is located on private property in rural Columbiana County.
The research, which is an outgrowth of a project conceptualized by Jordan while serving as research faculty at the University at Buffalo, also includes Susan Clutter, associate professor of Forensic Science; Joe Sanson, associate professor of Engineering Technology; and Diana Alexander, adjunct faculty of Applied Geology. Also involved are graduate students Christopher McFarland, Tori Blandine and Enas Selim, and undergraduate students Victoria Dilliott and Keivunia Wallace.
The team utilizes geophysical instruments donated by THG Geophysics in Murrysville, PA., and equipment funds provided by the YSU College of Science, Technology, Engineering and Mathematics.
"YSU has recently compiled an impressive collection of really cool, state-of-the-art near surface geophysical devices and data processing software that are especially well suited for forensic investigations," Jordan said.
"We look forward to providing our expertise and using these devices for future work with the FBI and, through our research, hope to provide law enforcement with supplemental methods and training to ensure continued success in their investigative work."