Faculty piano trio performs at Carnegie Hall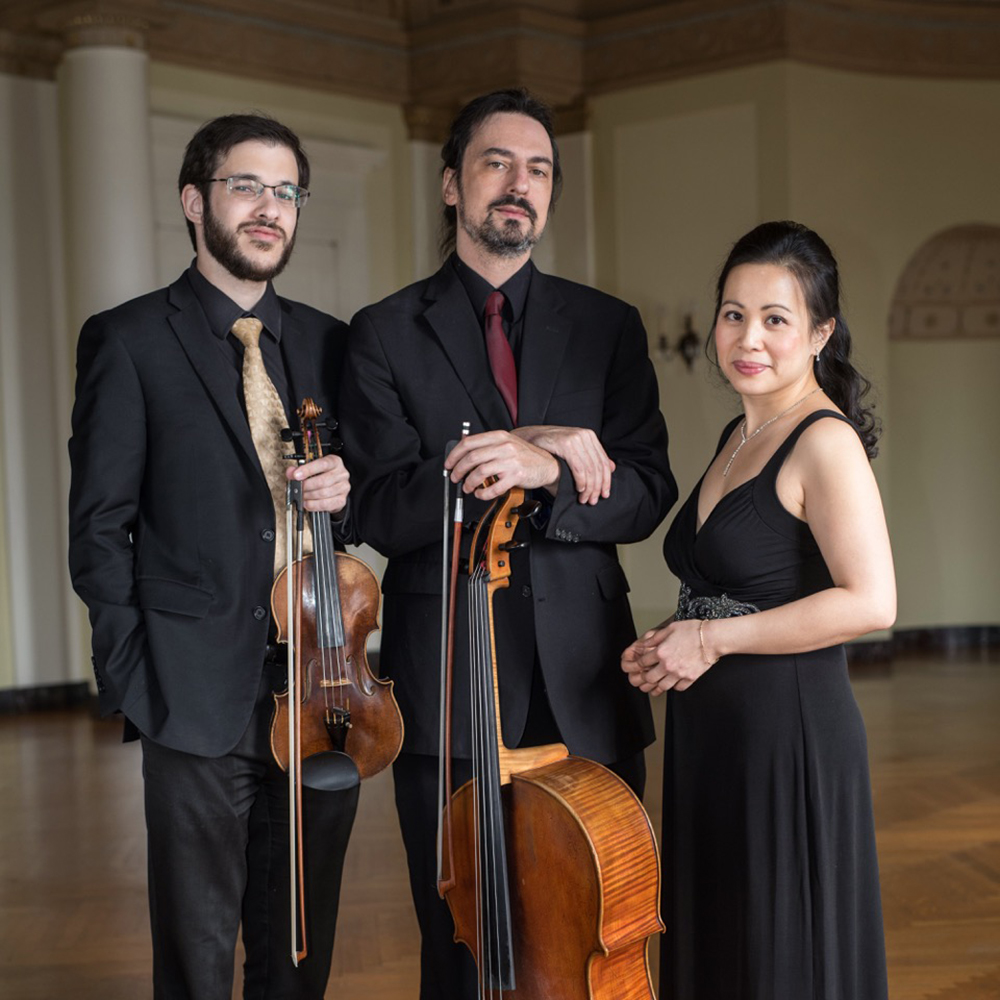 Youngstown State University's Office of Alumni Engagement and the Cliffe College of Creative Arts and Communication are sponsoring a bus trip to New York to watch a performance by the YSU Dana School of Music Piano Trio at Carnegie Hall.
The Dana Piano Trio includes faculty members Cicilia Yudha, piano; Kivie Cahn-Lipman, cello; and Joseph Kromholz, violin. The concert at Carnegie Hall, which is part of the year-long celebration of Dana's 150th Anniversary, is scheduled for 8 p.m. Friday, March 22.
The bus trip March 21 through 23 includes round trip transportation, hotel accommodations, several meals, a tour of the Steinway Piano Factory, the concert at Carnegie Hall and a post-concert reception. In addition, plenty of free time will be available to explore the city.
The cost of the trip ranges from $425 per person for a four-person room to $850 for a single room. Reservation deadline is Feb. 22. For more information and payment details, contact Mari Ann Cann at 330-941-3629 or mcann@ysu.edu.
Members of the Dana Piano Trio are:
Cicilia Yudha, who joined the Dana faculty in 2012, has performed across the United States, Austria, Cambodia, Canada, France, Germany and Indonesia. A frequent soloist with the Duke University Symphony Orchestra, Yudha has given master classes and presentations across the United States and Southeast Asia. Her debut CD Selected Piano Works was released in September 2016. She has presented lecture recitals at TEDx Talks, the Ohio Music Teachers Association Conferences, the College Music Society National Conferences, and CMS Regional Conferences. She regularly presents Preview Concert Lectures for the Cleveland Orchestra at Severance Hall. She is a Nationally Certified Teacher of Music and a recipient of the Steinway Top Teacher Award. Yudha earned a Doctorate in piano performance at University of North Carolina Greensboro and also holds degrees from New England Conservatory, and the Cleveland Institute of Music.
Kivie Cahn-Lipman, who joined Dana in 2017, holds degrees from the Oberlin Conservatory of Music, the Juilliard School, and the University of Cincinnati. He is the founding cellist of the International Contemporary Ensemble—with which he performs regularly to international critical acclaim—as well as founder, lironist, and director of the baroque string band ACRONYM and gambist with the viol consort LeStrange. Cahn-Lipman appears on more than 40 recordings. As a chamber musician, he has performed frequently in Carnegie Hall, Lincoln Center and other major venues on four continents, as well as live on WNYC 93.9 in New York and WFMT 98.7 in Chicago. He taught cello at Smith and Mount Holyoke Colleges from 2005 to 2012 and at the College of New Jersey from 2015 to 2017, and he has been on the faculty of the Cortona Sessions for New Music each summer since 2012.
Joseph Kromholz is head of strings at the Dana School of Music. He previously taught violin at Luther College and taught music theory at New England Conservatory. He's also has taught at the Chamber Music Connection in Columbus, SUNY Stony Brook's Summer Chamber Institute, ENCORE Chamber Music Institute, Renova Music Festival, and at Kneisel Hall's Maine Student Program. He regularly works with college and youth orchestras across the Midwest, and frequently serves as a conductor. He also maintains an active performing career as a solo, chamber and orchestral musician, with more than 100 concerts per year. A founding member of the Linden String Quartet and a current member of the Dana String Quartet, he also serves as concertmaster of Opera Western Reserve, the Warren Philharmonic, and as associate concertmaster of the Youngstown Symphony and CityMusic Cleveland Chamber Orchestra. Kromholz studied violin at the Cleveland Institute of Music and economics at Case Western Reserve University, followed by doctoral studies at New England Conservatory.