Enrollment up as YSU opens new academic year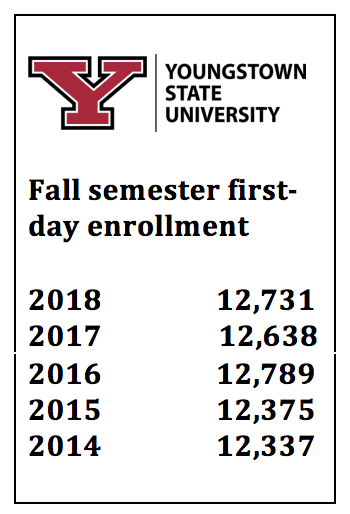 Enrollment is up again at Youngstown State University.
The number of students on campus today, the first day of the Fall 2018 semester, is 12,731, up 93 students or 0.7 percent from last fall. It is the third enrollment increase in the last four years.
In addition, the number of full-time equivalent students is 10,657, up 186 or 1.8 percent from last Fall semester, according to unofficial student counts. It is the third consecutive year with an increase in FTE enrollment, a calculation that shows how many students would be attending if all were enrolled full time.
Official enrollment numbers will not be available until the 15th day of the semester.
"Our enrollment continues to trend in a direction that we believe reflects the growing awareness across the region that YSU offers an array of high quality academic programs taught by talented faculty and backed by support services focused on the success of every one of our students," said Gary Swegan, associate vice president for Enrollment Planning.
"And all of that at a price point that cannot be matched by any other university in the region."
This year's enrollment includes 2,413 freshmen, up 32 percent from 1,821 four years ago. The freshman class also boasts average high school grade point averages of 3.35, the highest in YSU history.
In addition, all university resident halls and apartments are at capacity with 1,264 students. In addition, both the Edge apartments on the West Side of campus (with nearly 400 students) and the new Enclave apartments on Wick Avenue (with nearly 200 students) are at capacity.
Other preliminary enrollment highlights on the first day of Fall classes:
143 new international students from 32 countries, including Nepal (31), India (12), Saudi Arabia (11) and Ghana (11).
22 percent of the freshmen class are minority students, up from 18.5 percent last Fall semester.
For the third consecutive year, more than 300 freshmen enrolled in the YSU Honors College. Four years ago, Honors College freshmen enrollment was 96.
Freshmen come from nearly 500 high schools and 58 Ohio counties.