Dana kicks off holidays with Carols & Cocoa, Holiday Concert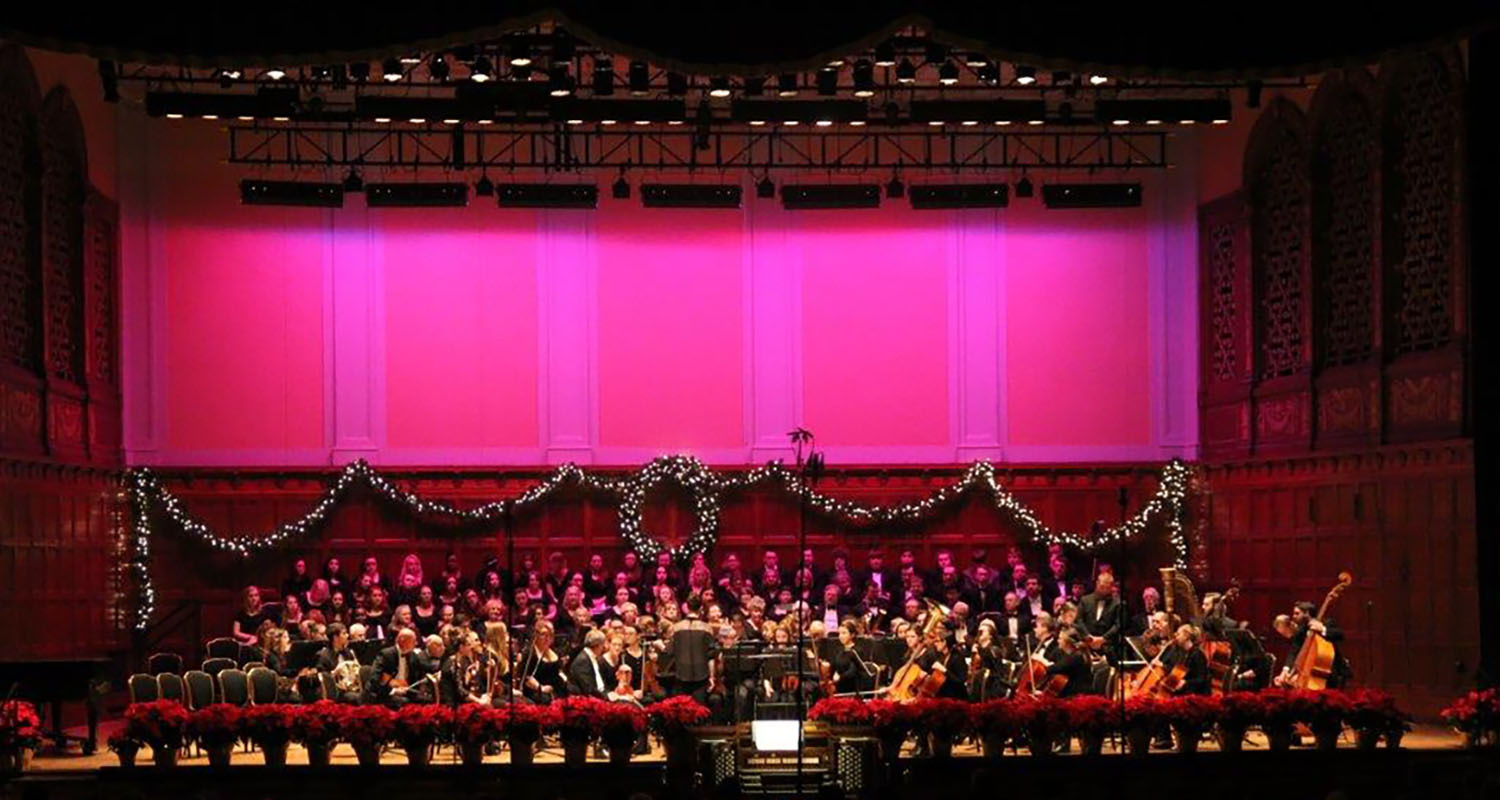 Youngstown State University's Dana School of Music presents its annual holiday music extravaganza, Carols & Cocoa and the Dana Holiday Concert, at 7 p.m. Wednesday, Dec. 5, 2018, in Stambaugh Auditorium in Youngstown.
The event kicks off with Carols & Cocoa in Stambaugh's Ballroom, featuring seasonal musical favorites performed by the Dana Clarinet Ensemble, Flute Ensemble, Trombone Ensemble, Stambaugh Chorus, Horn Choir, Dana Chorale, Barbershop Chorus and the Festival Symphonic Choir, concluding with an audience holiday sing-along. At intermission, cocoa provided by Stambaugh Auditorium and cookies shared by Dana School of Music students, will be available in the upper lobby.
The Dana Holiday Concert will then be presented in the Concert Hall, featuring the YSU Wind Ensemble, Dana String Ensemble, Dana Chorale and the Festival Symphonic Choir.  The seasonal repertoire features Gloria by Karl Jenkins, as well as a variety of other holiday selections. Individual Dana faculty performing include Misook Yun, soprano, Christopher Krummel, trumpet, Cicilia Yudha, harpsichord, and Joseph Krumholz, violin. Kathryn Davison Miller, organ, and Jack Ciarniello, piano will also perform. The Hickory High School Chamber Singers and the Stambaugh Chorus are guest performers.
Tickets may be purchased in advance at the Stambaugh Auditorium Box Office, by phone at 330-259-0555 or online at www.stambaughauditorium.com. Tickets also are available at the door. Ticket are $11 for adults, $6 for students from other schools and senior citizens. The event is free for children under 12 and anyone with a valid YSU ID.
The event is one of several planned by the YSU Cliffe College of Creative Arts and Communication as 2018 comes to a close:
Saturday, Dec. 1, the Ceramics Program in the YSU Department of Art presents Empty Bowls at the McDonough Museum of Art, 11a.m. to 4 p.m. Online tickets are $15 at http://emptybowlsysu.eventbrite.com or $20 at the door.
Monday, Dec. 3, the annual Keyboard Holiday Extravaganza in Bliss Recital Hall, 7:30 p.m. Classical and holiday music for piano will be performed in a festive setting by Dana students Free and open to the public.
Wednesday, Dec. 5, 12:15 p.m., The final Music at Noon concert of the fall semester features students in the Musical program presenting Peppermint Stick! A Holiday Review of Song and Dance. .
 For more information, call 330-941-2307.