Dana 150th Gala Concert features student-composed Sesquicentennial Suite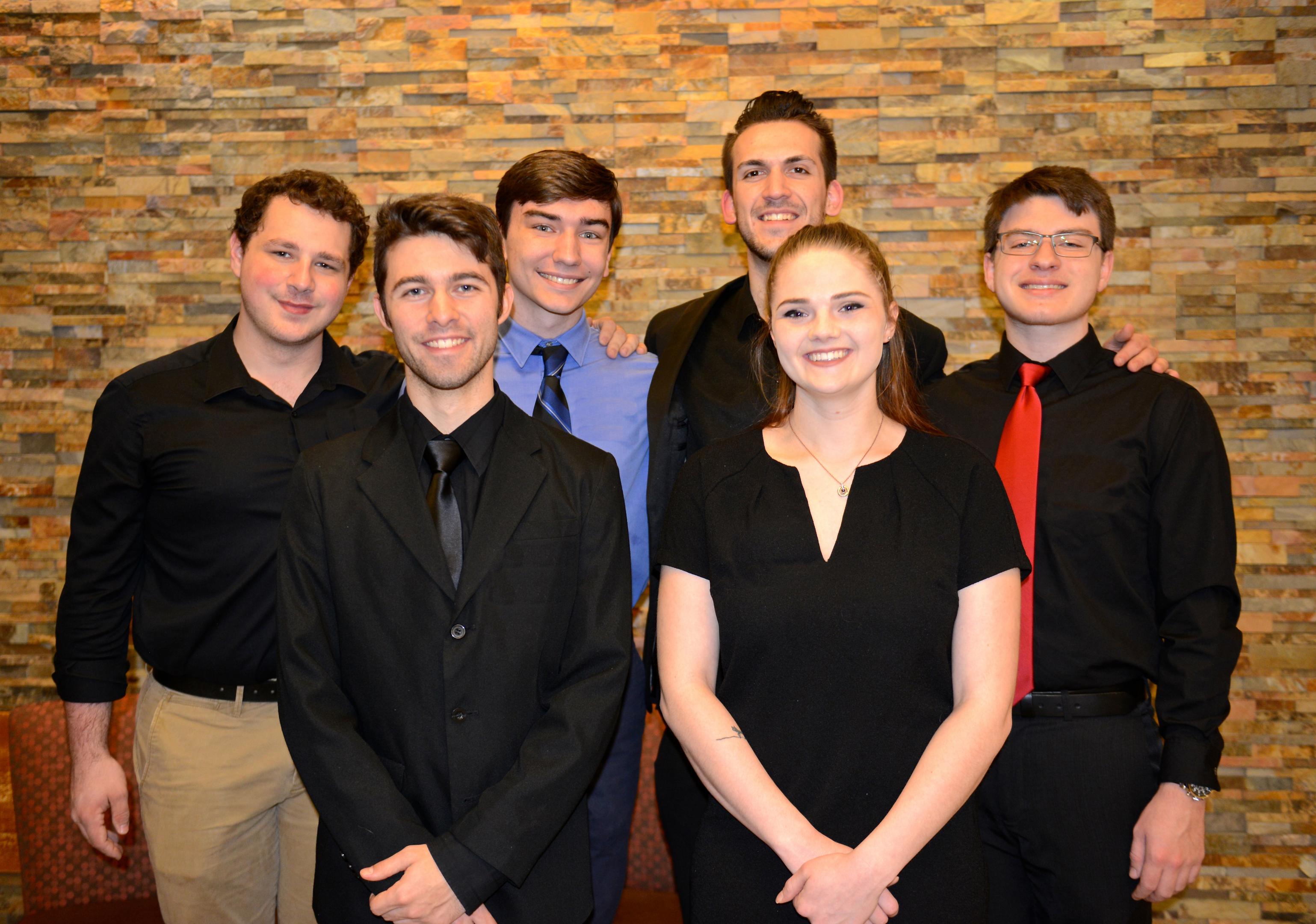 The world premiere of an orchestral piece composed by students in Youngstown State University's Dana School of Music will be featured at a Gala Concert Wednesday, April 24, in celebration of the school's 150th anniversary.
The concert, filled with performances from a wide-range of Dana ensembles, is 7:30 p.m. in Stambaugh Auditorium on Fifth Avenue in Youngstown. Tickets are $11 for adults; $6 for senior citizens and students; and free for anyone with a valid YSU ID. Ticket are available at www.stambaughauditorium.com, calling 330-259-0555 or at the door.
The piece written for the 150th celebration, titled Sesquicentennial Suite, was composed by Dana students Max Franko, Brandon Hackimer, Brendan McEvoy, Juan Rodriguez, Taylor Natoli and Alyssa Kordecki, under the supervision of Dana faculty member David Morgan. It will be performed by the Dana Symphony Orchestra.
"Dana includes many composition students who are writing outstanding music for orchestra," Morgan said. "Rather than select one student to compose an anniversary piece, I encouraged the idea of a collaboration in which all of the composition students could participate if they were interested. The students rose to the challenge and have composed a magnificent piece of music that has frankly exceeded my expectations."
Randall Goldberg, Dana director, said the Gala Concert celebrates Dana's past, present and future. "Selections on the program highlight the breadth of Dana faculty and student scholarship and virtuosity and our new collaborative initiatives," he said. "It's going to be an amazing night of music."
Included in the lineup is Voices of YSU performing Rahman's Balleilakka, collaborating with YSU's Dance Ensemble. The Jazz Ensemble performs selections composed by Tadd Dameron, while the Percussion Ensemble performs Omphalo Centric Lecture. The YSU Wind Ensemble's performs Helix for Alto Saxophone & Chamber Octet, and the YSU Concert Band presents Roland Seitz's March Grandioso. The Dana Symphony Orchestra performs Pulitzer Prize winner Jennifer Higdon's popular Blue Cathedral, and the Dana Chorale presents a selection by Kim André Arnesen as well as an arrangement of Gyung-bog-gung Ta-ryung. The rousing finale features the Dana Chorale, Voices of YSU and the Wind Ensemble in "O fortuna" from Carl Orff's Carmina Burana.
The Dana School of Music was founded 150 years ago by William Henry Dana and has produced generations of professional musicians who perform in prestigious orchestras, military and jazz bands, and contemporary ensembles; teach in elite conservatories; and develop future musicians in primary and secondary schools throughout the United States.
Parking for the concert is available in lots adjacent to Stambaugh Auditorium. More information at 330-941-2307.