Contract extended for President Jim Tressel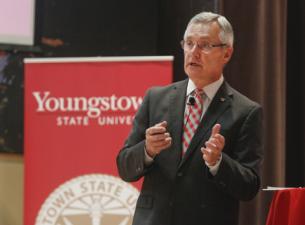 The Youngstown State University Board of Trustees today approved a contract extension for President Jim Tressel that will keep him at YSU through at least June 2018.
"In his two and a half years at the helm of YSU, Jim Tressel has led efforts to increase enrollment and retention, raise a record amount of gifts, balance our budget and re-energize the campus and the community," said Carole Weimer, chair of the YSU Board of Trustees.
"We look forward to President Tressel's continued leadership as we steadfastly pursue excellence across campus and the entire region."
Tressel thanked the board members for their confidence.
"We are excited about the team we have put into place and the opportunities that exist here at YSU and in the Mahoning Valley," he said. "We have certainly accomplished much, but we have much more work ahead of us. Ellen and I look forward to working with everyone on campus and throughout the community to increase our excellence in all that we do."
Tressel was named YSU's ninth president in 2014 and is under contract through June 2017. The new agreement calls for a one-year extension through June 2018. It also calls for three separate additional one-year extension options that could extend the contract through June 2021.
The pact includes no pay increase. His annual salary will remain at $300,000.
Under Tressel's leadership, YSU's enrollment is up for the first time in six years, and incoming freshmen have the highest standardized test scores and grade point averages in the university's history. Residence halls are at capacity, and the university spearheaded a private development plan for the construction of a 382-bed apartment complex and a new Barnes & Noble student bookstore on the West Side of campus.
In addition, YSU approved its first operating budget in five years without a structural deficit, froze tuition to maintain its position as the most affordable public university in Ohio.
and Western Pennsylvania, restructured the university's executive administration team, created a new Honors College, and raised a record $20.5 million in private gifts in fiscal year 2016, including a $1 million donation from Jim and Ellen Tressel.
"He is a tireless recruiter, advocate and cheerleader for the Mahoning Valley, for YSU and for our students," Weimer said. "No matter where he is, at Kilcawley Center on campus with a group of prospective students or out to dinner with a donor in California, Jim Tressel wears his Penguin pride on his sleeve."
Prior to being named president at YSU, Tressel spent two years as executive vice president for Student Success at the University of Akron.
He previously was head football coach at Ohio State University from 2001 to 2010, where his teams won the national championship in 2002 and seven Big Ten championships and appeared in eight BCS post-season bowl games. He was head football coach at YSU from 1986 to 2000, where his teams won four Division I-AA national championships. He also was executive director of Athletics at YSU from 1994 to 2000.
A native of Northeast Ohio and a graduate of Berea High School in suburban Cleveland, Tressel earned a bachelor's degree in Education from Baldwin-Wallace College in 1975 and a master's degree in Education from the University of Akron in 1977. He also received honorary degrees from YSU in 2001 and Baldwin-Wallace in 2003.