4-for-4: YSU Ethics Bowl team wins fourth straight regional contest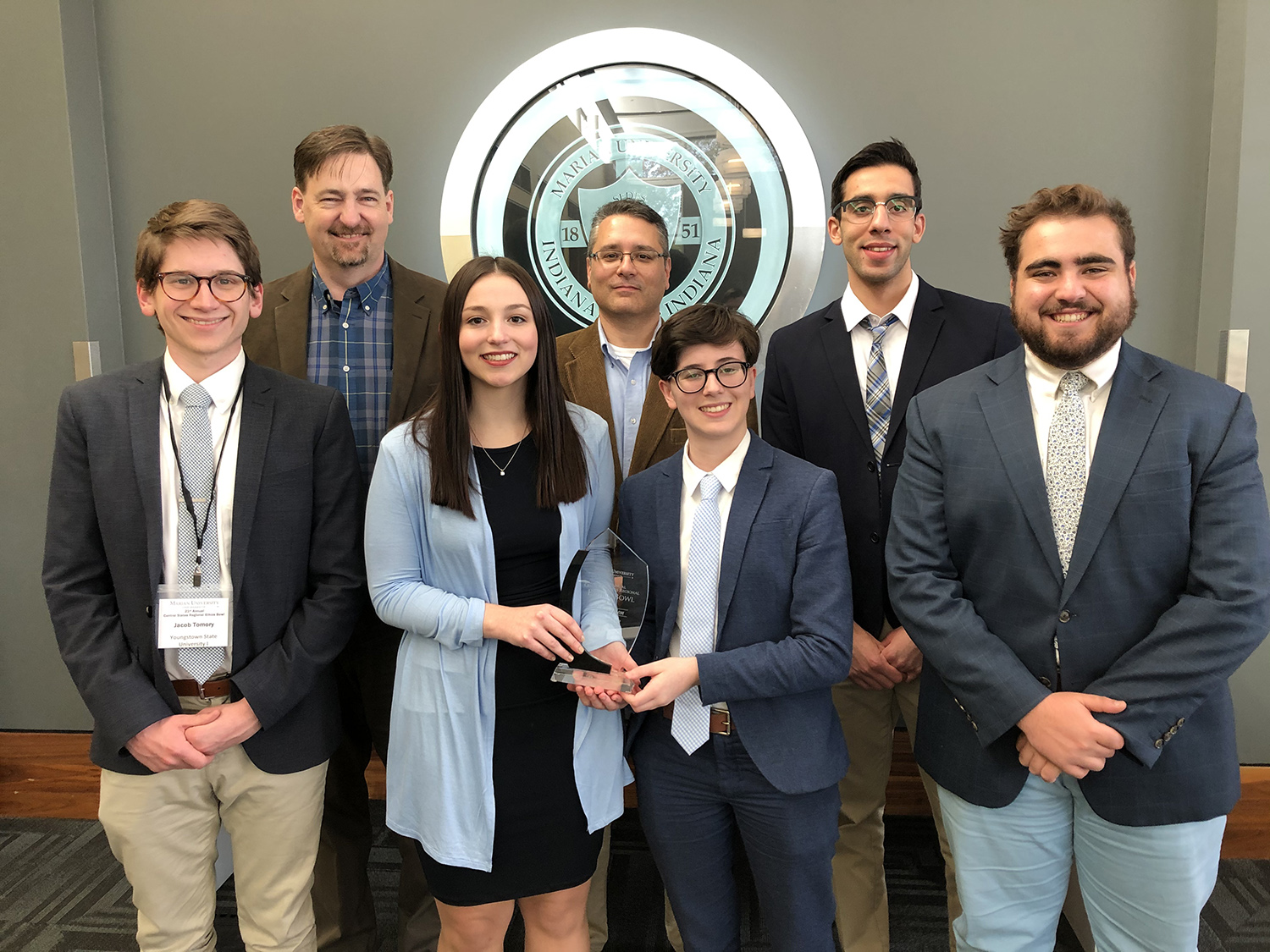 Youngstown State University's Ethics Bowl team is at it again, winning the Central States Regional Ethics Bowl competition for the fourth consecutive year and advancing to the national finals for a fifth consecutive year.
"The Ethics Bowl program at YSU continues to show that the students at YSU are among the best in the country and that we can compete with anyone, anywhere," said Alan Tomhave, associate professor and chair of the YSU Department of Philosophy and Religious Studies.
The winning team, coached by Tomhave and Mark Vopat, professor of Philosophy and Religious Studies, are YSU students Samantha Fritz, Jacob Tomory, Moataz Abdelrasoul, Eva Lamberson and Michael Factor. Members of YSU's second team are YSU students Dorcas Gitimu, Jared Cross and Albert Chizmar.
The regional competition took place in Indianapolis, and the national Association for Practical and Professional Ethics Intercollegiate Ethics Bowl is Feb. 22 and 23 in Atlanta.
The competition focuses on a set of cases that team have slightly less than two months to study and research. At the competition, teams do not know which of the cases they will have to address, nor do they know the question that they will have to answer. Further, they are not allowed any notes on the research that they have done on any of the cases. Once a case is revealed and the question is asked, the team has either one or two minutes (depending on whether it is a regional or national Ethics Bowl) to prepare a presentation. The presentation must offer a moral argument to answer the question and consider potential objections to the team's position. A second team then provides a commentary on the first team's argument, with the original team then getting a chance to respond. Finally, there are three judges who get to ask questions. At this point, a new case is presented and the two teams reverse roles. This process would constitute one match, with an entire Ethics Bowl competition being composed of numerous matches.
Tomhave said the final round of this year's regional competition is of particular note because YSU's team earned an astounding 173 out of a maximum 180 points. Great scores are usually in the 154- to 157-point range. "Furthermore, one of the judges took time to stop and talk to the team to let them know that he had been judging Ethics Bowl for a number of years and that our team was the best he had ever seen," Tomhave said. "In the end, YSU beat the next closest team by 10 points."