$10.8M federal grant means big improvements for Fifth Avenue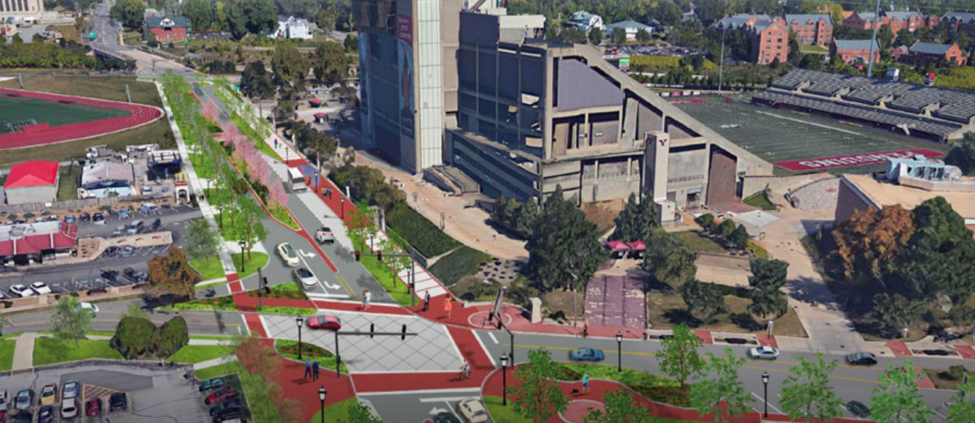 Fifth Avenue, from Mercy Health through the YSU campus, will undergo significant improvements as part of a $10.8 million federal infrastructure grant announced by the U.S. Department of Transportation today.
The project, known as the SMART2 Network, will completely renovate Fifth, Rayen and Park avenues and Federal, Front, Boardman and Commerce streets, including new street lighting, sidewalks, crosswalks, landscaping and medians.
The initiative, with construction starting as early as this coming spring, will also improve pedestrian and bicycle options, and will complement previously awarded funding for a new bike share program and dedicated bike lanes connecting downtown to Mill Creek MetroParks.
"For the past three years a dedicated team of economic development and community planning professionals from Youngstown's anchor institutions have worked tirelessly for this award," President Jim Tressel said. "This project will transform YSU's and Youngstown's transportation infrastructure for the 21st century."
This is the third time that the Youngstown group has applied for the funding. The total project amounts to nearly $22 million, with over $10.9 million in local support.
Other anchor partners in the project are the Eastgate Regional Council of Governments, City of Youngstown, Mercy Health, Youngstown Business Incubator, Western Reserve Transit Authority, Catholic Diocese of Youngstown and Eastern Gateway Community College.
Mike Hripko, YSU associate vice president for External Affairs, Government Relations, and Economic Development, thanked U.S. Sens. Rob Portman and Sherrod Brown and U.S. Reps. Tim Ryan and Bill Johnson for their support.
"All of us on campus are familiar with the outstanding improvements that were made to Wick Avenue over the past few years," Hripko said. "This project will enable the same enhancements on Fifth Avenue along the west side of campus, and throughout several downtown streets. We are excited about this funding and anxious to get the work started."