Class Notes

1960's        1970's        1980's        1990's        2000's        2010's
'50s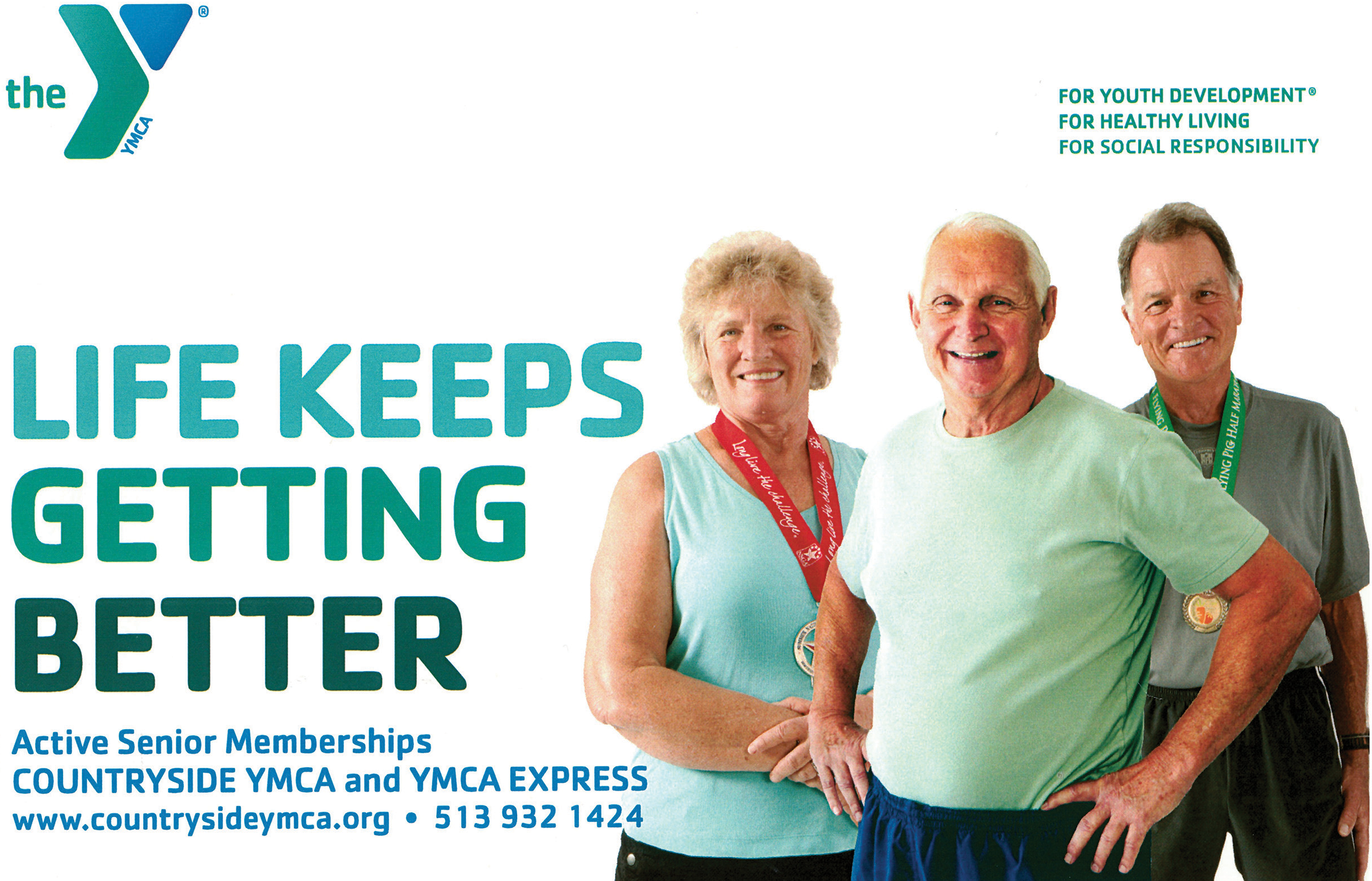 A picture of health at 82 years young
John S. Ritchie, 1959, BS, Industrial Engineering, of Lebanon, Ohio, doesn't let anything slow him down. Despite a hip replacement, arthritis and stents, Ritchie is committed to staying strong through exercise.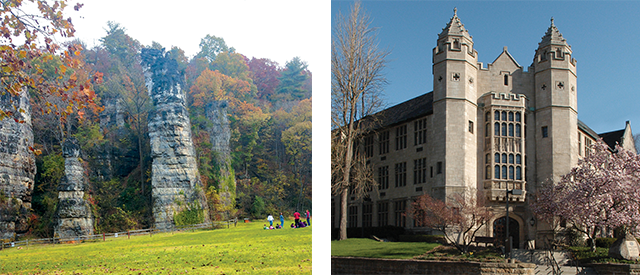 A rocky replica
Carl Antonelli
, 1967, thought the structure in Natural Chimneys Park in Virginia looked familiar, but it wasn't until he read a story about Jones Hall in
YSU Magazine
that he made the connection. The retired Warren City Schools teacher and his wife, Gladys, travel around the country to see natural wonders.
'60s
Robert Veltri of Lancaster, S.C., 1963, BS, Biology, has retired from Johns Hopkins University School of Medicine. Veltri served as associate professor of Urology and Oncology, studying biomarkers for prostate and bladder cancer. He also managed R&D at a diagnostic company where he developed in vitro diagnostic devices and co-founded a therapeutics company that created nine patents.
Herman R. DelPrato Jr. of Formia, Italy, 1964, BSBA, Advertising, served four years in the Navy before working in sales at Western Union Corp. in Pittsburgh and Savin Corp. in Dallas, Texas. He also worked at the University of Arizona and Pacific Institute.
James Guidone of Greensboro, N. C., 1969, BA, Psychology, is a decorated Vietnam war veteran earning two Distinguished Flying Crosses and a Purple Heart during his service. He was previously president of Novartis Animal Health and has volunteered with the Red Cross in disasters such as Katrina, Sandy, Matthew and Irma.
University of Our Fathers
Stan K. Sujka, 1978, BA, Biology, of Orlando, Fla., is a practicing physician who writes poetry to cope with the challenges of working in the medical field. He wrote this poem as a tribute to steel workers past, many of which sought refuge at YSU. The YSU Magazine thanks him for his submission:
From the river of goo
Brown steel man made mountains grew
Spewed sulfur and ash from their hearts of fire
Men feeding the beasts iron dreamed their children
A life away from the inferno
With hope, prayers, steel lunchboxes in hand,
they marched into the flames
Away from their shifts in hell
They built a garden for learning
Filled it with red, pink, yellow, and white tulips to make us stop and stare
They carpeted the brown ground with green grass so we could lay on our backs,
and let our imagination take rides on parading clouds
They planted trees to drape their back gray world from our eyes
They built a place that we could lift ourselves above the chimney smoke
And Light the black night with dream filled stars
'70s
Dave Bayowski of Mineral Ridge, 1972, BSBA, Marketing, is a Certified Master Appraiser of Antiques, Rods and Custom Cars. He is also the owner of Mahoning Auto in North Jackson. He and his wife Terry are active members of the Mahoning Valley Olde Car Club.
Elizabeth Nocera Davis of Akron, 1975, BA, English, has been named among "The Best Lawyers in America" for 2019 in the area of Medical Malpractice Law – Defendants. Davis has provided defense for major medical institutions, hospitals, physicians, nursing homes, major product manufacturers, and has tried living mesothelioma asbestos cases to defense verdicts in her 33 years as a lawyer.
Janet Holliday 1976, BA, Psychology, and Tom Holliday, 1976, BA, Mass Communications, both of Columbus, have retired from American Electric Power. They have traveled to more than 60 countries, including Russia, China, Turkey, Croatia, Cuba and Slovenia. For the past 36 years, they have called St. Maarten their second home.
Michael J. Hudak of Akron, 1976, BS, Criminal Justice, has been named among "The Best Lawyers in America" for 2019 in the area of Medical Malpractice Law – Defendants. Hudak focuses on the defense of medical malpractice lawsuits, medical care providers and medical facilities.
James McCollum of Mount Joy, Pa., 1977, BSEd, Education, has published his first book Oh God, Where Art Thou? The Great Conundrum. McCollum is a retired higher education executive.
'80s
Robert L. Dunn of Boardman, 1980, BA, Psychology, and 1982, MSEd, Counseling, has published four books—68 Spiritual Solutions for Managing Anger, Powerlifting Training Log, The 8 Commandments Of Anger Management and Anger Management Guided Journal: A Path To Peace. Dunn is a local mental health counselor with 35 years of experience.
Pamela Gent of Boardman, 1980, BSEd, Special Education, has been named provost of Clarion University. She began at Clarion as assistant professor in the department of Special Education and Rehabilitation Sciences in 1988 and later became full professor and department chair. As interim provost, she led the approval of eight new degree programs and 43 new minors.
Mark Cornman of Austintown, 1982, BSBA, Accounting and 1988, MBA, has been promoted from corporate controller to vice president of corporate finance at Compco Industries. Cornman began working for the company in 2017 after 30 years in accounting roles with various manufacturing facilities. He is a CPA and a certified management accountant.
Joe Tarantino of Louisville, Ohio, 1982, MS, Chemistry, worked in the aerospace industry for 35 years under PCC Airfoils and upon retirement pursued his dream to bicycle across all 50 States. He published a book called Bicycling Across America's Great Northwest: When Fear and Faith Collide.
Terrence S. Finn of Akron, 1984 B.E., Civil Engineering, has been named among "The Best Lawyers in America" for 2019 in the area of Litigation – Environmental. Finn focuses on environmental compliance counseling and litigation in administrative, state and federal forums representing both private and public clients.
Greg Ball of Wooster, Ohio, 1985, BM, Music, has retired from Tarleton State University in Stephenville, Texas, where he taught woodwinds and jazz for 27 years. He and his wife, Betsy, spent nine months travelling through Europe last year. Along with their daughter, Chelsea, the couple has launched the Euro Travel Coach company.
John Carr of Dayton, 1985, BE, Electrical Engineering, has received the Stanley B. Hall Executive Management Award by the Association of Old Crows Electronic Warfare Professional Society. Carr serves as chief of the spectrum warfare division within the Air Force Research Laboratory at Wright-Patterson AFB. He is head of research, development, and transition of technology for the Air Force air and space platforms that assure missions in contested and denied environments against threats that exploit the electromagnetic spectrum.
Lisa Medovich of Kerrville, Texas, 1986, BSBA, Accounting, is the chief financial and compliance officer of Peterson Health. She is a board member of the South Texas Chapter of the Healthcare Financial Management Association and was appointed by the Association to be on the Audit and Compliance Committee in 2017.
Roslyn Torella of Lowellville, 1988, BA, and 1990, MBA, recently published her first book, Lowellville, Ohio: Murders, Mayhem & More. Torella says the book is a collection of articles from the 1850s to the 1920s that shed a light on Lowellville's dark history.
Doris Briggs Zimmerman of Warren, 1989, MS, Chemistry, 1992, MS, Engineering, has been named a Fellow of the American Chemical Society. Fellows are recognized for their achievements and contributions to science and for their service to the ACS. She has served on the executive committees for Penn Ohio Border Section and Central Regional Meeting for over 27 years, and she has taught at several high schools and colleges.
Debora Flora 1989, BA, English, has been named a board member for the newly formed Ohio Land Bank Association. The group will support the work of county land banks across the state. Flora was among those who started the Mahoning County Land Bank in 2012 to focus on removing blighted, unused properties from neighborhoods and business districts across the county.
'90s
Julia Bush of Henderson, Nev., 1990, BSEd, Special Education, has been named Counselor of the Year for 2019 by the Nevada State School Counselor Association. She received the award at a special gala in Washington, D.C.
Diane Psaras of Mentor, 1991, BA, Business, is the chief human resources officer for VITAS Healthcare and oversees more than 12,000 VITAS professionals. VITAS is the nation's leading provider of end-of-life care. She previously was senior vice president of HR at Darden Restaurants and held an HR role at specialty materials firm Avery Dennison.
Stephanie L. Shaw of Warren, 1992, BA, Telcommunication Studies, has been inducted into the Trumbull County African American Achiever's Association Hall of Fame. She is executive director of the Eastern Ohio Education Partnership.
John J. Stilliana of Chardon, 1996, BA, History and Political Science, has been named vice president for government and external affairs at Northeast Ohio Medical University, where he served as associate director of government relations for the past 11 years. He previously worked for elected officials for more than two decades.
Jeremy VanNess of Warren, 1998, BSBA, and 2004, MBA, is the new vice president for finance and chief financial officer for AVI Foodsystems and serves as a member of the company's leadership team. VanNess has been with the organization for 21 years, is a Certified Public Accountant, Certified Fraud Examiner and member of the Ohio Society of CPAs.
Adam Mamula, of Goodlettsville, Tenn., 1999, BM, Music Performance, has joined the music faculty at Volunteer State Community College as adjunct instructor of percussion. Mamula also graduated from Volunteer State with an associate's degree in Logistics and Supply Chain Management. He serves as operations coordinator at FedEx Ground in Nashville and is a member of the Nashville Symphony Chorus.
Rick Kaglic, 1991, BA, and 1992, MA, both in Economics, is the new vice president and senior regional officer of the Cincinnati branch of the Federal Reserve Bank of Cleveland. Kaglic is responsible for managing relations with its Cleveland headquarters and key constituents.
Gary Wagner, BA, 1995, Economics and Political Science, who has been named the Acadiana Business Economist Endowed Chair at the University of Louisiana at Lafayette. In this role, Wagner monitors the regional economic environment, conducts research and analysis, and disseminates results with the business community.
'00s
Sean Jones of Baltimore, Md., 2000, BM, Music Performance, has been inducted into the Trumbull County African American Achiever's Association Hall of Fame. The internationally-acclaimed trumpeter is chair of the Jazz Studies department at the Peabody Institute at Johns Hopkins University in Baltimore.
Philip Wilson of Youngstown, 2001, BS, Mathematics, is the senior pricing analyst at Thermo Fisher Scientific in Pittsburgh. His position focuses on pricing research, price optimization and big data analysis.
Kathleen Harley, 2003, MBA, is the new president of St. Elizabeth Youngstown Hospital. She began her medical career as an operating room nurse and later moved into leadership roles, including operating room manager and director of surgical services. Most recently, she was chief nursing officer and vice president of surgical and procedural services at Heritage Valley Health System.
Anne Marie Setting of Warren, 2007, BSBA, Marketing Management, has been promoted to director of strategic accounts for the Midatlantic with Omnicell Inc. She also teaches voice at James Dance and Performing Arts Center in Warren.
Dominic Lippillo of Starkville, Miss., 2005, BFA, Art Studio, has a collection of digitally constructed photographs on display at Amarillo College. The exhibit, Stories We Tell Ourselves, places anonymous figures in unoccupied outdoor scenes to address notions of space versus place, memory and experience. Lippillo created the photo shown here, "Tree Line," in 2017. A separate exhibition of Lippillo's photos, Conflation, can currently be seen at YSU in the Rose Marie Smith Gallery, Tod Hall. Lippillo is an associate professor in the Mississippi State University Department of Art.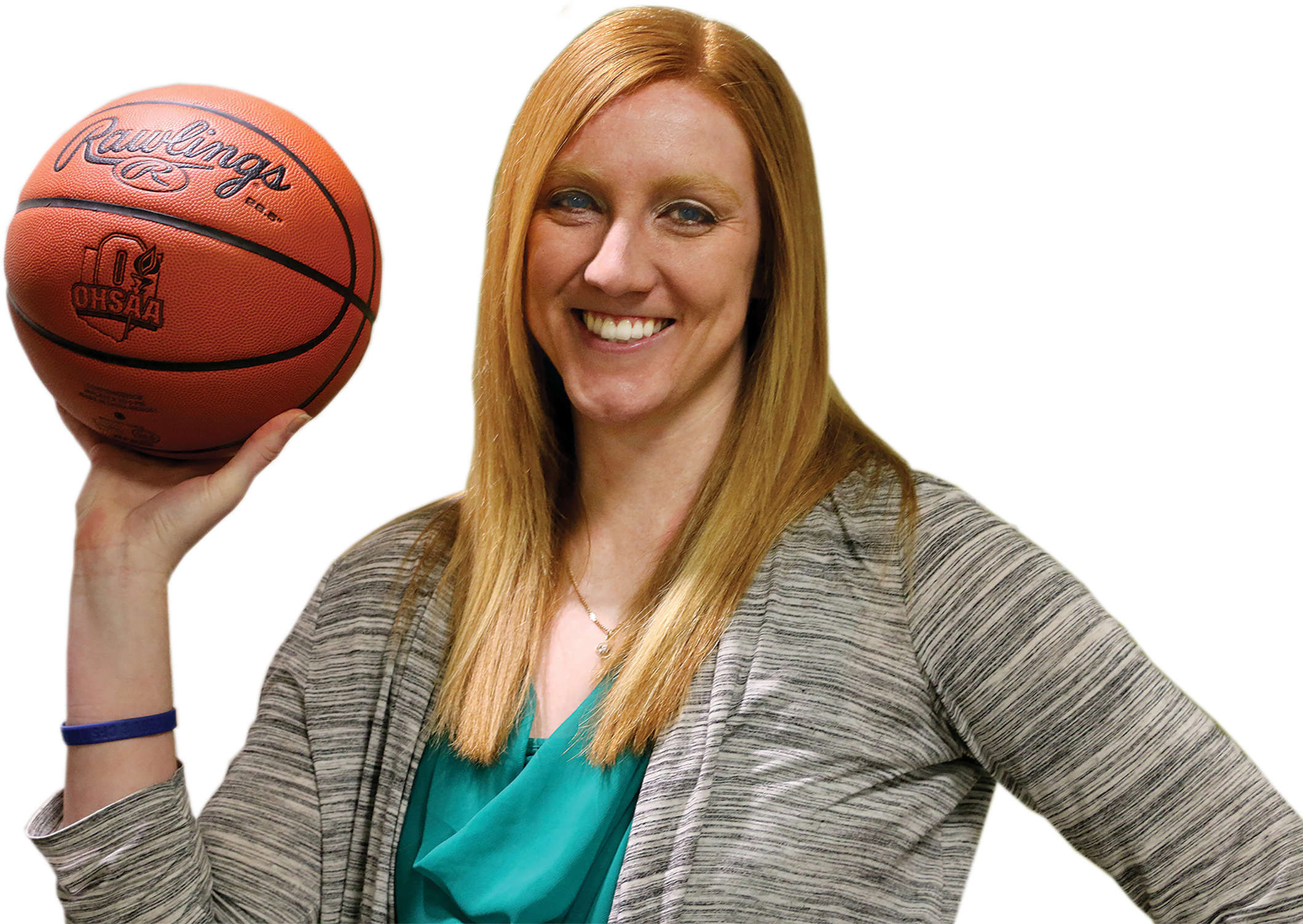 From athlete to author, advocate…
As a student, Kaitlin Rohrs-Cordes, 2013, BSBA, Marketing Management, had a full scholarship to play basketball with the Penguins, but an illness and injury meant she would never play in a YSU game. She was diagnosed with Chronic Exertional Compartment Syndrome in both legs and Chronic Fatigue Syndrome, which ended her basketball career early. She would later learn the root cause of her leg issues were two genetic blood clotting disorders and Left Popliteal Vein Entrapment Syndrome, a rare vascular disorder.
But that was only the beginning of a new relationship with sports. She went on to earn a Master's degree in Education in Sport Administration from Bowling Green State University in 2015. She currently works as an academic advisor at Northwest State Community College in Archbold, Ohio, and coaches sports at two nearby high schools.
Most recently, Kaitlin learned that two of her research studies from her graduate program have been accepted for publication. One paper, which evaluates an NCAA online support group for athletes who suffer career ending injuries, appears in the Journal for the Study of Sports and Athletes in Education. A second study investigates current policies and procedures related to handling career-ending injuries at 23 Division I NCAA university athletic departments. The article will appear in the International Journal of Sport Management. The results from both studies suggest the need for more supportive resources to improve the well-being of college athletes who suffer career-ending injuries and need to transition out of collegiate sports.
'10s
Ryan Beil of Valley View, Ohio, 2012, BSBA, Accounting, has received his bank examiner commission. Beil is an operational risk and information technology examiner with the Federal Reserve Bank of Cleveland. He serves as a regulator of financial institutions in four states. Prior to joining the Federal Reserve in 2014, he was an examiner with Department of Treasury - Office of the Comptroller of the Currency in Milwaukee.
Michael Brand of Canton, 2013, BSBA, Accounting, is now a Certified Public Accountant. He was also promoted to General Accountant 2 at the Stark Metropolitan Housing Authority. He does bookkeeping for properties and reports financial statements to the Department of Housing and Urban Development.
Bill Dungee of Hermitage, 2013, MBA, is the new head football coach Hickory High School in Hermitage. Dungee previously served as the offensive coordinator at Farrell High School and co-offensive coordinator at Sharon High School.