Alumni News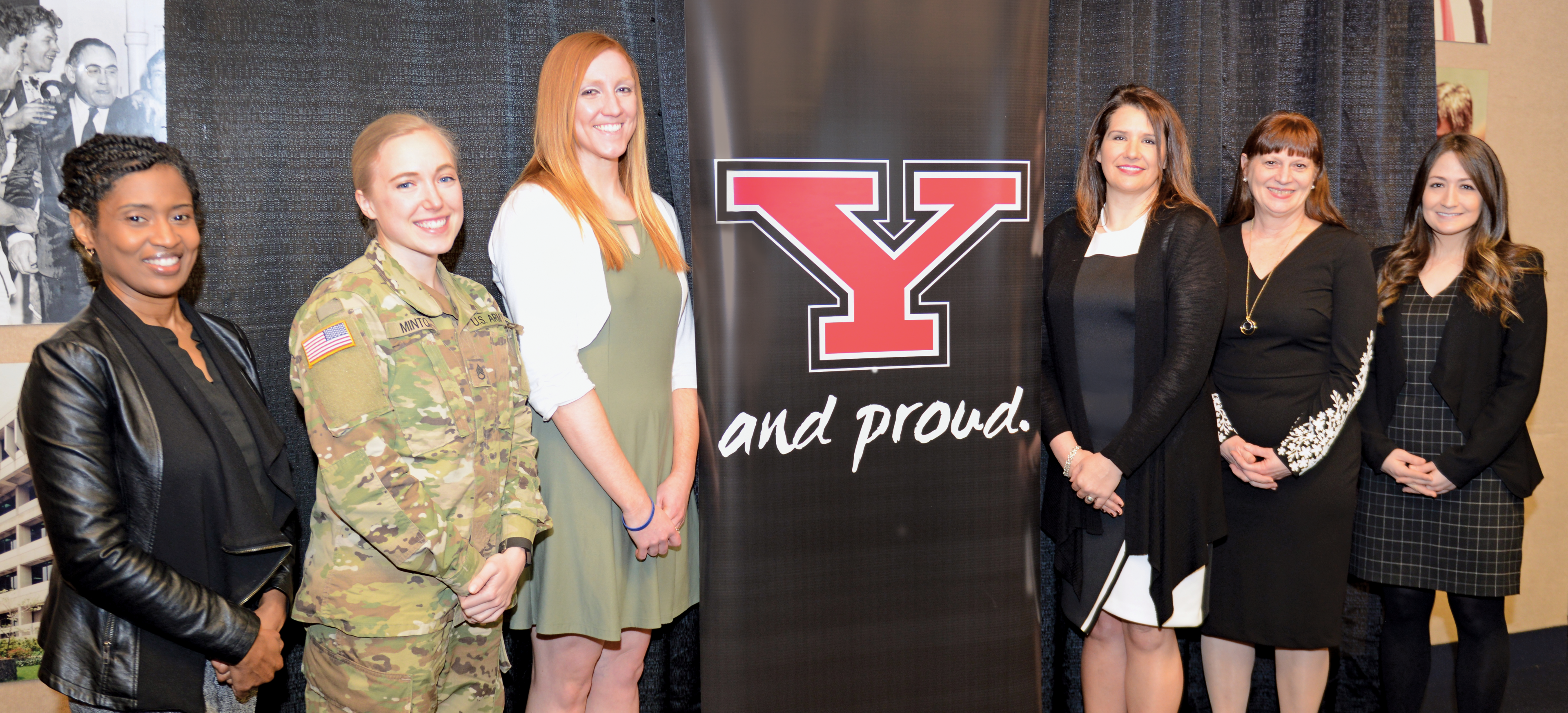 Penguin Women on the Move
YSU celebrated Women's History Month in March by recognizing Penguin Women on the Move, a collaboration between Alumni Engagement and the Women and Gender Studies program, now in its third year. This year's seven recipients represent alumnae who embody the spirit of the 2019 theme, "Rise Up," by going above and beyond in their personal, professional, academic and/or philanthropic endeavors. To showcase our successful alumnae and inspire our female students, the women selected have their photos and accomplishments included in poster displays throughout campus. They were also recognized at a luncheon March 22. Pictured left to right are honorees Stephanie Shaw, 1992, BA; Staff Sgt. Rachel Minto, 2014, BME; Kaitlin Rohrs-Cordes, 2013, BSBA; Janet Gbur, 2008, BE, and 2011, MSE; Dina Novak Ruden, 1980, BA; and Kelly Mehalco, 2012, BSAS. Not pictured is Carmella Marie Williams, 2005, BSBA.
Pete's Pride member and Washington D.C. Alumni Chapter leader Max Gocala-Nguyen, 2015, presented the alumni pin to a very special graduate at commencement last December. Peggy Gocala, Max's mom, received a master's degree in Healthcare Administration. It's a YSU tradition that each graduate receive an alumni pin prior to the commencement ceremony.

 

June 28 – YSU Night at the Scrappers, Eastwood Field.

July 14 – Ladies Day Out, Summer Festival of the Arts, YSU Williamson Hall atrium and campus core.

Aug. 3 – Atlanta Alumni Chapter at Atlanta United game, Mercedes–Benz Stadium.

Sept. 13 -15 – Veterans-ROTC Alumni Weekend. (Reunion Dinner Friday; Penguin Football Saturday; ROTC Golf Fundraiser Sunday.

Oct. 11 – Criminal Justice and Forensic Science 50th Anniversary Celebration, YSU Kilcawley Center.

Oct. 16 – Half Century Club Celebration featuring the Class of 1969 at Stambaugh Auditorium (part of Skeggs Lecture Series with Martin Sheen).
---
Alumni enjoy two events in New York City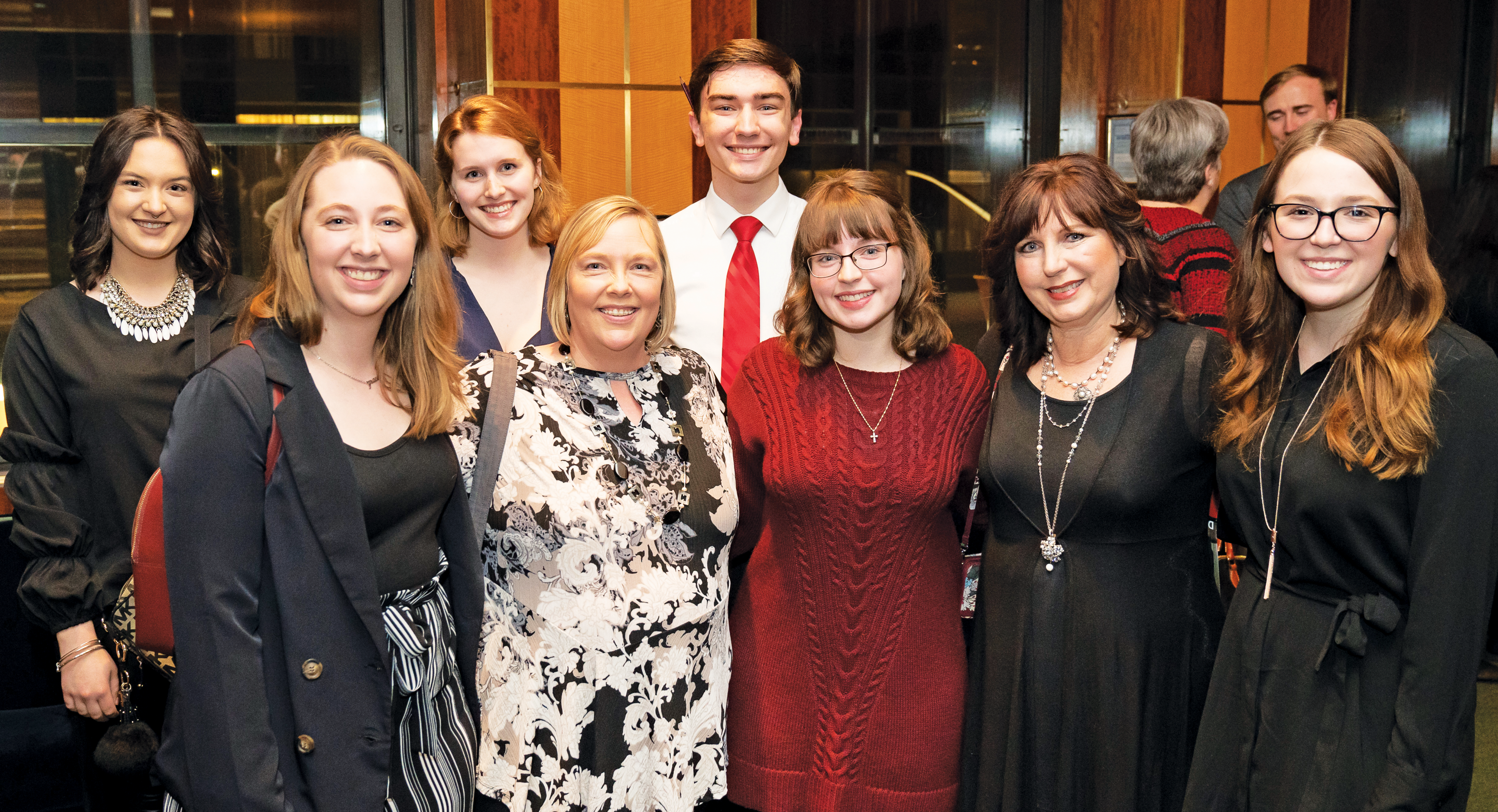 On March 14, New York metro area alumni attended a cocktail reception at Bobby Van's Steakhouse NYC in the Financial District to network with each other, meet Williamson College of Business Administration faculty and Marketing students and hear campus updates from WCBA Dean Betty Jo Licata. Later that month, the Cliffe College of Creative Arts and Communication sponsored a bus trip to hear the Dana Piano Trio perform at Carnegie Hall on March 22 and meet the artists at a reception after the concert. The trip also included a tour of the Steinway Piano Factory and a visit to the 911 Memorial.
---

In each edition of the magazine, we'll feature alumni chapters and their leaders who work hard to ensure that alumni all over the country stay connected to YSU. In the first edition, get to know some of the chapter leaders in the Sunshine State!
Gina Harwood, 2011, BSBA

What were some of the highlights of your most recent event?
Realizing how small the world really is by talking to fellow alumni who raised families right around the corner from my grandparents' house in Youngstown and now live near me in South Florida!

What can alumni in your area look forward to next?
We are planning to head a little further south this time and gather alumni for an early summer Miami area social hour event.

Why is lifelong involvement with YSU important to you?
YSU's business school was such a huge part of me becoming a successful entrepreneur that I want to be sure I stay connected to the university. Also, I have such fond memories of living on my own for the first time in Cafaro House. College years are such a vital time in a young adult's life, and I'm so blessed to have spent mine at YSU.

---

Megan Massacci, 2004, BSBA  

What were some of the highlights of your most recent event?
Reconnecting with South Florida alumni that I have met in the past, as well as meeting new people. It's always nice to talk with others who have either recently relocated to the Sunshine State or have been here for some time and gain their perspective.

What can alumni in your area look forward to next?
Probably a casual event in the summer months in the Miami area to hopefully engage alumni there, as well as another formal event next year.

Why is lifelong involvement with YSU important to you?
YSU enhanced my understanding of the world around me and provided me amazing opportunities in both my personal and professional development. It is important to continue to be involved, to continue to educate myself, improve my quality of life overall and be able to give back to an institution that provided me with so much.

Sal Guagliardo, Jr., 2012, BGS  

What were some of the highlights of your most recent events?
Our chapter had an opportunity to visit with President Tressel while he was in Florida last November. We got together to watch the Youngstown State University game on television, and the president shared campus updates with us during halftime. Then, we attended a Tampa Bay Lightning vs. Los Angeles Kings NHL game in February.

What can alumni in your area look forward to next?
We're looking into having another alumni event in the downtown St. Pete area, which includes meeting up at a local restaurant then traveling to Tropicana Field for a Rays game. This is an event we did in 2017 when the Indians were in town, and it turned out to be one of our best attended events yet.

Why is lifelong involvement with YSU important to you?
I stay involved because I am forever indebted to Youngstown State for all of the opportunities and life lessons that were provided to me during my time at YSU. I also remain active to take advantage of the great network that Youngstown State alumni provide. Unlike other larger public universities, being a Penguin is unique. Fellow alumni around the country recognize and respect that. By meeting and knowing other Penguins, many doors have opened within my very own local community. 

---

Richard Spong, 1964, BSBA  

What were some of the highlights of your most recent event?
Members of the Tampa Bay Alumni Chapter gathered on February 25, to attend the Tampa Bay Lightning vs. Los Angeles Kings NHL game at the Amalie Arena in downtown Tampa. Prior to the game, we met at a nearby biergarten for fellowship, food and drink. A good time was had by all!

What can alumni in your area look forward to next?
We are planning to have our next alumni event Saturday, Aug. 31 when the Tampa Bay Rays play the Cleveland Indians at Tropicana Field in St. Petersburg. We held this event in 2017, and it proved to be a big hit with local alumni.

Why is lifelong involvement with YSU important to you?
Receiving a business degree from YSU has enabled me to have a successful business career. For the past 10 years, I've been involved with alumni activities for the Tampa Bay Alumni Chapter, helping to organize events and enjoying the fellowship of other alumni members.
For alumni chapter information, contact Heather Belgin at habelgin@ysu.edu or 330.941.1591.
---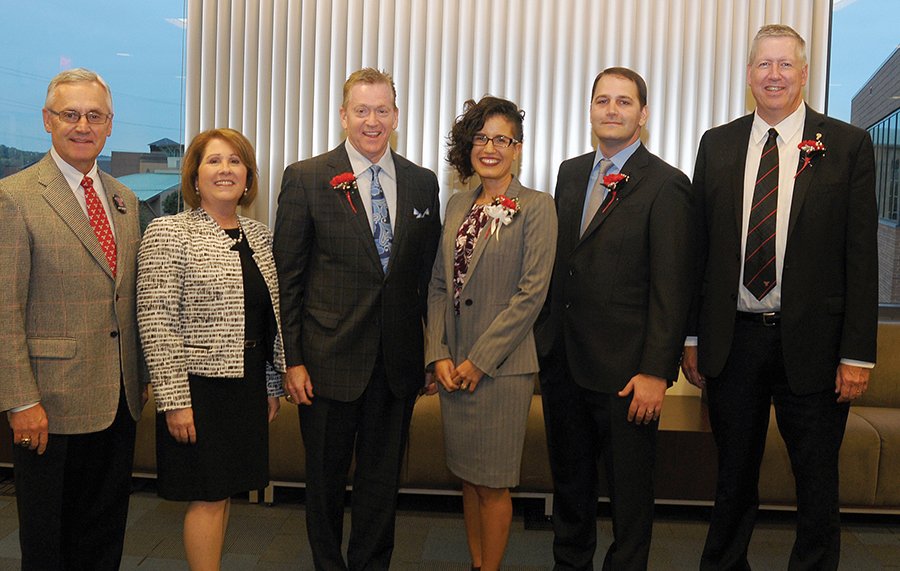 Williamson College of Business Administration recognizes alumni
President Jim Tressel and WCBA Dean Betty Jo Licata, far left, congratulate the recipients of the 2018 WCBA Outstanding Alumni Awards, including, from the left, Stuart Wise, 1983, BSBA, Management, regional president, ComDoc, Outstanding Business Alumnus; Angela Duskey, 2008, BSBA, Accounting, principal, HD Davis CPAs, Outstanding Recent Alumna; Matt Cooke, 2005, BSBA, Accounting, and 2008, MBA, vice president and senior manager, Analytics & Reporting, CapitalSource, Outstanding Recent Alumnus; and Carl D. Culp, 1985, BSBA, Accounting, senior executive vice president and chief financial officer, Farmers National Banc Corp., Outstanding Business Alumnus.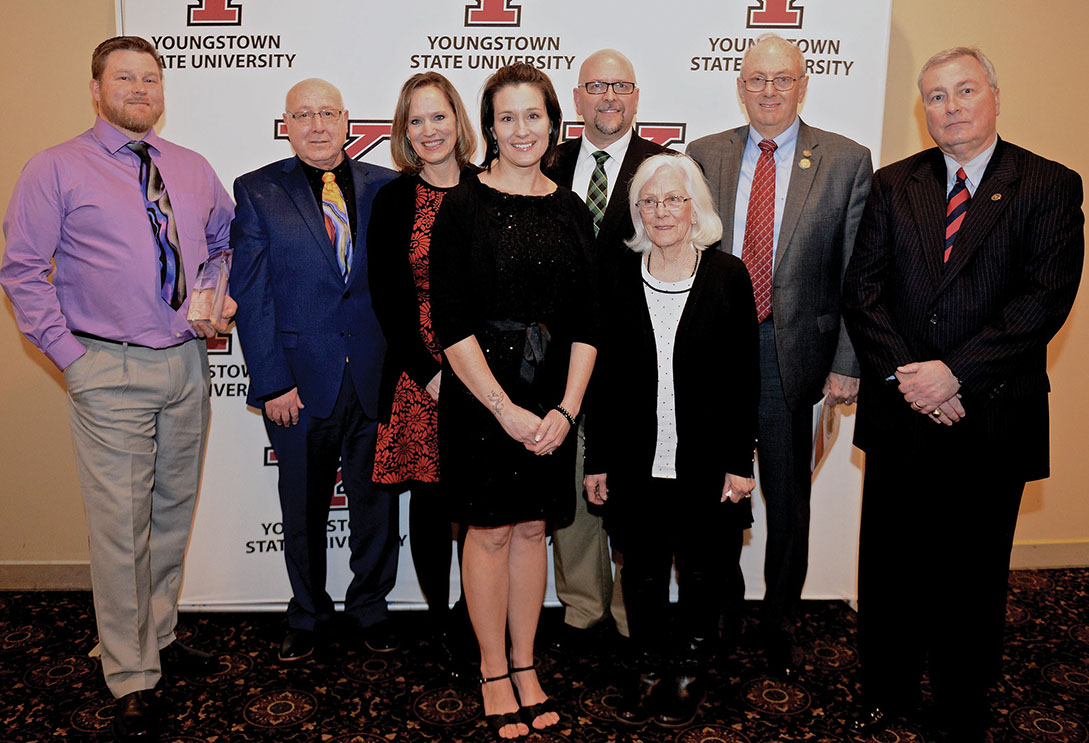 Bitonte College of Health & Human Services confers awards
PThe Dr. Dominic A. and Helen M. Bitonte College of Health and Human Services honored alumni, faculty, staff, as well as former dean and interim provost Joe Mosca, during the 10th annual alumni recognition dinner in February.
Pictured in the back row L to R: Matthew Leathers, 2000, 2003 & 2014, Physical Therapy honoree; Richard Crish, 1979, 1980 & 1997, Nursing honoree; Kathy Komara, 1999 & 2012, Social Work honoree; John Rindy, 1990, 2002 & 2005, Health Professions honoree; Ron Pusateri, 1986, Military Science honoree; and James Ciotti, 1992 & 1994, Criminal Justice & Forensic Sciences honoree. Pictured in front: Dana Gough, 2016, Human Ecology honoree (at left) and Patricia McCarthy, Dean's Appreciation Award recipient (at right). Not pictured: Edward Potkanowicz, 1997, Kinesiology & Sport Science honoree, Harry (Jody) E. Patrick III, Dean's Appreciation Award recipient and Mosca.

Alumni named Mahoning Valley Young Professionals 25 Under 35
Joel Evans of Hubbard
2006, BSBA, General Administration, and 2007, MBA
University of Mount Union and Evans Photography

Brian Wharry of Lowellville
2009, BSN, Nursing
Mercy Health

Candace Madden of Canfield
2010, BSBA, Marketing Management
Mercy Health Foundation Mahoning Valley

Abbie Twyford Wilson of Youngstown
2010, BA, Political Science, and 2012, MSEd, Counseling
Eastern Gateway Community College

Stephen Horne, II of New Middletown
2011, BSBA, Accounting
Hill, Barth & King

Jonathon Fauvie of Youngstown
2013, BSBA, Marketing Management
Mercy Health

Julianna Begalla of Cortland
2014, BA, Communication Studies
Cortland Bank

Nicholas Coggins of Girard
2014, BA, Communication Studies
Trumbull County Planning Commission

Marcy Angelo of Hubbard
2015, BSBA, Business Administration
Youngstown Warren Regional Chamber of Commerce

Christopher Anderson of Mineral Ridge
2016, BSBA, Marketing Management, and 2018, MBA
Sweeney Chevrolet Buick GMC

Charles Colvin of Canfield
2017, BSAS, Information Technology
City Kids Care

Morgen Reamer of East Palestine
2018, BSAS, Medical Laboratory Science
One Hot Cookie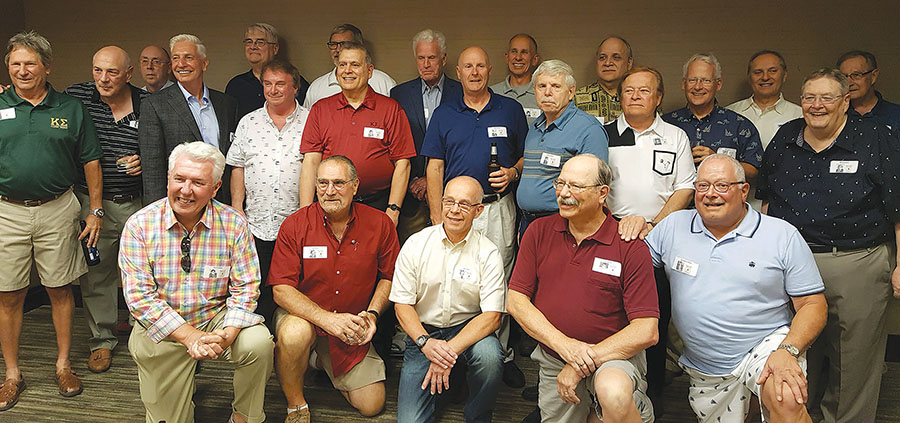 Kappa Sigma fraternity celebrates reunion
YSU Kappa Sigma fraternity members gathered at the Boardman Holiday Inn last summer for their first reunion since 1981.
Pictured from the left are, back row, Bill Rosselot; Jeff Williams, 1972; Mike Sabol, 1970; Jack Behan, 1971; Bill Stone, 1974; Bob Daras, 1976; Ray Romito; and Paul Repko, 1974. Middle row, John Zenobi, 1974; Seth Kohn, 1980; Pat Simon, 1975; Bob Flora, 1977; Jim Costas, 1976; Rick Crossman, 1973; Ed Chop, 1974; Brad Bryan, 1971; Mark Brunner, 1973 & 1977; and Bill Cunningham, 1972. And front row, Jack Krompegel, 1971; John Choleva, 1975; Orton Cowles, 1974; Tom Strouss, 1971; and Ray DeMarco, 1971.