Penguin Mates

Since 2013, YSU Magazine has been sharing the love stories of married YSU couples in our popular "Penguin Mates" column. We introduced the couples featured below in the Spring 2018 print edition – you can read about how they met and see all their photos here.
---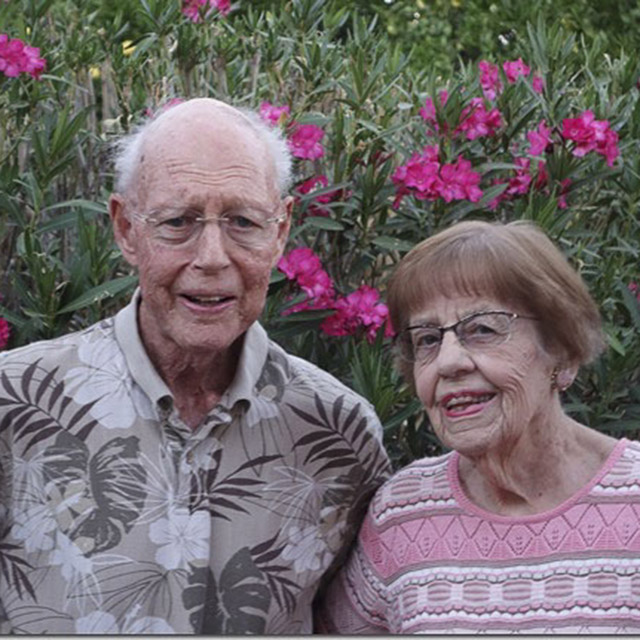 Gene Osborne, '55 BSBA, and June Bradshaw Osborne, '47 AB, were married June 18, 1950, in Youngstown, and in 2017 celebrated their 67th wedding anniversary. They live in Mesa, Ariz.
How we met… Gene and I went to the same church all our lives, Central Christian Church in Youngstown, where were married. We met there in kindergarten but then ignored each other for many years. In high school, we both attended a church youth program – I would take the street car to attend, and Gene began to walk me the couple blocks to get the street car. It was a natural! We were already a couple when I started at Youngstown College in 1945. Gene had spent time in the Navy before World War II ended – now he had to work for his tuition. We probably spent two semesters together before Gene finished his degree in 1955.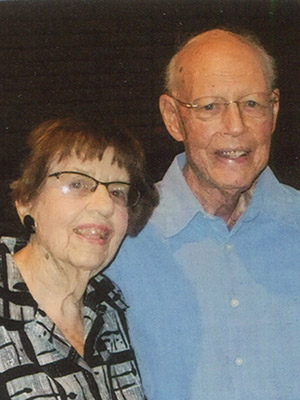 We have lived in many cities during our working days. Gene served a Boy Scout executive, church administrator and did accounting work, retiring as business manager of the Fountain of Sun homeowners' association in Mesa; June was a church educator, a tour guide and the leader of a writing group, retiring as a secretary of Celebration of Life Presbyterian Church, also in Mesa.
Gene turned 90 last July, June was 92 in August. It's been a good life together. We keep a big house, are active in our community and church, and drove to the YSU dinner in Mesa last October.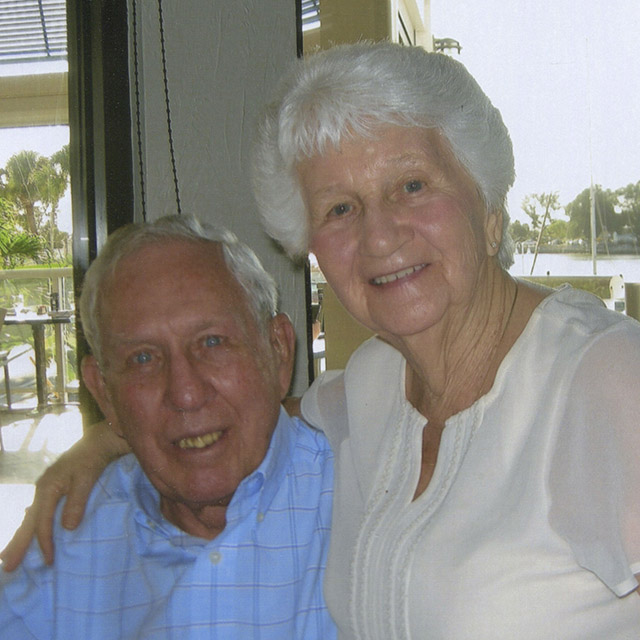 Ian McNabb, '56 BS in Chemistry, and Hannah M. Moore McNabb, '57 BS in Education, were married June 15, 1957 in Youngstown. They live in Venice, Fla.
How we met… They met at what was then Youngstown College and were married one week after Hanna graduated. They have two daughters and five grandchildren. He retired as chief chemist from J&L Steel, and she retired as a first-grade teacher from the Austintown Local Schools. They have relocated to Venice, Fla., where they enjoy the "good life" – good weather and the annual Youngstown Day Reunion in Sarasota.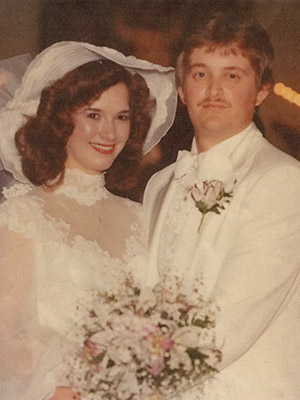 Alan Frank, '80 BSBA, and Noreen "Reenie" Frank, '99 BSBA, were married August 15, 1981, in Struthers, Ohio. They live in Poland, Ohio.
How we met… Alan and I met in 1976 at a wedding, and we dated for five years before we were married. Alan is in sales and business development for GR Golf in New Washington, Ohio, and Reenie is a pharmaceutical sales representative for Noden Pharma, a company based in Dublin, Ireland. We raised two daughters, now also YSU graduates. Kristin, '11 BS in Chemistry, is now a doctor of Pharmacy in Hoboken, J.J., and Abbie, '16 BA in Psychology and Interpersonal/Organizational Communication, is a communications specialist for Rakuten Overdrive in Cleveland. We both love YSU and are so proud to be among the married couples in Penguin Mates.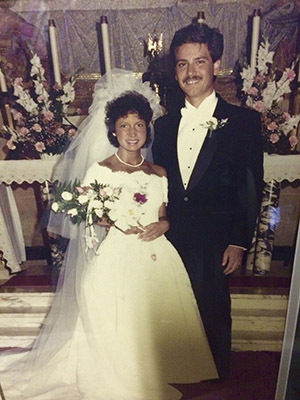 Tony Lozzi, '81 BSBA, '84 MBA, and Celeste Corso Lozzi, '82 BSBA, were married June 14, 1987, in Warren, Ohio, and recently celebrated their 30th anniversary. They live in Naples, Fa.
How we met… We were both from Warren but didn't know each other until we met at a fraternity party at YSU. My wife hated Greek life but I loved my experience at YSU with my Alpha Phi Delta Brothers! Lifelong friends!
We've been married for 30 years and moved to Naples, Fla., in 2011.
I worked for Nestle, Quaker Oats and Coca Cola in various sales and marketing positions, 27 years in Columbus, Baltimore and Chicago. I retired from National Accounts. My wife worked as a stay-at-home mom and in retail sales. Now, we are both employed as Realtors, helping fellow Penguins find their winter retirement homes in Southwest Florida.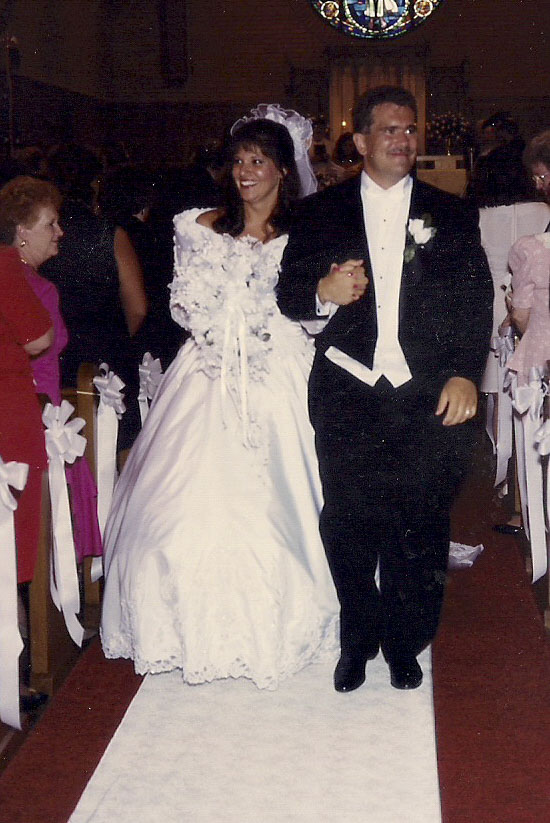 George Kirby, '89 BS in Music Education, and Deann Powell Kirby, '91, BS in Elementary Education, were married June 24, 1995, in Youngstown. They live in Fowler, Ohio.
How we met… We met the summer of 1991, when we both were employed by Mathews Local Schools. He was the junior high band director; I was hired as the majorette advisor and long-term substitute teacher that fall. Technically, you could say we met at band camp. I love our story because, not only did I graduate from Mathews, but I met my future husband and got my first full-time teaching position in this district. At the present time, we are both employed as teachers, he is with the Buckeye Local Schools and I am working in the Joseph Badger Local School district. Our youngest son is a junior at Mathews and is loving being a part of the Marching Mustangs at Mathews.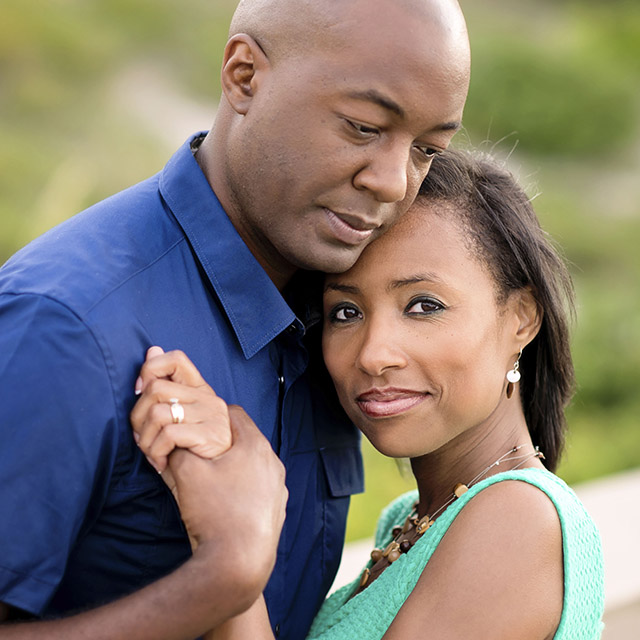 Dexter Caffey, '96 BSBA in Business Finance, and Rashida Williams Caffey, '97 BS in Elementary Education, were married July 17, 1999, in Warren, Ohio. They live in Atlanta, Ga.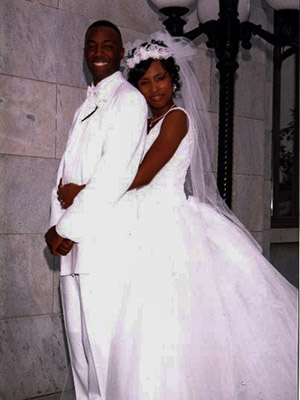 How we met… Rashida and Dexter met at YSU in 1993 when they were both sophomores. Dexter graduated in 1996 majoring in Business Finance; Rashida graduated in 1997 and majored in elementary education. They always enjoy talking about memories of how they met at YSU.
Dexter owns an investment firm, Caffey Investment Group, Inc., and Rashida teaches English as a second language at Lake Forest Elementary School in Sandy Springs, Ga.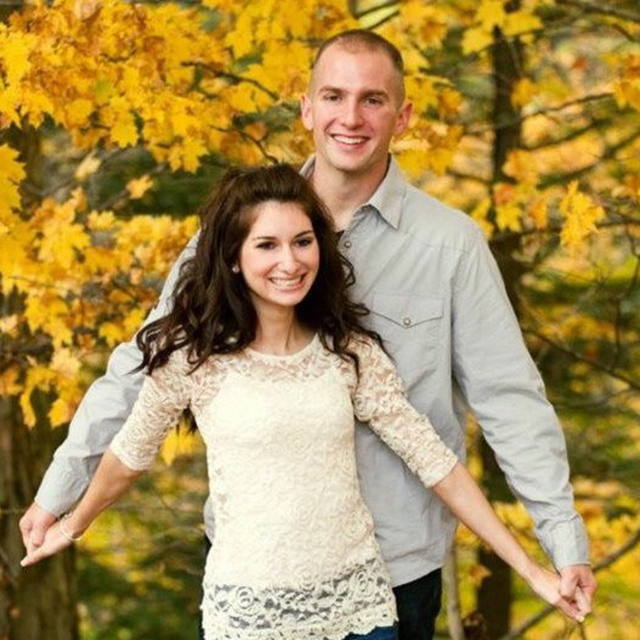 Devin Lowry, '10 BA in Psychology, and Nicole Brown Lowry, '11 BSBA in Human Resource Management, were married May 25, 2013, in New Castle, Pa. They live in Wheeling, W.Va.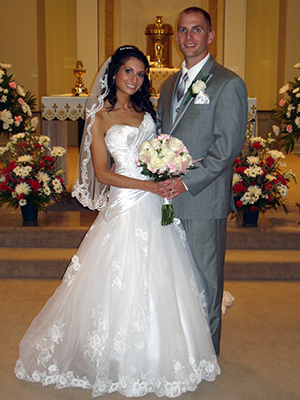 How we met... Devin and I met as employees of a local retail store while we were both attending YSU – he worked in loss prevention and I worked in the footwear department. We had our eyes out for each other! He graduated in 2010, and started his career in law enforcement. I graduated in 2011, and started my career in human resource management, and we got engaged in 2012.
Devin is still working in law enforcement and I am a senior human resources generalist for Paychex Inc. We have been together for 10 years, and are "fur parents" to our German Shepherd pup, Rafi!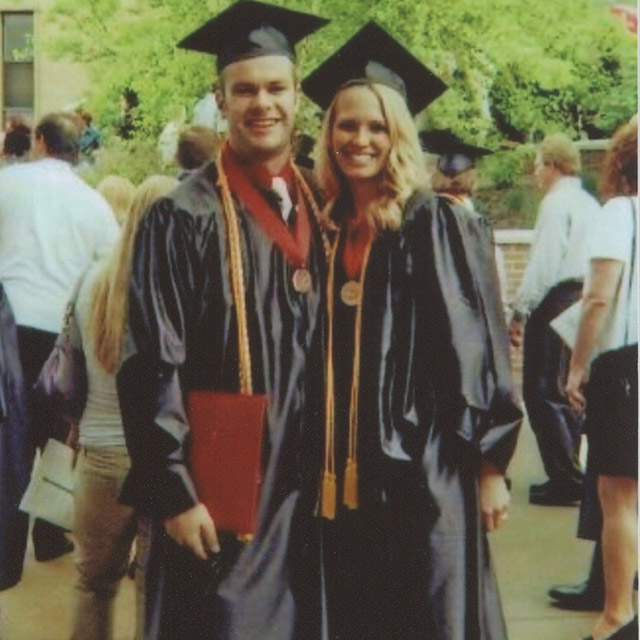 Robert Mayle and Jennifer Drabison Mayle, both '09 BS in Nursing, were married Oct. 15, 2016 at St. Patrick's Church, Youngstown, and they live in Youngstown.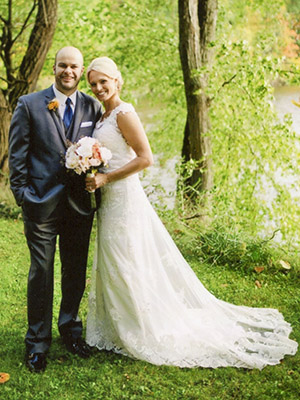 How we met… Robert and I met at YSU in undergraduate nursing school where we shared several classes together and began our friendship. We graduated with our BS degrees in Nursing in the spring of 2009 and started dating the following fall. Robert finally proposed after six great years. We plan to build a home together in Northeast Ohio this coming year.
Robert also earned an MS in Nursing from Kent State University and is an acute care nurse practitioner at the Cleveland Clinic. I work as a registered nurse at St. Elizabeth Youngstown Hospital.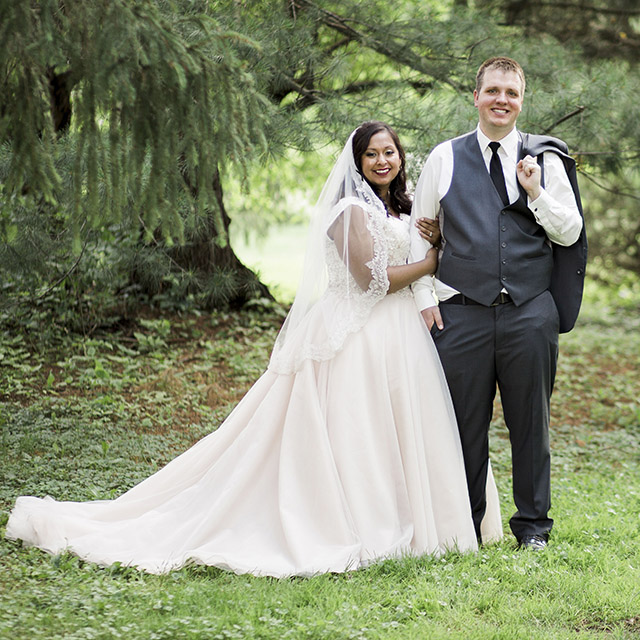 Matt Butler, '12 BSBA in Advertising and Public Relations, and Alina Rios-Butler, '12 BFA in Photography, were married June 24, 2017, in Chagrin Falls, Ohio. They live in Cleveland Heights, Ohio.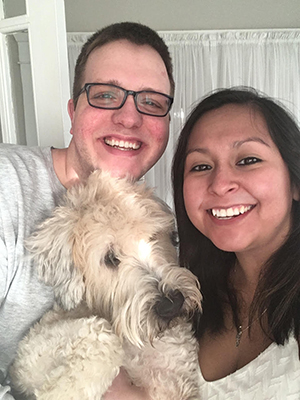 How we met… Matt and I were both students at YSU when we met through a mutual friend over lunch and became fast friends ourselves. Matt couldn't seem to stop visiting me for long chats while I worked at the Candy Counter in Kilcawley Center. A few weeks later we shared our first kiss outside his fraternity house, and we began dating in February 2011.
After graduating from YSU, both of us moved to the Cleveland area, and we decided to move in together a year later when we found a cozy little apartment in Lakewood. Matt proposed one November morning in 2015, and we were married at the Chagrin Valley Athletic Club in Chagrin Falls, Ohio, surrounded by our family and many of our friends from YSU. One of my maids of honor was the friend who introduced us and my Big Sister in my sorority. Matt's best man was his best friend and one of his fraternity brothers. We now live in Cleveland Heights, Ohio, with our Wheaten Terrier pup, Marshall, and we hope to adopt children in the future. I am employed as an admissions counselor for DESI/ Job Corps, and he is a buyer for Integral.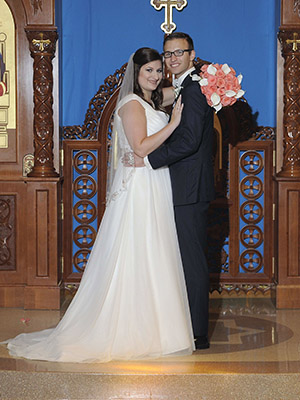 Patrick Gessler, '15 BS in Nursing, and Nicole Pavlichich Gessler, '14 BS in Exercise Science, '17 Doctorate in Physical Therapy, were married Sept. 23, 2017, in Youngstown. They live in Canfield.
How we met… We met through mutual friends and started dating when we were in high school at Austintown Fitch. We have been together since 2009. Pat is a registered nurse at St. Joseph Warren Hospital; I am a physical therapist with Blue Sky Therapy in Canfield. We purchased our first home in October 2017.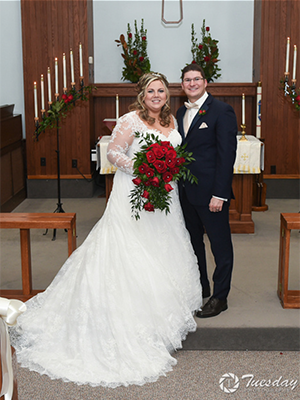 Matthew Madgar, '16 BSBA, and Lindsey Harrison Madgar, '15 BA in Political Science, were married December 30, 2017, in Lordstown, Ohio. They live in Cuyahoga Falls, Ohio.
How we met... We met on campus while taking Biology and Chemistry classes together our Freshman year. Now, Matthew is the coordinator of Recruitment & Retention for the College of Business Administration at the University of Akron, where is also pursuing an MBA. I will graduate from the UA School of Law this May with a JD/MBA and I am also interning at the Northeast Ohio Medical University in the general counsel's office.
- Lindsey Harrison Madgar
---
Penguin Mates is a continuing feature in YSU's alumni magazine. If you and your spouse are both YSU graduates, let us share your story. Tell us how you met, and a little about your life today, in 300 words or less, and send it with one or more current photographs and/or wedding photos. Please include your degrees, graduation years, city of residence, email address and phone number so that we can contact you. Email your information to: universitymagazine@ysu.edu, or mail it to: YSU Magazine, Youngstown State University, One University Plaza, Youngstown, OH 44555.