Around Campus

Alums Michael A. Peterson, Charles T. George Named to YSU Board of Trustees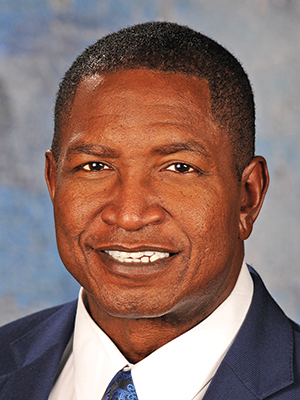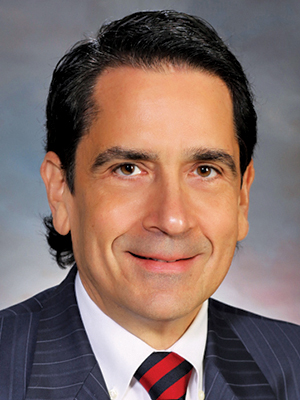 Gov. John Kasich has named Michael A. Peterson of Massillon, Ohio, and Charles T. George of Canfield, to the YSU Board of Trustees.
Peterson, who earned a bachelor's degree in Criminal Justice from YSU in 1989, also played on the Penguin football team. He is director of Global Investigations and Security Services for Goodyear Tire & Rubber Co., Akron.
Peterson has nearly three decades of experience in security consulting, human resources and investigative services, including work as a court investigator, intensive probation supervisor and law enforcement officer. He also holds graduate honors from the Wharton Business School Executive Leadership Program. His term runs through April 2025.
George, who earned a bachelor's degree in Accounting from YSU in 1981, worked for 17 years at Packer, Thomas & Co. in Youngstown, serving as company president and senior shareholder.
In 2007, he became chief executive and majority shareholder of Hapco Inc. in Kent, Ohio, the largest independently-owned provider of industrial heat tools and extrusion supplier in the world. He also serves as chief executive of two Youngstown-based companies, Strangepresse, which manufactures extrusion heads for the additive manufacturing industry, and Triptech Plastics, which produces thermoplastic filament and welding rod used in the oil and gas, textile, 3D printing and additive manufacturing industries. His term runs through April 2027.
---
Alumni to Headline Dana's 150th Celebration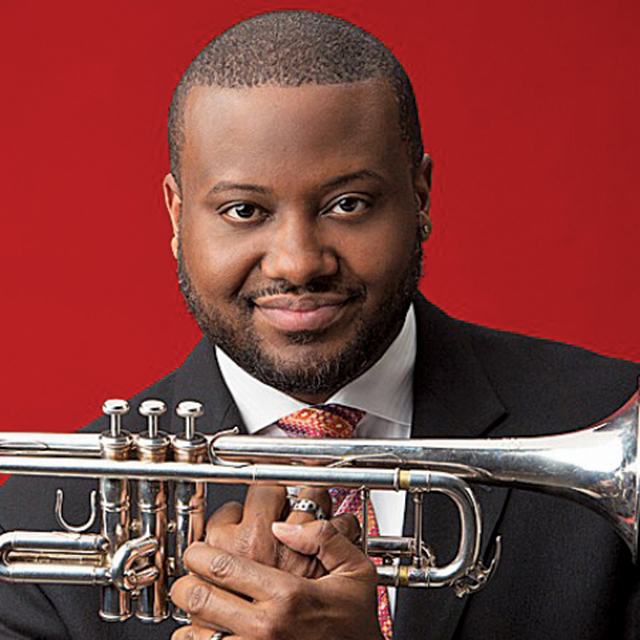 YSU alumni Sean Jones, an internationally acclaimed trumpeter, and Ralph Lalama, a Grammy Award-winning tenor saxophonist, will headline a weekend jazz fest Sept. 14-16 to kick off the Dana School of Music 's 150th anniversary celebration.
Other Dana grads to be featured, all heavy hitters in the jazz world, include pianist James Weidman, '76 BM, drummer Darryl Pelligrini, '83 BM, and bassist Phil Palombi, '01BM, also a Grammy winner. The weekend will include master classes at Bliss Hall, a high school all-star honor jazz band and a concert, set for 2 p.m. Sunday, Sept. 16, at the DeYor Performing Arts Center in Youngstown.
Jones, '00 BM, also a bandleader, composer and educator, is the Richard and Elizabeth Case Chair in Jazz Studies at the Peabody Conservatory of Johns Hopkins University. He is artistic director of the Pittsburgh Jazz Orchestra, artist-in-residence at San Francisco Performances and artistic director of Carnegie Hall's NYO Jazz, which will make its Carnegie Hall debut and inaugural European tour this summer.
Lalama, '75 BM, a three-time Grammy winner through his work in the Joe Lovano Nonet and the Vanguard Jazz Orchestra, has released nine CDs as a bandleader and is featured on more than sixty recordings as a sideman. He is an adjunct jazz professor at New York University.
YSU's Dana School of Music was founded in Warren, Ohio, on Oct. 9, 1869, by William Henry Dana, a Warren native. Originally known as the Dana Musical Institute of Warren, the school moved to Youngstown in 1941 and merged with Youngstown College to become the Dana School of Music.
---
Trustees OK Plan for Guaranteed Four-Year Tuition
Students enrolling at YSU can be assured that their tuition will be unchanged for four years as they pursue their degrees under the Penguin Tuition Promise approved by the YSU Board of Trustees.
"It makes the cost of college more predictable, it helps families better plan financially and it encourages students to complete their degrees on time," said YSU President Jim Tressel.
Under the Penguin Tuition Promise, which begins with students entering in Fall 2018, a guaranteed tuition rate will be set for each incoming class of undergraduate students and will remain the same for four consecutive academic years as students pursue their bachelor's degrees. Room and board charges will also remain the same through four years for those students.
Both rates also remain the lowest among public comprehensive universities in Ohio. YSU's tuition charge is about $1,500 or nearly 20 percent below the state average.
---
Living Well Program Gets State Kudos
YSU's employee worksite wellness program received the Gold Level Award from the Healthy Business Council of Ohio – the only university in the state to get gold.
Living Well, YSU's Employee Wellness Program, began in 2009 and is run by Carrie Clyde, Wellness coordinator. The program offers a variety of initiatives ranging from screenings and health assessments to yoga, Weight Watchers and smoking cessation. New initiatives include a walking challenge campaign, "Fitness Flash Fridays," and a program to address getting a good night's sleep.
Fulbright Program Sends Paul Sracic to Japan

Paul Sracic, professor and chair of YSU's Department of Politics and International Relations, has been granted a Fulbright Award to lecture in Japan. He is believed to be the first YSU professor to earn two Fulbright honors – his first, in 2009, was also in Japan.

Sracic's award runs from September 2018 through July 2019 and will include lecturing on American trade politics at Waseda University in Tokyo and Yokohoma National University in Yokohama.

A frequent guest and interviewee in international news media, from CNN and NPR to the Washington Post and USA Today, Sracic holds a PhD and master's in Political Science from Rutgers University. He is co-author of Ohio Government and Politics with Bill Binning, chair emeritus of the YSU Department of Political Science.

President Tressel's Contract Renewed Through June '19

Praising President Jim Tressel's achievements in office so far, the YSU Board of Trustees reached an agreement with him that extends his contract for another year, through June 30, 2019.

"Since becoming YSU's chief executive in 2014, the campus has seen great progress in nearly every facet of the university's operations," said Trustee Chair Len Schiavone. "We are pleased that President Tressel's leadership and the university's momentum will continue."

Tressel was named YSU's ninth president in 2014 and signed a three-year contract, last year he signed a new agreement to extend the contract through June 2018. That agreement also calls for three separate additional one-year renewal options that could take the contract through June 2020. The newest pact includes no pay increase for Tressel. His annual salary will remain at $300,000.
---
YSU Wins Grant to Equip MVICC
YSU will purchase state-of-the-art equipment for industrial maintenance training programs in the Mahoning Valley Innovation and Commercialization Center, thanks to a $636,751 award from the Ohio Department of Higher Education.
The funds from the state's Regionally Aligned Priorities in Delivering Skills program will benefit students at YSU, Eastern Gateway Community College, county career and technical centers, as well as area manufacturers, said Mike Hripko, YSU associate vice president of Research.
MVICC is now under development in a building at the corner of Fifth Avenue and West Commerce Street in downtown Youngstown, a site formerly owned by Mahoning County.
The state has allocated $4 million in capital funding for the center in 2019-20, in addition to $3 million in state capital allocations in 2018-19. YSU has also received $1 million from the Appalachian Regional Commission and $2 million from the U.S. Department of Economic Development for the project. The university will raise an additional $14 million through an ongoing capital campaign led by the YSU Foundation.
---
$500,000 Gift Supports Centofanti Symposium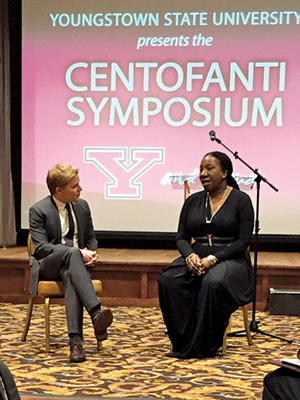 Renowned speakers such as #MeToo movement founder Tarana Burke, women's rights activist Gloria Steinem and political satirist W. Kamau Bell have come to Youngstown over the past five years, courtesy of the Centofanti Symposium. A recent $500,000 gift from the James and Coralie Centofanti Charitable Foundation will help the symposium continue its mission – to increase the community's awareness of the diverse challenges facing society and how they impact vulnerable populations.
The gift is part of YSU's $100 million "We See Tomorrow" fundraising campaign.
Previously, the Centofanti Foundation donated $1 million to YSU in 2012 to establish the James and Coralie Centofanti Center of Health and Welfare for Vulnerable Populations at the Bitonte College of Health and Human Services.
YSURF Partners with Israeli Startup

The Youngstown State University Research Foundation signed a partnership agreement in February with PrintSYSt, an Israeli startup company, to help make 3D-printing simpler and more accessible.

The partnership, which includes the Youngstown Business Incubator, is part of YSU's continuing effort to create strong ties to Israel and to build relationships that will benefit students, faculty and community. PrintSYSt has patented an application that is designed to assist users to 3D print faster with a variety of designs and to achieve new peaks in printing. Mike Hripko, YSU Research Foundation president and YSU associate vice president for Research, said PrintSYSt will be applied in support of printing equipment at YSU and YBI.

YSU is home to commercial equipment representing all seven methods of 3D printing, believed to be the first such technological milestone in the eastern United States.

Alum Communications Executive Speaks at Fall Commencement

Pamela Browner White, an accomplished senior executive with nearly three decades of progressive leadership in corporate public affairs and communications, was the featured speaker at YSU's Fall commencement and received an honorary degree. Now senior vice president of Communications at the American Board of Internal Medicine and the ABIM Foundation, she earned a BA in Communications at YSU in 1987.
---
YSUpdate & YSU Magazine Win National Awards
Two Youngstown State University publications – YSUpdate, the campus newsletter, and YSU Magazine, your alumni publication – have garnered top honors in three national competitions.
YSUpdate, a semi-monthly newsletter for faculty and staff, took Gold Awards in the Annual Service Industry Advertising Awards contest and in the 33rd Annual Educational Advertising Awards, plus a Silver Award in the 33rd Annual Collegiate Advertising Awards.
YSU Magazine, published twice a year and distributed to YSU alumni nationwide, took a Silver in the Service Industry Advertising Awards and a Merit Award in the Educational Advertising Awards.
YSU Magazine and YSUpdate have earned national awards in four of the last five years. Both publications are produced by YSU's Office of Marketing and Communications. The YSUpdate is edited by Ron Cole, public information officer; YSU Magazine is edited by Cynthia Vinarsky Hixenbaugh; both are designed by the YSU Creative Services team, including Mary Ann Bodnark, Renée Cannon, Rachell Joy and Renée Vivacqua.