Around Campus
---
Covellis' $1M Gift Supports Athletics Complex
Generosity. Tradition. Community.
Those were among the words President Jim Tressel used to thank Sam and Caryn Covelli for their recent $1 million gift to enhance and maintain YSU athletics facilities across from Stambaugh Stadium.
"We are honored to partner with the Covellis to continue the dramatic improvement to the Fifth Avenue gateway and to enhance the campus learning experiences of our students," Tressel said. "The affiliation with the Covelli family name, a name that speaks to excellence, is a blessing for YSU."
In recognition of the gift, the athletics facilities have been named the Covelli Sports Complex.
"We are pleased to be able to help the university in its mission to provide a first class athletic complex for its soccer, track and field, and softball programs," said Covelli, who received an honorary degree and served as keynote speaker at YSU's 2016 Fall Commencement.
The facilities include Farmers National Bank Field and the YSU softball field, as well as a proposed new tennis center.
For many years, the neighborhood was blighted by vacant homes and empty lots. In 2013, after more than a decade of acquiring and cleaning up the property, YSU constructed a soccer/track/softball complex.
Covelli is owner/operator of Covelli Enterprises, headquartered in the Mahoning Valley. The company operates more than 300 Panera Bread bakery-cafés, O'Charley's restaurants and Dairy Queen stores in Ohio, Kentucky, Florida, North Carolina, South Carolina and Georgia.
The company has a long history of giving back to the community, including the U.S. Marine Corps Toys for Tots program, The Rich Center at YSU, Potential Development School and the annual Panerathon, which has drawn more than 50,000 people and raised more than $2 million for the Joanie Abdu Comprehensive Breast Care Center at St. Elizabeth Health Center over the past seven years.
The Covellis live in Warren, and have three children: Candace, Albert and Danielle.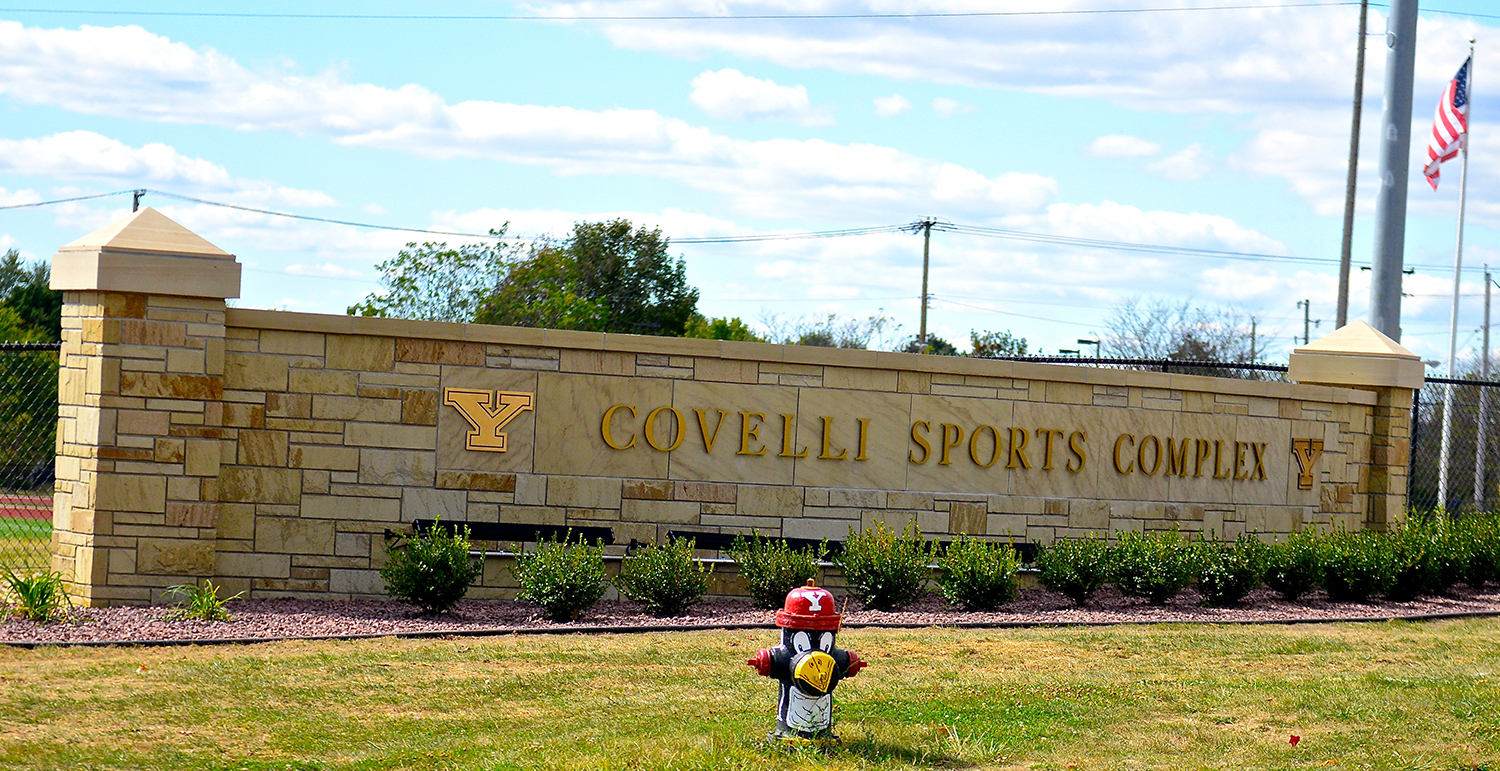 ---
YSU Board of Trustees Adds Three New Members
YSU's Board of Trustees added three new faces this fall. Molly S. Seals of Canfield and Capri S. Cafaro of Hubbard were sworn in as the newest members of the board; Lexi Rager of Bristolville took the oath as a student trustee.
Molly Seals

Capri Cafaro

Lexi Rager

Seals is system vice president of Human Resources Program Delivery at Mercy Health Youngstown. She earned a bachelor's degree in Human Resource Management from the University of the State of New York, an MBA from Bowling Green State University and an Applied Business degree from YSU. She replaces Charles Bush, who resigned from the board. Her term runs through April 2024.

Cafaro served 10 years as a state senator, including as minority leader from 2009 to 2012. An executive in residence at American University's School of Public Affairs in Washington, D.C., she holds a bachelor's degree in American Studies from Stanford University, a master's degree in International Studies from Georgetown University and a master's of Social Work from Ohio State University. Cafaro's term continues through June 2026. She replaces Carole Weimer, whose term expired.

Rager, a daughter of William and April Rager of Bristolville, is an Integrated Mathematics Education major at YSU, with a minor in Developmental Psychology. She will serve a two-year term. The board consists of nine members, plus two student members, all appointed by the governor.
---
Payiavlas Family Gift Benefits Media Center
The Payiavlas Family, owners of Warren, Ohio-based AVI Foodsystems, has donated $500,000 toward a new YSU sports media center planned for construction at Stambaugh Stadium. In recognition of the gift, YSU will name a classroom in the center to honor the Payiavlas Family.
The Don Constantini Multimedia Center at Stambaugh Stadium will be constructed atop the east side of the stadium. It will house classrooms and laboratories for the YSU Department of Communication and YSU's Sports Broadcasting program, as well as providing a venue for game day activities for all Stambaugh Stadium events.
AVI Foodsystems is the largest independently owned and operated food service company in the nation, providing hospitality and food services in 46 states and serving thousands of clients and millions of customers.
---
Campus Facelift: Wick Avenue Improvements, New Bookstore
A new and improved Wick Avenue, complete with block "Y" crosswalks and decorative red brick sidewalks, is creating what President Jim Tressel calls a "spectacular" gateway for the YSU campus.
Youngstown and YSU officials unveiled the finished project on Oct. 27, completing a $4.4 million construction process that began in September 2016 and was funded mostly with federal money. The Wick improvements, which run from Rayen through the campus to McGuffey Road, include paving, underground utilities, water and sewer line replacements, new street lights, signage and sidewalks.
Other major projects completed this year include YSU's new Barnes & Noble student bookstore on Fifth and Lincoln avenues, in photo at top right. Featuring a full-service café serving Starbucks products, it opened in time for Fall Semester.
Phase II of The Edge, privately funded student apartments on Rayen Avenue, also opened this fall, and work is well underway along Wick between Rayen and Wood Street on the new Enclave student apartment and retail development.
The Enclave, in background of photo at left, also privately-funded, is set for completion by the start of Fall Semester 2018.
Recent upgrades to Lincoln Avenue, another major campus thoroughfare, include brick crosswalks, pavement, lighting and trees.
YSU is experimenting with artificial turf along the sidewalks on Lincoln, in lower photo at right, where regular grass has often been damaged by winter road salt and summer heat. John Hyden, executive director of Facilities, said the university may consider synthetic turf for other areas if the test run is successful.
---
Honorary Degrees Awarded Two Alums
| | |
| --- | --- |
| Presley Gillespie, '92 AB, president of Neighborhood Allies in Pittsburgh was presented with an honorary degree at YSU's Spring Commencement. Gillespie was the founding executive director of the Youngstown Neighborhood Development Corp. | George Young, '83 BS, chief executive of Kalypso LP, was presented with an honorary degree at YSU's Spring Commencement. Young, who also holds a PhD and an MBA, is the founder of Kalypso, a global management consulting firm. |
---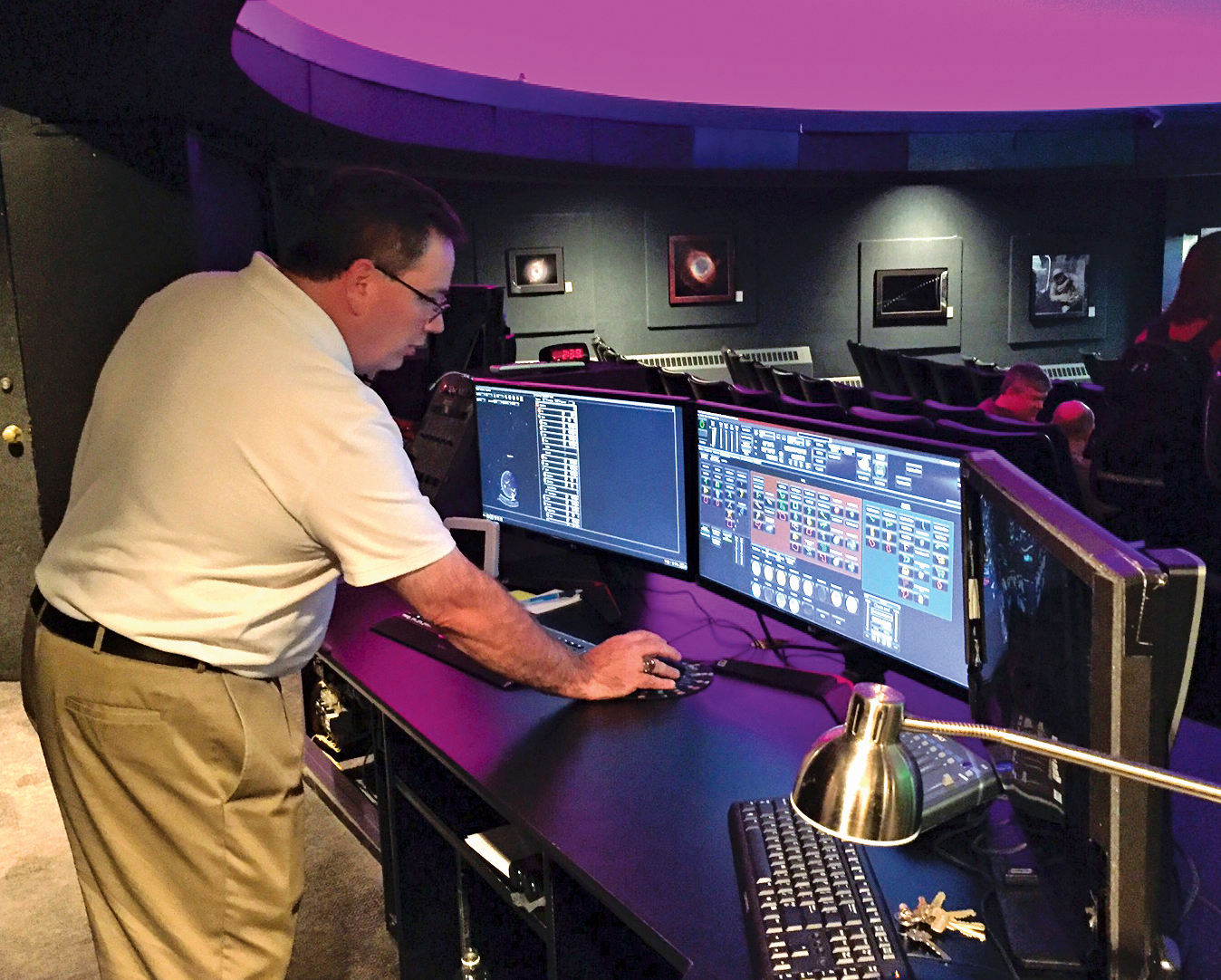 Stars Shine Brighter With New Projection System
Ward-Beecher Planetarium engineer Curt Spivey works at the controls of a new, fulldome projection system unveiled this fall as the planetarium marks its 50th anniversary. The new equipment features state-of-the-art pixel resolution and surround sound quality. All planetarium shows are free and open to the public. For more information, including the 2017-18 show schedule, visit www.wbplanetarium.org.
---
YSU Tuition Remains Lowest
Tuition at YSU continues to be lower than any other public comprehensive university in Ohio and Western Pennsylvania. With a full-time undergraduate tuition of $8,317 a year, YSU's cost is nearly $1,500 below the state average.
"YSU is competitively well-positioned in the state and regional higher education marketplace, especially in light of growing public concern over rising college costs and student debt," said Neal McNally, vice president for Finance and Business Operations.
As Fall Semester began, all university residence halls, as well at the YSU Courtyard Apartments, were at capacity with nearly 1,300 students. In addition, privately owned and operated University Edge apartments on Rayen Avenue were filled.
YSU welcomed 456 international students this fall, the largest number in YSU history, and the number of students transferring to YSU from other institutions is also up.
The university awarded 2,468 degrees and certificates in the 2016-2017 academic year. In total, 2,334 students earned degrees in that time period, the fifth highest number in the university's 100-plus year history.
Israeli College Pact Expands YSU's Global Outreach
Western Galilee College in Israel is the latest to sign a memorandum of understanding with YSU as part of the university's continued efforts to expand its global reach.
The agreement, which sets the framework for a variety of educational collaborations, resulted from a seven-day trip to Israel in January that included President Jim Tressel and a delegation representing YSU and the Youngstown Business Incubator.
The agreement outlines areas of cooperation between the two institutions to include student internships, student and faculty exchanges, joint research and publication opportunities, participation in seminars and academic meetings, exchange of academic materials and the development of special short-term academic programs.
This MOU expands the university's international footprint and the educational opportunities offered to students, faculty and staff. There are currently more than 450 international students from 52 different countries studying at YSU.
---
---
YSU Nursing: Golden Year Brings Accolades
YSU's Department of Nursing ranked high in two recent rankings this year as it celebrates its 50th anniversary. The master's in Health and Human Services online degree program was ranked 27th in the nation by College Values Online, which ranks university programs based on affordability and value-adding features.
In addition, YSU's nursing programs were ranked 18th best out of 84 programs in Ohio by RegisteredNursing.org. Nursing programs were assessed on how well they support students towards licensure and beyond, including analysis of past and present licensure pass rates.
Founded in 1967 as an associate degree program, YSU Nursing enrolls more than 450 undergraduate students and 80 graduate students. The program boasts more than 4,300 alumni, and 95 percent of BSN graduates are employed in their field within six months of graduation.
---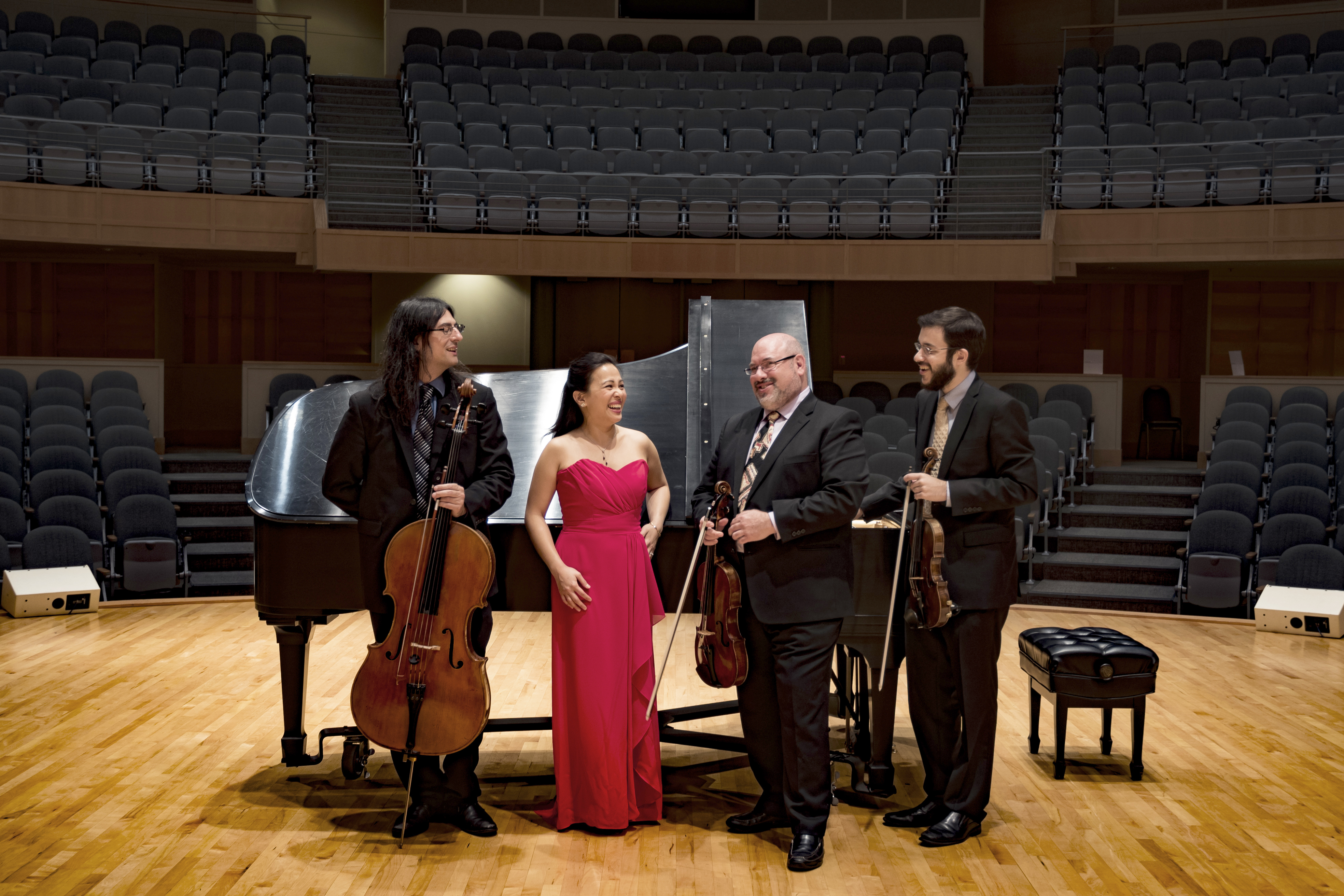 Dana Piano Quartet Makes World Debut at DeYor
Four YSU faculty members combined their talents for a world debut as the Dana Piano Quartet performing at Youngstown's historic DeYor Performing Arts Center. The quartet features YSU Dana School of Music professors, from left, Kivie Cahn-Lipman, cellist; Cicilia Yudha, pianist; Michael Strauss, violist; and Joseph Kromholz, violinist. Phyllis Paul, Dean of the College of Creative Arts and Communication, said YSU plans a series of concerts at the DeYor this year, reflecting the university's commitment to community engagement and participating in the revitalization of the downtown.
---
In Memoriam…
The YSU family is mourning the recent loss of several supportive members of our university community. Among those passing were:
Tony Lariccia, alumnus and donor after whom the Lariccia School of Accounting and Finance is named.
Harry Meshel, former state senator, member of the YSU Board of Trustees, and donor, after whom Meshel Hall is named.
Frank Watson, former trustee and donor, after whom the Watson and Tressel Training Site is named.
George McCloud, retired professor, dean of the College of Fine and Performing Arts and vice president for University Advancement.
For more information, read the summary of the Board of Trustees' September meeting.
---
YSU Seeks Comments for Accreditation
Youngstown State University is seeking comments from the public about the university in preparation for its periodic evaluation by its regional accrediting agency.
The university will host a visit March 26 and 27, 2018, with a team representing the Higher Learning Commission. YSU has held continuous regional accreditation since 1945. The Higher Learning Commission reaffirmed accreditation in 2008. The team will review the institution's ongoing ability to meet HLC's Criteria for Accreditation.
The public is invited to submit comments regarding the college to the following address: Public Comment on Youngstown State University, Higher Learning Commission, 230 South LaSalle Street, Suite 7-500, Chicago, IL 60604-1411.
The public may also submit comments by visiting the HLC website.
Comments must address substantive matters related to the quality of the institution or its academic programs. Comments must be in writing.
All comments must be received by Feb. 26, 2018.