Alumni News
Penguin Pride is on the rise
YSU alumni, in partnership with the university's office of Alumni Engagement, have more than doubled the number of active regional alumni groups across the country – growing the total from eight to 18 so far in 2017.
Regional alumni events have included the communities of Cleveland, Columbus, Atlanta, Charlotte, Las Vegas, Phoenix, Pittsburgh, Savannah/Hilton Head, Tampa Bay, Washington, D.C., and Wilmington, N.C.
"We found ways to harness the enthusiasm generated by our National Championship Watch Parties and focus that positive energy toward the creation or expansion of regional alumni groups," said Catherine Cala, Office of Alumni Engagement.
Dedicated alumni who stepped up to serve in leadership roles in their communities were also important to the growth, she said.
Alumni events have ranged from after-work socials and concerts to dinners, winery and brewery tours and athletic events. To find out more about starting a regional alumni group in your area, contact alumni@ysu.edu or call 330-941-3119.
---
Friday, Nov. 17, 6 p.m. – Department of Geography 50th Anniversary Dinner, Johnny's, 7807 Market Street in Boardman. Invitations will be mailed. Contact Marilyn Handel, mkhandel@ysu.edu or 330-941-3317.
Friday-Saturday, Nov. 17-18 – Sixth Annual YSU Veterans and ROTC Alumni Reunion. Social and Reunion Dinner, Friday, 6-9 p.m., Kilcawley Center; Saturday, 10 a.m. Tailgate Brunch at Veterans Resource Center, followed by YSU vs. Missouri State game at noon. Contact Catherine Cala at 330-941-2752 or cacala@ysu.edu.
Sunday, Feb. 11, 2018  "Youngstown Day" at the Hyatt Sarasota, the largest Youngstown-area reunion in the Sunshine State. Florida alumni, watch your December mail for invitations and registration forms.
Friday, Feb. 23, 2018 – Bitonte College of Health and Human Services Alumni Recognition Dinner, The Embassy, 5030 Youngstown-Poland Road, Youngstown. Invitations will be mailed. Call 330-941-2139 or email sfkatros@ysu.edu for more information.
---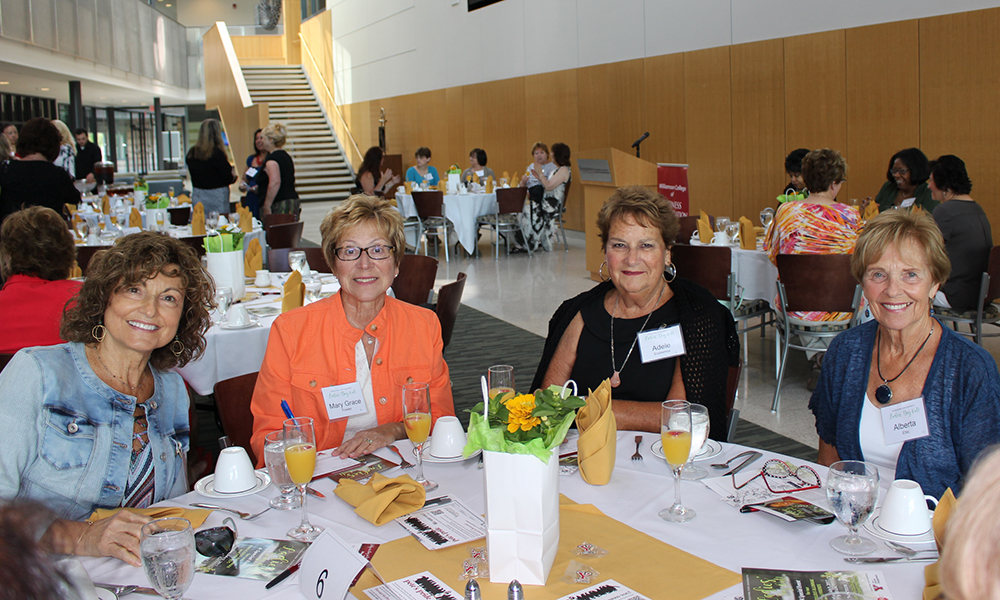 Participating in YSU's first Ladies Day Out are, from left, alumnae Jacquelyn Asbury, Mary Grace Fowler, Adele Economus and Alberta Ellis. Scheduled to coincide with the YSU Summer Festival of the Arts, the champagne brunch was held at the Williamson College of Business Administration. Keynote speaker Cryshanna Jackson Leftwich, director of Women and Gender Studies, spoke on "What Feminism Means in 2017."

Celebrating the 65th Anniversary of Greek Sing at a pre-concert reception in Stambaugh Auditorium's Christman Memorial Hall are, in photo at left, Aaron Carmichael, left, '13, '16, Tau Kappa Epsilon, and Charles Hunter, '12, Sigma Tau Gamma.
Alumni enjoyed both the reception and the 2017 Greek Sing performances by YSU fraternities and sororities. Pictured in the photo at left are, from left, David Tamulonis, '16; Erin Hall, '15, '17, Zeta Tau Alpha; Melissa Sobnosky, '15, Zeta Tau Alpha; and Rees Linville, '14, Tau Kappa Epsilon.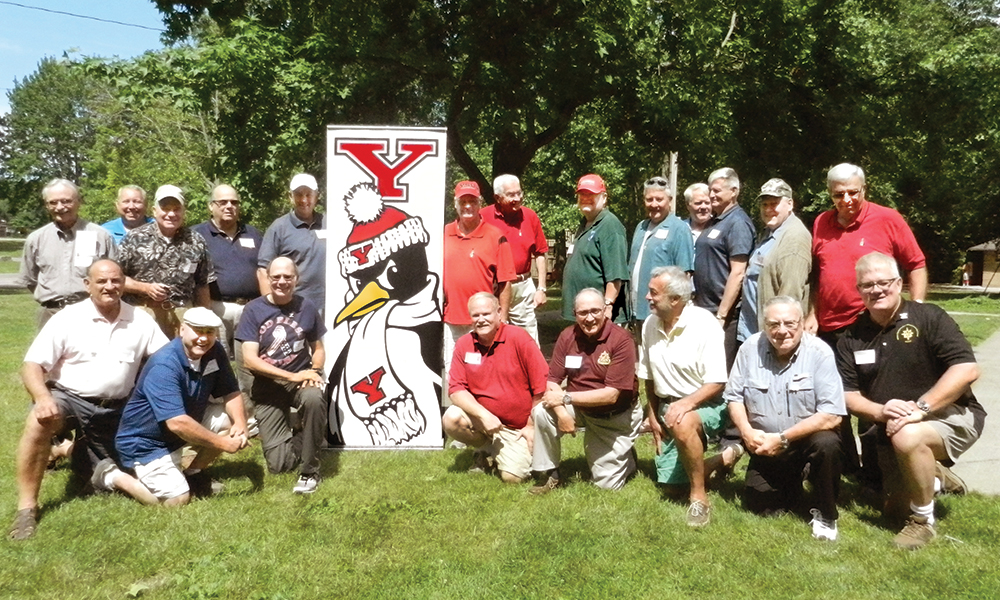 YSU veteran and ROTC alumni attending a summer picnic in their honor at Boardman Park July 29 are, from left: front row, Stephen Papalas, Bruce Henry, Robert Klein, Steven Lawrence, John Marino, Randall Carletti, Robert Fisher and David Long; second row, Jim Fairbanks, James Forestal, David Gildersleeve, Robert Fitzgerald, Ronald Pusateri, Irvin Maurer, Bernie Kosar Sr., Michael Briceland, Joseph Simko, Gene McClelland, Patrick Briceland, Ronald Goodell and Carl Nunziato. Long, '74, and Papalas, '75, '86, organized the event.
---
Alumni Authors
Dr. Ron Domen of Hummelstown, Pa., '72 BA in Pre-Medicine, a physician at Penn State Hershey Medical Center and College of Medicine, has authored a chapbook of 15 poems, titled The Owl in the Woodwork, The book was published by Finishing Line Press. Domen, who specializes in transfusion medicine, was featured in YSU Magazine in Fall 2013.
Nourishment for the Spiritual Pilgrimage: Daily Devotions for Christian Disciples is the second book published by Vernon T. Jones of Alpena, Mich. It was published by Wipf and Stock Publishers. Jones, '73 BA Sociology, also has a master's degree in Theological Studies from Trinity Lutheran Seminary.
Author and professor Juliene McKnight of Doylestown, Pa., '74 BA in English and BS in Education, has published her fifth book, titled The Story We Carry in Our Bones, released in January by Pelican Publishing. The 272-page volume discusses what it means to be an Irish American. McKnight is chair of Humanities at DeSales University in Center Valley, Pa., and has also authored four novels, all on Ireland.
Three YSU alumni have co-authored a book, titled A History of Jewish Youngstown and the Steel Valley, released in May by publisher The History Press. The writers are: Thomas Welsh of Youngstown, '86 BFA in Studio Art, '93 MA in English; Joshua Foster of Louisville, Ky., '00 BFA in Painting and BA in Religious Studies; and Gordon F. Morgan Jr. of Boardman, '12 MA in Professional Writing and Editing. Their 208-page book was produced with the support and collaboration of the Mahoning Valley Historical Society.
Chuck Hewett and his wife, Beth, of Hanoverton, Ohio, spent 76 days hiking the 1,444-mile Ohio Buckeye Trail in 2016, and they've authored a book about their adventure entitled Wandering Ohio – A Buckeye Trail Thru-Hike. Hewitt, '04 MS in Environmental Engineering, retired in 2010 from American Electric Co.
Iron Valley: The Transformation of the Iron Industry in Ohio's Mahoning Valley, 1802-1913, is the title of Clayton Ruminski's new book, published by Ohio State University Press. Ruminski, '11 BA History, '13 MA in American History with a certification in Historic Preservation, is an archival specialist at the Hagley Museum and Library in Wilmington, Del.
---
Kudos for Beeghly College Grads
Six outstanding Beeghly College of Education graduates were honored for career excellence and service this spring at the college's annual Alumni Awards Dinner.
The honorees are:

Alexandra Nannicola, '98 BSEd and '04 MS in Educational Administration – Administrator Award. She is principal of Champion Central Elementary School and was recently named one of Ohio's top principals for grades K-8 by the Ohio Association of Elementary School Principals.
Amy Cossentino, '95 MSEd – Counselor Award. As director of YSU's Honors College, she manages honors programming and provides academic, personal and career coaching to all honors students.
Larry Crawford, '76 MSEd – Educator Award. Academic supervisor at the Trumbull Career & Technical Center since 2002, Crawford has been a teacher, coach and administrator in his 45-year career.
John Tullio, '72 BSEd, '77 MSEd – Lifetime Educational Service Award. Director of Curriculum and Instruction at Canfield High School, where he helped plan an Early College program, his career in education spans 45 years.
Vincent Colaluca, '92 BA in Sports Management­, BSEd in Physical Education ­– Dean's Appreciation Award. Now superintendent of Austintown Local Schools, he taught in Youngstown and Brookfield, then served as an administrator in Struthers and at the Mahoning County Educational Service Center
Monica Jones, '11 MSEd in Educational Administration – Diversity Award. As principal and dean of the Youngstown Early College, she has led the school to achieve a 100 percent four-year graduation rate – surpassing all other urban high schools across Ohio.
BITONTE College of HEALTH AND HUMAN SERVICES Outstanding  Alumni
Nine exceptional alumni were recognized at YSU's Bitonte College of Health and Human Services Alumni Recognition Dinner in March on campus.
Honorees included:

William Romine Jr., '71 AAS in Criminal Justice, '75 BSAS in Criminal Justice and Forensic Sciences, started his career as a patrol officer and served in a succession of police positions until he was elected Mercer County, Pa. Sheriff in 1988. He retired in 2012.
Daniel Carrocce, '89 BSAS in Medical Technology, was a medical technologist until 2003, when he switched to sales. Currently, he is a senior account manager at Instrument Laboratories.
Jeanine L. Mincher, '85 BSAS in Food and Nutrition, '89 MA in Health Education, is an associate professor of Human Ecology at YSU. She also holds a PhD in Education from Kent State. She was a renal dietitian and part-time YSU instructor before joining the university full-time in 2000.
Dr. Hannah Lawther, '06 BSA in Exercise Science, is completing a fellowship at the Mayo Clinic in Scottsdale, Ariz., after earning a medical degree from West Virginia University School of Medicine. Previously, she was a clinical research study coordinator at New York Presbyterian Hospital-Weill Cornell Medical College.
Robert L. Talbott Jr., '78 BSAS in Criminal Justice, is a senior intelligence analyst for the National Ground Intelligence Center and oversaw establishment of the Forensic Encyclopedia Program, the only program of its type worldwide.
Anna Klejka, '93 BSN, '13 MS in Nursing, is vice president of Women's Services for Mercy Health – Youngstown and is board certified as a clinical nurse specialist. Also a Trumbull Memorial Hospital School of Nursing grad, her nursing career spans 30 years.
Sarah Dalton Ortlieb, '98 BS in Physical Therapy, is vice president of rehabilitation services for National Church Residencies in Columbus, Ohio, and facilitated a Geriatric Physical Therapy residency partnership with Ohio State.
Rebecca Soldan, '13 BS in Social Work, is a nonprofit consultant and community organizer with the Mahoning Valley Organizing Collaborative. She recently helped to create the Taft Promise Neighborhood on Youngstown's South Side.
Sally Kenney, '72 BSEd, '91 MSEd, received the Dean's Appreciation Award. She retired as an academic advisor in 2015, concluding a 30-year career at YSU, and co-authored YSU's award-winning Academic Advising Handbook.
---