YSU Launch Lab Pours Sculpture into 3-D Printed Mold
In an Art-STEM collaboration through Launch Lab, a YSU student's clay sculpture was scanned, modeled in software to produce a mold design, 3d printed as a mold, and cast from aluminum in the Art Department Foundry in Bliss Hall. This complete workflow from hand worked sculpture to cast part demonstrates new processes for artistic production and digital fabrication.
Launch Lab Pours Sculpture into 3-D Mold' in Business Journal Daily.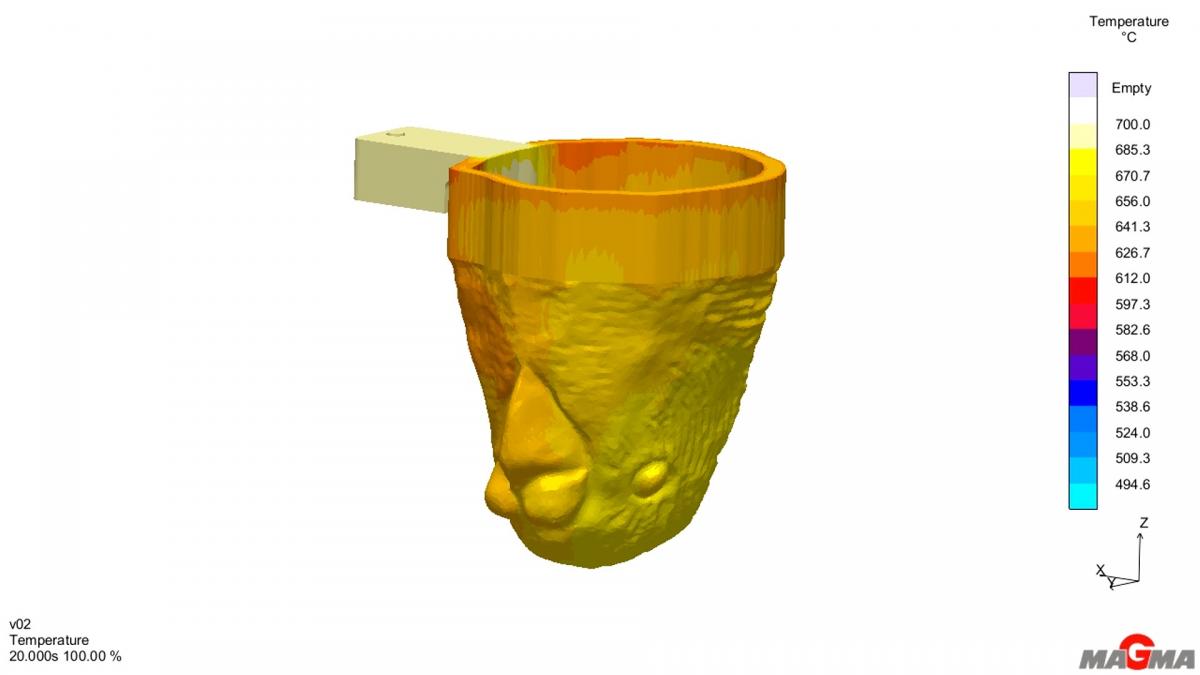 Image of live temperature during pouring.
Support Piece Fix for Collapsing Solar Panel Supports:
Brian Flood, a current MBA student at YSU and employee of Northeastern Metals in Youngstown, OH, came to Launch Lab with a problem. Brian's company has solar panels in Canada, where structural supports were failing due to the buildup of snow on the surface of the panels. Brian and his colleagues designed a small support piece that would help reinforce the solar panel supports. This type of metal part is normally manufactured through an extrusion process. To manufacture the part by extrusion, a die must be machined for metal to be drawn through to form the new parts. This is where Brian's problem arose. With no prototypes to test fit the part on the solar panels, Brian could not risk paying thousands of dollars to have an extrusion die manufactured and the new parts not fit correctly. Brian needed a workable prototype of the support piece to test fit on their solar panels, so he could avoid the costly process of having multiple extrusion dies made.
Working with Launch Lab personnel, six prototype support pieces were 3D printed on the MakerBot Replicator using polylactic Acid (PLA) filament for test fitting on their solar panels. The parts fit perfectly, and Brian was able to have the extrusion die manufactured, confident that no additional extrusion dies would need to be made!