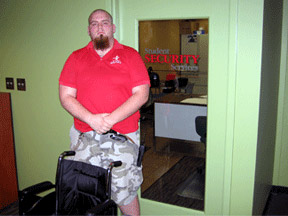 The YSU Student Security Service, sponsored and trained by the YSU Police Department, safely escorts students and employees from one campus location to another, or to the near North Side. This is a free service provided by the YSU Police Department. The Student Security Services Aides [SSSA] are linked by radio to the YSU Police Department Communications Center and make regular reports during their rounds.
Members of the campus community with disabilities, athletes with sport injuries, or anyone who just wants accompanied to their car are encouraged to make special arrangements to be safely escorted to any campus location—day or night.
Need Assistance?
Our Student Security Service Aides [SSSA] can assist with wheelchairs and a specially designed tram* to transport students, staff, and faculty with a temporary or permanent disability. If you would like to set up a continuous pick-up for the semester, please contact the SSSA Office. You will be asked to complete a request form for the semester. For a one-time accompaniment, please call anytime during the hours listed above.
Feel uncomfortable walking alone to your vehicle or class?
A SSSA will be glad to walk with you and will meet you at the location you request. Call for an escort anytime during the hours listed. For a regular scheduled pick-up throughout the semester, contact the SSSA Office and complete a request form.
*Availability of the tram may be limited at peak times due to high volume requests.
Kilcawley Office Fall & Spring Terms
Monday – Friday: 8:00am until 5:00pm
Weekends: closed
Main Office Fall & Spring Terms
Monday – Thursday: 7:00am until 11:00pm
Friday: 7:00am until 8:00pm
Weekends: closed
Academic Breaks and Summer Sessions
Kilcawley Office – closed
Main Office – call for hours
Contact Student Security Services: 330-941-1515
After hours, or on holidays and weekends, call
the YSU Police Department at 330-941-3527.
Email: ysusecurityaides@ysu.edu