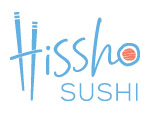 Now located in The Hub is Hissho Sushi! Here, freshly prepared sushi daily on-site is the only way we roll. Every day, our talented chefs prepare delicious sushi that will keep you happy and healthy.
Our robust menu includes starters like edamame and seaweed salad, specialty rolls, and poke. Hissho Sushi searches the world markets for only the highest quality products. Our seafood, rice, vinegar, soy and other ingredients are procured and tested at our state-of-the-art distribution facility. Our chefs buy fruits and vegetables locally to ensure absolute freshness. Our products consistently maintain the health benefits and authentic taste of true Japanese sushi.
Hissho Sushi is operated by Chartwells and accepts cash, credit cards, Flex points, and Pete's Points.
See Times2Dine for current hours
Contact Hissho Sushi on campus at: 330-941-2278