Welcome!
On behalf of the Greek community at Youngstown State University, WELCOME! You may not have had experience with Greek life before, so we have developed this guide to give you some basic information about the Youngstown State University Greek community. Membership in a fraternity or sorority can be a valuable experience for your student. We need you, as a parent, to be an active partner in your student's fraternity or sorority experience by becoming familiar with the community and the organization.
---
Benefits of joining a Greek organization
Greek membership provides immense opportunities for members to grow and develop. Our students give to the YSU community, and Greek Life offers many benefits in return, including:
Opportunities to develop leadership skills and their resume
Establish networking connections that will be crucial when job searching upon graduation
Ability to give back to the community through philanthropy and service events
Friendships that last a lifetime
YSU students in Greek Life, on average, have a higher GPA than their non-Greek counterparts
Anti-hazing Campus
Hazing means doing any act or coercing another, including the victim, to do any act of initiation into any student or other organization or any act to continue or reinstate membership in or affiliation with any student or other organization that causes or creates a substantial risk of causing mental or physical harm to any person, including coercing another to consume alcohol or a drug of abuse, as defined in section 3719.011 of the Ohio Revised Code.

Organizations or groups shall take no action which involves hazing.
Youngstown State University unconditionally opposes any situation created intentionally to produce mental or physical discomfort, embarrassment, harassment or ridicule. YSU is committed to providing a hazing-free environment in which students can succeed socially and academically. It is the responsibility of our entire Youngstown State University community to keep an eye out for the wellbeing of our fellow Penguins. If you feel that you have been a victim of hazing, or suspect that one of your peers is being hazed, please use this form to notify the university of your concerns. Reporting a Suspected Incident of Hazing
Financial obligations
It is important that your student understands that membership involves semester dues. Annual membership dues vary per semester and chapter. These fees are used to pay chapter insurance fees, inter/national dues and fees, community service events, scholarships, intramural participation, and many of the social events offered. Every fraternity and sorority is self-supportive. Each chapter and its Inter/National Headquarters determine the monthly/semester dues and membership fees. Some chapters also include a one-time initiation fee and can offer a payment plan.

Academics
The main priority for your student is their education. One of the main focuses of the Greek community is academic success. Each chapter strives to help every member reach their highest potential, starting with their grades. Study sessions, tutoring, and other programs are offered to assist and encourage members' academic success.

What can I do as a parent or family member?
When your student is considering membership in a Greek letter organization, start asking what has piqued their interest in membership. Students consider membership for many reasons, but those reasons should be well-vetted.
Learn as much as you can about the Youngstown State Greek community and the fraternities/sororities in which your student is interested. Be sure to discuss the time commitment, finances, academic obligations and member responsibilities with your student beforehand to affirm that going Greek is the right decision for your son/daughter.
Lastly, keep an open mind and be supportive. Joining a Greek chapter is a life-long commitment. Talk to your son or daughter about what they plan to contribute to their selected organization. Greek Life, like many other opportunities, is only as great as they make it. Beyond social activities, membership is about philanthropy, community service, personal and professional development, and leadership. Being Greek is about working to make oneself, and their community, better. The t-shirt and colors are just the souvenir of their experience.

---
Frequently asked questions
---
WHAT IS A FRATERNITY OR SORORITY?
A fraternity or sorority is a group of men or women bound together by brotherhood or sisterhood, common goals, and aspirations. The members that form a fraternity or sorority share their efforts, friendship, and knowledge. Together these members learn, grow and make the fraternity and sorority stronger. Their common experience builds ties that last a lifetime. This forms a brotherhood or sisterhood amongst members which helps to develop strong and creative leadership leading to success.

HOW DOES A STUDENT BECOME A MEMBER OF GREEK LIFE?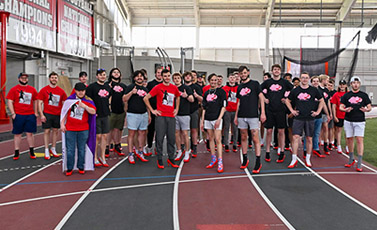 The process to join a fraternity or sorority is called "Recruitment" or "Intake." Recruitment refers to accepting an offer to join an organization after some initial exploring occurs and a new member process begins. Intake refers to a deferred new member admission process in which the student applies to an organization after acquiring a predetermined number of hours at YSU, goes through a new member education process and then becomes a member of said organization.
Regardless of the organization there are three steps:
Exploration, New Member Education, Initiation

IF A STUDENT PARTICIPATES IN RECRUITMENT, DO THEY HAVE TO JOIN?
No. Recruitment is a time to see what fraternity or sorority life can offer your student. We invite your student to explore the various opportunities available to them as a fraternity man or sorority woman! Participating in the Recruitment process and its functions does not commit a student to joining in any way.

WHAT ARE THE TIME COMMITMENTS OF CHAPTER MEMBERSHIP?
At a minimum, all members are required to attend their chapter's weekly meetings and are expected to participate in certain events throughout the year, such as philanthropy events, chapter retreats, etc. New members are also expected to complete their chapter's new member program. Most Greek students at YSU are able to maintain a job, be a full-time student, earn good grades and be involved in other student organizations in addition to their chapter.

WHAT GREEK LETTER ORGANIZATIONS ARE AVAILABLE AT YSU?
Here at YSU, we have 11 active fraternity and sorority chapters. The sorority chapters include Alpha Kappa Alpha, Alpha Xi Delta, Alpha Omicron Pi, Delta Sigma Theta, Delta Zeta, and Zeta Tau Alpha. The fraternity chapters include Alpha Phi Delta, Sigma Alpha Epsilon, Sigma Chi, Sigma Tau Gamma, and Theta Chi.

ARE FRATERNITIES AND SORORITIES JUST LIKE THOSE ON TV AND IN THE MOVIES?
Absolutely not! TV shows and movies do not give accurate depictions of fraternity and sorority life. Every fraternity and sorority is different and unique, each with their own characteristics and personalities.

DO ALL FRATERNITIES AND SORORITIES HAVE CHAPTER HOUSES?


No, four of our IFC fraternities have chapter houses and none of the sororities have chapter houses. Living in a fraternity house is determined by the individual chapter. Each group has their own requirements and your student should ask about this during the recruitment process.