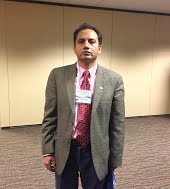 Dr. Suresh Sharma is an associate professor in Civil and Environmental Engineering Program of Youngstown State University, Ohio. Dr. Sharma worked as a Postdoctoral Research Associate at Purdue University, Indiana for a year after completing his PhD study in Civil Engineering.
Dr. Sharma received his PhD ("Incorporating El-Nino Southern Oscillation (ENSO)-Induced Climate Variability for Long-Range Hydrologic Forecast and Stream Water Quality Protection") from Auburn University, USA. Before joining PhD, Dr. Sharma worked in Nepal Government as a Civil Engineer being involved in various multi-disciplinary projects such as rural road, bridge, irrigation, water supply and sanitation. Dr. Sharma received his Masters degree in Water Resources Engineering (Civil) in 2005 from the Institute of Engineering, Pulchowk Campus, Nepal, and also received Bachelor degree in Civil Engineering in 2000 from the same university.
Find out more about Dr. Sharma's research and publications, grants, professional services and more on his website.