Students, community leaders walk streets to envision future
Students, community leaders walk streets to envision future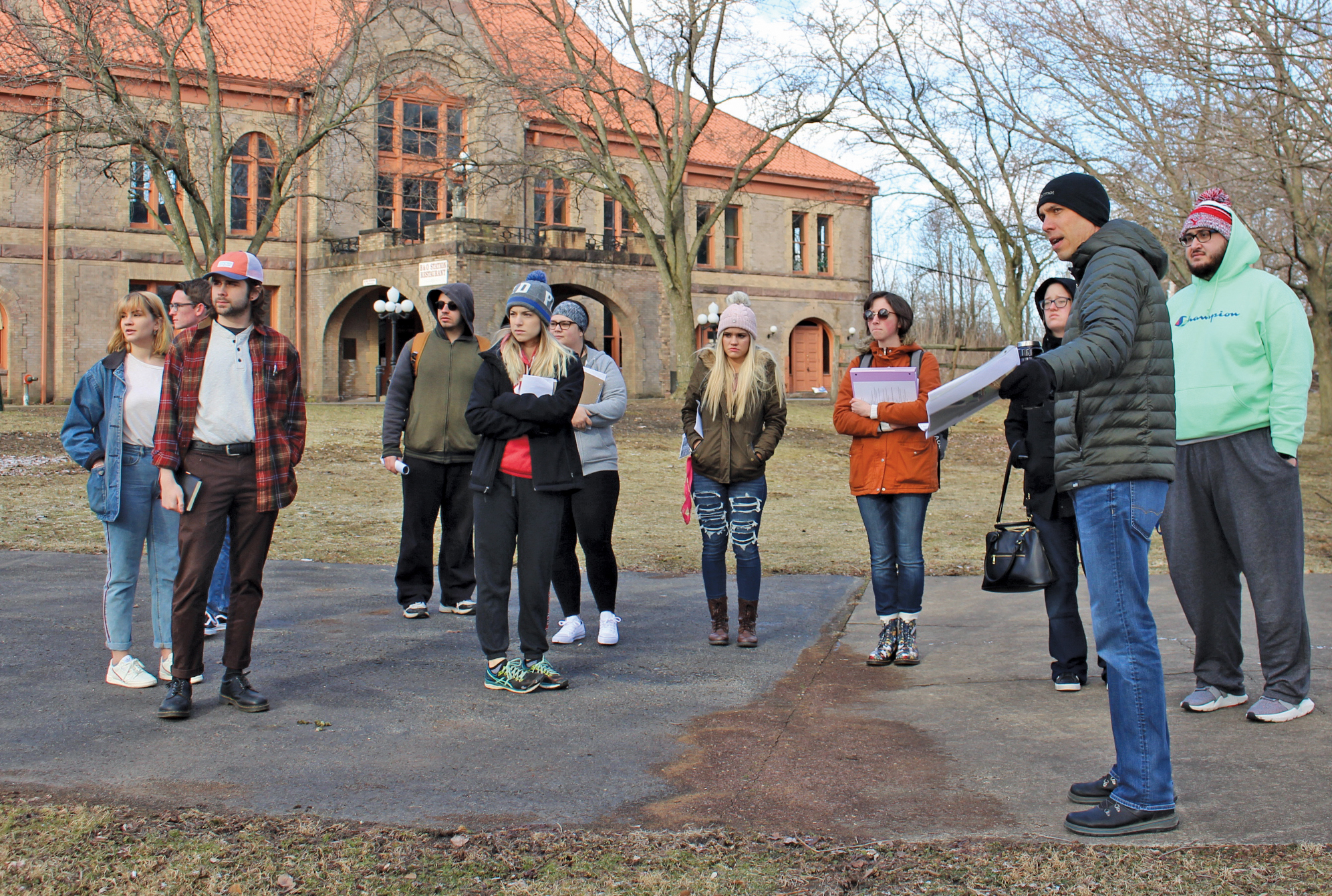 YSU is engaging students in the conversation about Youngstown's future through a new course offered by the Honors College and the Department of Geography and Urban-Regional Studies. The Revitalizing Youngstown class, taught by former director of the YSU Center for Urban and Regional Studies, Hunter Morrison, teaches students to become citizen planners.
"You can have two relationships with a city—you can consume it or create it," said Morrison.
Thirteen students in the class recently spent a Saturday morning walking through the Mahoning Commons, a small artsy neighborhood that begins near the B&O Railroad Station and extends to Fellows Riverside Gardens. They explored the proposed bike path along Mahoning Avenue that would connect YSU with Mill Creek Park. As pictured in the photo right, YSU alumnus Phil Kidd, former associate director at Youngstown CityScape and founder of the Defend Youngstown movement, led the tour and encouraged students to imagine ways to transform the area.
For several students, such as Geography major Vincent Talley, it was their first time walking the path. "I realized there was a whole world of activity going on that I was not aware of beforehand, especially with the arts and culture," Talley said. "If it's a gateway to the city, it needs to be a visually pleasing area for people to come in and say, 'Wow, this is what Youngstown has to offer.'"
Industrial and Systems Engineering major Montana Gessler and others are optimistic about the future. "I think there are plenty of people passionate about the city that will drive the changes," Gessler said.
Students aren't the only ones using a "boots on the ground" approach to explore the city. The university recently brought Kenneth Reardon, a renowned city planner and professor from the University of Massachusetts Boston, to YSU for a day of connecting with campus and the community. Reardon shared his experiences working with students to transform cities, such as East St. Louis and New Orleans, through resident-led efforts and university-community partnerships.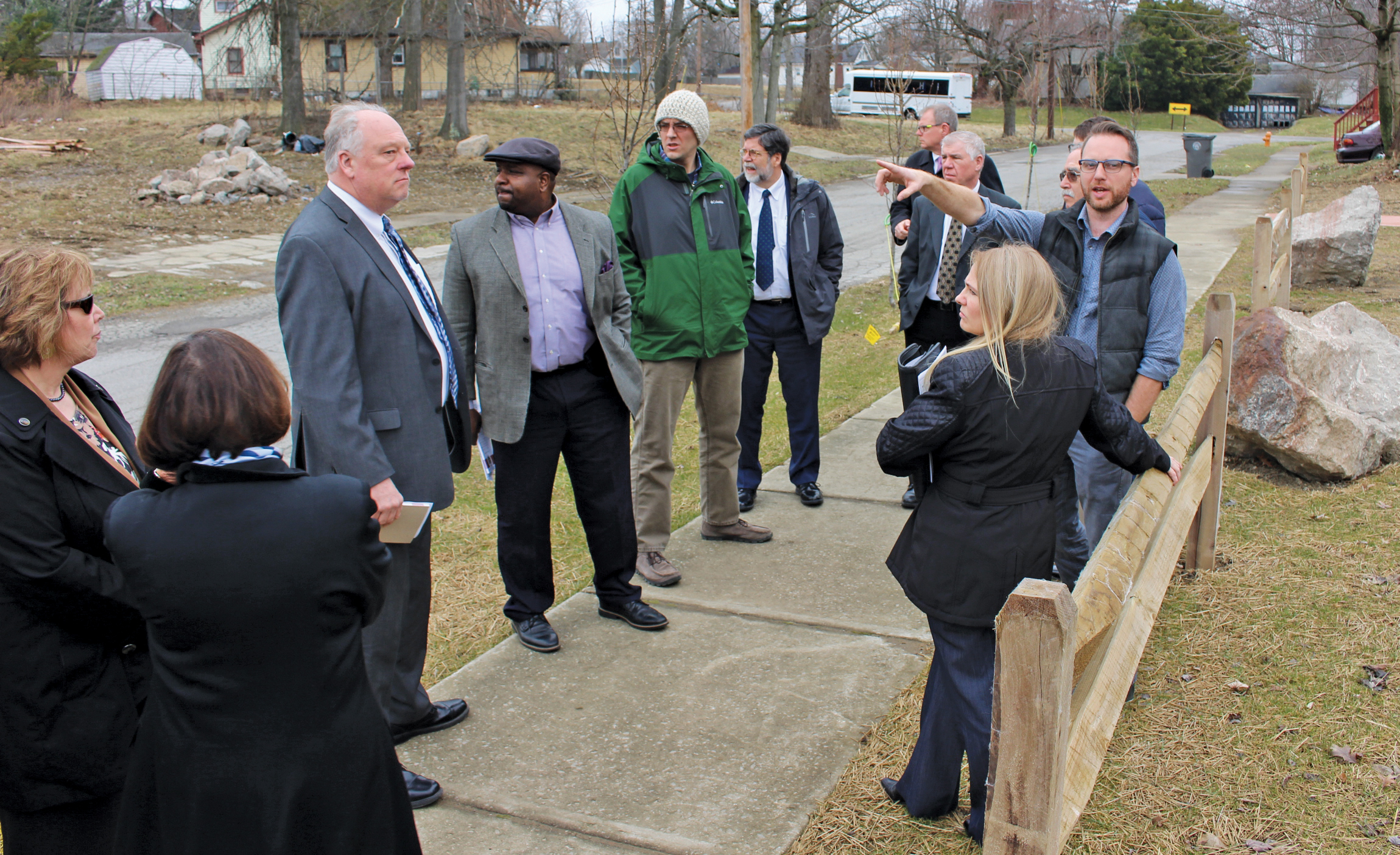 Reardon joined YSU and Mahoning Valley leaders for a working breakfast and a driving tour of Youngstown. The group, which included area mayors, city planners and nonprofit representatives, walked through a South Side neighborhood, pictured at left, to see recent improvements and discuss ideas for further progress. Reardon was impressed with the diverse cross-section of civic leadership present.
"You get a sense of deep affection that people from different walks of life and community have for this place. To them, Youngstown is a very special spot on the planet," Reardon said.
A volunteerism and service learning showcase highlighted the impact YSU students already have on the area. During his keynote address, Reardon encouraged the campus and community to consider, what more can we do?
"If we could make such an impact on a town 180 miles away, imagine what can happen here with a university in your own backyard," Reardon said.
A Note from the Editor
Like so many others, I share the deep commitment to place that Ken Reardon observed during his visit to Youngstown. As a lifelong Mahoning Valley resident, I have had the opportunity to witness many changes, and I am encouraged by our continued progress in the 20+ years since I first set foot on campus as a student.
While working downtown at WFMJ in the early 2000s, I had a front row seat to watch improvement efforts unfold. This was also about the time I recall Mona Alexander, longtime WFMJ news director, say that the revitalization efforts felt different this time, like they were here to stay.
I had the chance to observe much of Dr. Reardon's recent visit. His story was inspiring, but equally important were the conversations taking place between members of our community. People were excited to share the work they are doing and seek ways to partner with others for the greater good.
Those involved in the SMART2 process have credited persistence and collaboration as keys to getting the grant. I believe this is only the beginning for YSU, Youngstown and our region. I think Mona was right; Youngstown has come a long way, and it really is here to stay.