Our Students

OUR students at YSU run the gamut - local and international, young and not so young, budding scientists and social workers, soon-to-be electrical engineers and school teachers. On these pages, we celebrate their successes - in the classroom, the lab, out in the field and even in the dentist's chair.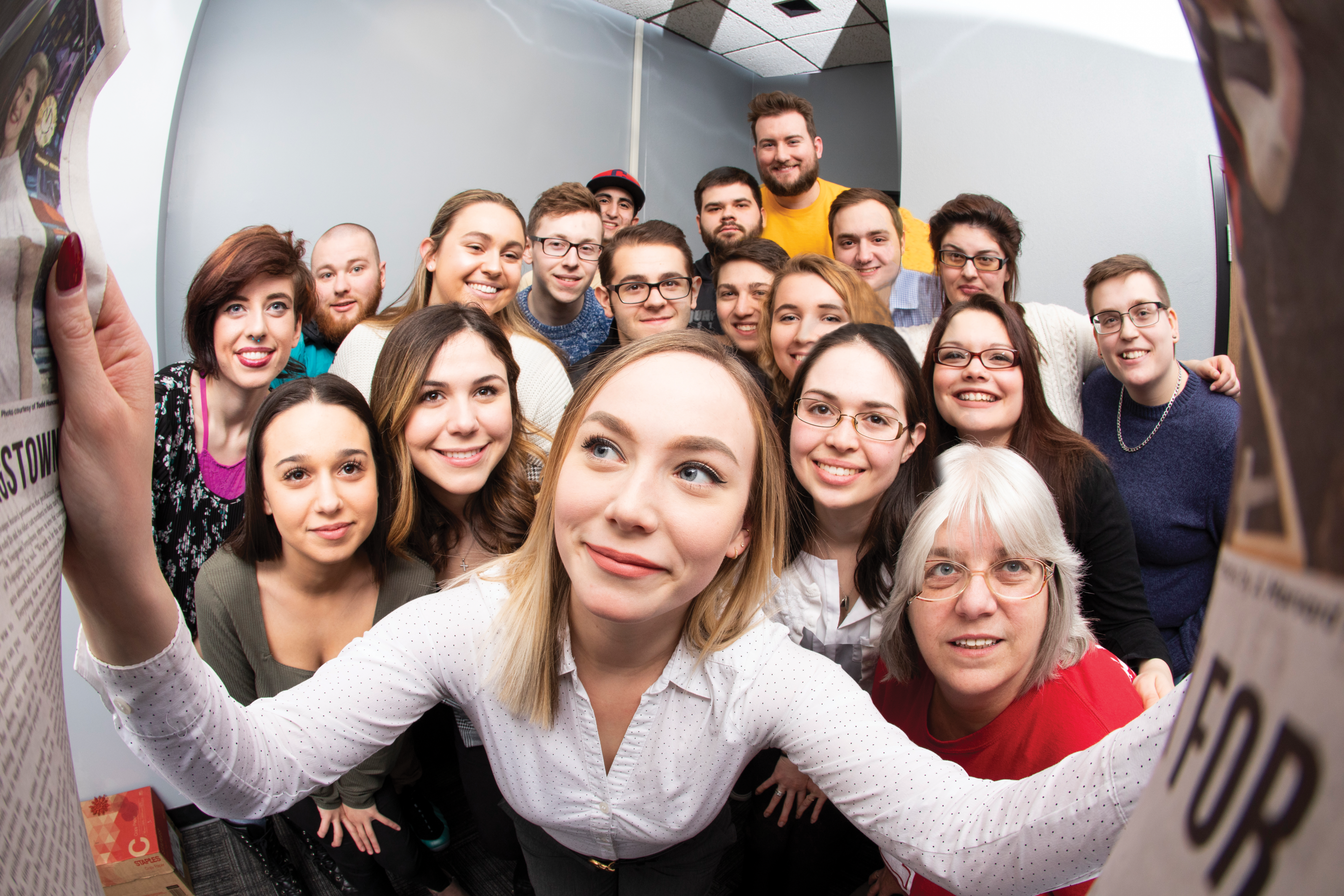 JAMBAR: BEST IN STATE
"I chose journalism on a whim," said Morgan Petronelli, Jambar editor-in-chief.
"For the majority of my life, I wanted to be a commercial airplane pilot. It wasn't until I attended orientation at YSU that I made a last minute decision to study Journalism."
And a decision well-made it was.
In part due to Petronelli's newsroom leadership, The Jambar was honored earlier this year for having the best News Coverage among college newspapers in Ohio. The award was given by the Ohio News Media Association, one of the state's most influential journalist groups.
"It's all about working hard, being fair and telling people what they need to know," said Dave Davis, Jambar faculty advisor.
Petronelli, pictured above with Jambar colleagues, plans to graduate this Spring and hopes to find work as a political analyst/reporter in the nation's capital.
"Being able to tell people's stories and question people in power for those who might not have a voice or are afraid to ask tough questions is an invigorating feeling," she said.
MLK Honor

Kyla Williams received the MLK Student Leadership Award at the university's annual MLK Observance earlier this year. Williams, a tutor in the YSU Center for Student Progress, has been a student ambassador for the Ohio Society of CPAs, and last spring she worked as a cost analyst assistant through an internship at First National Bank. She spent last summer in Cleveland, working as an accounting intern at Ernst & Young, where she plans to work full-time after completing her bachelor's degree this spring.

Gold and Bronze

There certainly are lots of reasons why Kenna Rearick, a YSU Social Work major, was selected Student of the Year by the National Association of Social Workers Ohio, but how about this one: she served for 10 months with the AmeriCorps NCCC FEMA Corps program, during which she participated in community service and disaster relief efforts in Maryland, New York, Oregon and Washington. For her work, she received a Bronze Congressional Award for Service and a Gold Presidential Volunteer Service Award. Rearick plans to graduate this spring and then pursue a master's in Social Work.
Communication exemplification

YSU students took home awards for the top graduate and the top undergraduate student papers at the Ohio Communication Association conference.  Congratulations to Allison Centofanti, Kaija DiPillo, Jessica Cann, Sarah Demetruk, Joseph Anastasia and Christiana Savo.

"Awards like these are a validation for the work we're doing," said Adam Earnheardt, chair and professor of Communication.

Like a rolling stone

So there are kidney stones and gall stones, but tonsil stones? Really? Well, tonsil stones are calcifications that occur within tonsillar folds. Whoa! The stones were the focus of a poster presentation that won a team of YSU Dental Hygiene students a first-place prize at the Ohio Dental Hygienists Association Annual Session. Congrats to Nina Petro, Marissa Phipps, Renee Louk and Brittany Tice. Nearly 80 student groups from all 12 of Ohio's Dental Hygiene schools competed.
Five Benjamins

Anthony Nakley and Stephanie Virgallito, students in the Williamson College of Business Administration, took home $500 for winning Beta Gamma Sigma's Case Competition. Second place went to the WCBA team of Zachary Hall, Andrew Klapac and Jeffrey Senediak, while WCBA students Racheal Leonard, Mary Rollo, Alexa Coburn and Kelli Dougherty took third. Teams were tasked with conducting industry and consumer research to create a new business plan for Zara, a global fast fashion retailer.

Hurdlin' high

Chad Zallow, one of the most prolific track stars in YSU history, finished third in the 60m hurdles at the Millrose Games earlier this year in New York, the world's most prestigious indoor track competition. The accomplishment comes after a slew of 2018 honors: Penn Relays Champion (110m hurdles), NCAA First-Team All-American (60m hurdles), Horizon League Champion (110m hurdles), Horizon League Indoor Champion (60m hurdles, 60m dash, 200m dash) and Horizon League Athlete of the Year, to name a few.
---
One in 300
Three hundred of the nation's best college students presented research at the National Collegiate Honors Council Conference in Boston, and YSU's Lexi Rager finished on top. Rager, a senior Mathematics and Psychology major, placed first for her research titled, "A data driven analysis of counseling services at YSU." YSU students have been attending the conference since 2008 and, in the past decade, have received three top awards.