Puzzling Pros
Puzzling Pros
BOARDMAN ALUMNI NEIGHBORS CREATE CROSSWORD
They've been working crossword puzzles together for 25 years. Now, neighbors in a Boardman community have written their own puzzle to share with YSU alumni and readers of the YSU Magazine.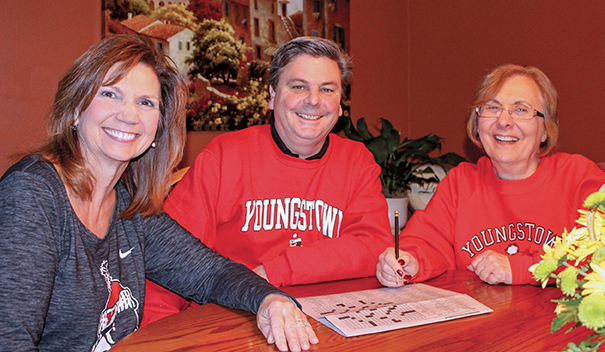 Meet Ed Kandray, 2011, ATS, Diane Kandray, 2016, EdD, and Stephanie Grameth, 1972, BSE and 1980, MSEd, a trio of YSU alumni and avid puzzlers who get together at least once a week to work the Sunday crossword in the Cleveland Plain Dealer. Their children and other neighbors join them occasionally, but this core group has been puzzling for more than 25 years.
It started during a driveway construction project at the Kandrays' house, which brought the neighborhood outside to watch the work. Enjoying each other's company, the neighbors looked for activities to enjoy together, and that's when puzzling was born.
As novices, they sought reference materials in the form of books, originally. Grameth was often known to find an unusual almanac, dictionary, thesaurus or movie trivia book at garage sales.
"She had a whole satchel of resources just for crosswords," Mr. Kandray said.
The next generation of tools was a Franklin reference finder for crossword puzzles. "You could put in the blanks and get a list of words that might fit," Grameth explained, adding that they now turn to their smartphones for help if needed.
The puzzling pros enjoy the quirky questions that fit the themes in the weekly puzzles. They can usually work the Sunday crossword start to finish in about an hour or two, depending on how chatty everyone is feeling.
"It's really about the camaraderie. We enjoy each other's company, so this gives us a reason to get together at least on Sunday nights," said Dr. Kandray, also a professor of Dental Hygiene in the Department of Health Professions at YSU.
Complete a version of the crossword puzzle below or,
download a PDF of the puzzle as it appeared in YSU Magazine.
---