Student Success Stories


Bass Fishers Head for Nationals
Two YSU Bass Fishing Club members, Mike Soots, left, and Jonathan Creed, qualified to compete nationally after placing fourth in a regional college fishing tournament. Soots, a Criminal Justice major from McDonald, Ohio, and Creed, an Integrated Social Studies Education major from Niles, Ohio, caught five largemouth bass with a total weight of just over 14 pounds at a regional contest in New York. They'll compete in the YETI Fishing League Worldwide College Fishing National Championship May 30 - June 3.


Nursing Major is Youngstown's New Fire Chief
Barry Finley, a 24-year veteran of the Youngstown Fire Department and a student in YSU's BSN degree program, has been named the city's first African American fire chief. A U.S. Army veteran who joined the department in 1993, Finley was named captain in 2001. Also a paramedic and a registered nurse, he works as a nurse for Mercy Health and as a firefighter/paramedic for the Liberty Township Fire Department.

Three Study Abroad with Gilman Scholarships
Three YSU students have been awarded the prestigious Benjamin A. Gilman International Scholarship to study abroad this year.
The honorees are:

Emily Henline, Youngstown, junior Integrated Language Arts Education major, awarded an $8,000 Critical Need Language Award to study at Yonsei University in South Korea.

Alicia Herman, Warren, junior Political Science and Economics major, received a $4,500 scholarship to study at Universite Lumiere Lyon 2 in France.

Sulerach R. Rivera, Boardman, sophomore International Business major, received $5,500 to study at Chiang Mai University in Thailand.


Feature Twirler Shines in Competitions
YSU junior Melanie Walent, feature twirler for the YSU Marching Pride, competed this spring in the World Championship of Twirling in Lillehammer, Norway, as a member of the Canton-based Jazz Dolls Baton Twirling Corps. Walent was also named Miss College Majorette of Ohio Royalty at a state competition last year, which qualified her to compete in the College Miss Majorette of America Pageant in South Bend, Indiana. She is a Biology major from Canton.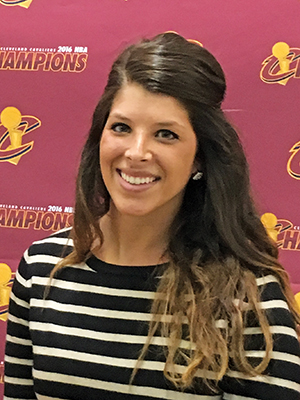 School Psychology Candidate Wins Conference Scholarship
Lauren Hoag, a Strongsville, Ohio, native and a candidate in YSU's School Psychology program, was awarded a scholarship to attend the National Association of School Psychologists Conference in Chicago. She created a family-based intervention plan that was chosen as one of the top four in the state. Hoag earned a BA in Speech and Hearing and a MEd in Education, both from YSU, and expects to complete the School Psychology program and graduate in May 2018 with an Educational Specialist Degree in School Psychology.


Social Work Major is Student of the Year
Graduate student Nicole Zayas of Boardman was named 2017 Student of the Year by the National Association of Social Workers – Ohio Chapter. Zayas is pursuing an MSW at YSU, works fulltime at the Mahoning and Columbiana Training Association and is a clinical student intern at the Ohio State Penitentiary. She earned BA degrees in Psychology and Spanish from YSU and expects to complete her MSW this spring.

Introducing: Navarro Executive Fellows
Four YSU freshmen are the newest members of the Navarro Executive Fellows program. Offered for the first time last fall and designed for minority students, the program is named in honor of philanthropists Shorty and Elba Navarro, who donated $1 million to fund scholarships and campus jobs for students. The fellows spend 15 hours a week working with senior campus leaders as mentors.
The new honorees and their majors are:

Tylen Chatman
Youngstown
Finance

Kenneth Donaldson
Youngstown
Middle Childhood Education

Nylauna Petty
Beachwood, Ohio
Pre-Nursing

Rina Raib
Youngstown
Computer Science


Student/Reservist Joins Hurricane Aid to Puerto Rico
YSU sophomore and Air Force Reservist Nicholas Orcutt left his classwork behind for three weeks last semester when he was deployed to hurricane-ravaged Puerto Rico with the 910th Airlift Wing, Youngstown Air Reserve Station. A computer science major, he was the youngest member of the nine-person team of reservists delivering equipment, materials and workers in the aftermath of the storm.
Orcutt lives in the Warren, Ohio, area and is a loadmaster for the 910th, charged with coordinating the process of loading and unloading cargo and personnel onto C-130 cargo planes.