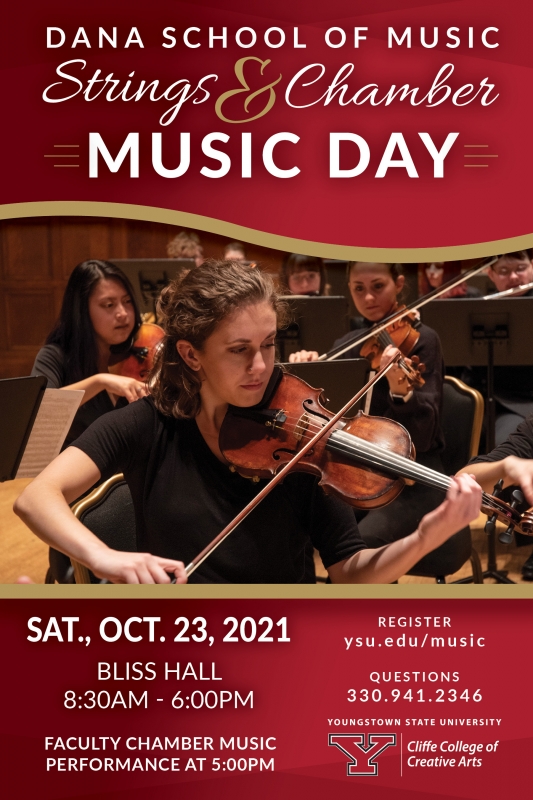 STRINGS & CHAMBER MUSIC DAY: SAT., OCT. 23, 2021
Dana School of Music invites you to join us for a full-day, free event for high-school (and advanced middle-school) violinists, violists, cellists, bassists, and pianists. Participants will enjoy improvisation and fiddle workshops, play chamber music with each other, take part in a large-ensemble side-by-side reading/rehearsal with Dana School of Music students, and more.
Parents/guardians/others are welcome to attend for any part of the day, and encouraged to come at 4:30 pm for a Q&A, followed by a faculty chamber music performance at 5:00 PM.
The Strings & Chamber Music Day will take place Saturday, October 23, 2021 in Bliss Hall, 8:30 AM - 6:00 PM.
Please contact Danielle Lorenzi at djlorenzi@ysu.edu or 330-941-2346 with questions.
---
Welcome to the Dana School of Music! Founded 150 years ago, Dana is one of the oldest institutions of its kind in the United States. Our talented and vibrant faculty and students are involved with more than 100 events annually, including performances in historic regional halls (including the DeYor Performing Arts Center and Stambaugh Auditorium), distinguished lecturers, guest artists, and research pursuits. Our many illustrious alums may be found performing in orchestras, opera companies, prestigious military groups, and other touring ensembles; enshrined as Hall of Fame Songwriters and Grammy Award winners; and teaching in conservatories, universities, and primary and secondary schools throughout the US. More than 50 faculty and staff maintain a tradition of conservatory-style music training and musical excellence in an urban research university setting.
We are accredited by the National Association of Schools of Music and offer a comprehensive listing of undergraduate Bachelor of Music degree programs as well as Bachelor of Arts options that provide additional breadth of study. Graduate students may earn a Master of Music degree in performance, music education, jazz, history and literature, and theory and composition.
To learn more about our degree programs, faculty, students, facilities, entrance requirements, and scholarships, please click on the tabs on this page or contact the Dana School of Music directly at 330-941-3636. 
To schedule a personalized campus visit, please contact Danielle Lorenzi, Cliffe College Coordinator of Admissions and Recruitment, at 330-941-2346 or djlorenzi@ysu.edu. We would love to show you our school, hear about your interests, and become an important part of your future. We will look forward to seeing you soon!
Programs

Undergraduate:

Minor:

Graduate Program: