Theatre Majors
Be the star in a show, design the set or become in expert in the performance arts—all are possible career paths you can follow through our three Theatre programs.
Schedule a Virtual Meeting
Still have questions about your major or Youngstown State University?  Schedule a virtual meeting or phone call with departmental representatives and receive answers to your questions. 
theatre audition
Audition Details:  Due to the current COVID-19 virus, auditions can be recorded and submitted to the Department of Theatre & Dance.  Please complete the, "Reserve An Audition," form and you will be contacted with further details.
Admission requirements for the BFA in Musical Theatre Audition: 1-2 minutes or 32 bar cuts of contrasting styles (i.e. Golden Age, Contemporary, etc.) and tempo (i.e. upbeat, ballad, etc.). 2 contemporary acting monologues of 1-minute in length. (no dance assessment)
Recorded auditions will be accepted on an ongoing basis through August 1, 2020 for students planning to attend YSU fall 2020.

Admission requirements for the BFA in Musical Theatre Audition: 2 songs of contrasting genre (i.e. Golden Age, Contemporary) and tempo (i.e. upbeat, ballad). 2 contemporary acting monologues of 1-2 minutes in length, and a dance assessment.
Student Productions
Tickets available at YSU Ticket Sales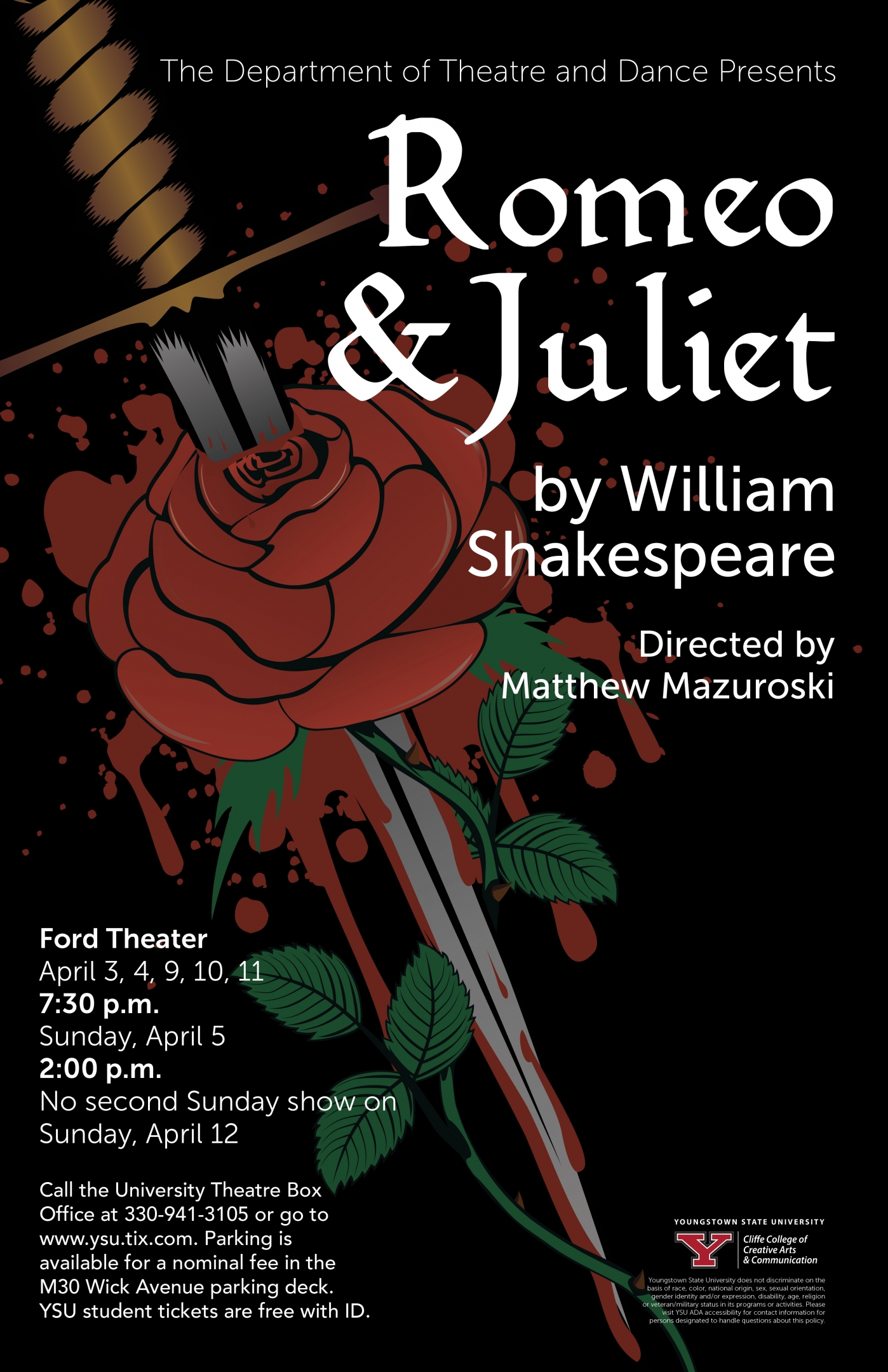 Speech & Debate
By Stephen Karam
Spotlight Theater, YSU campus
September 27, 28 & October 4, 5 @ 7:30 PM
September 29 & October 6 @ 2 PM
Cabaret
Music by John Kander/Lyrics by Fred Ebb
Book by Joe Masteroff
Ford Theater, YSU campus
November 15, 16, 22, 23 @7:30 PM
November 17, 24 @ 2 PM
Annual Spring Dance Concert
Ford Theater, YSU campus
February 27, 28, 29 @ 7:30
Romeo & Juliet
By William Shakespeare
Ford Theater, YSU campus
April 3, 4, 9, 10, 11 @ 7:30 PM
April 5 @ 2PM
In addition to our regular season indicated above, we have two cabaret performances to be held in the Eleanor Beecher Flad Pavilion at the DeYor downtown. Proceeds from these performances go toward supporting the Musical Theatre program at YSU.
Heavy Hitters
Eleanor Beecher Flad Pavilion, DeYor
October 18 @ 7 PM
$25 per ticket
A Kiss To Build A Dream On
Eleanor Beecher Flad Pavilion, DeYor
February 14 
Pricing and time TBD
What You'll Study
Youngstown State University offers three different theatre majors to undergraduate students:
Musical Theatre
Theatre
Theatre Studies
All three programs are taught by our expert faculty, who live and breath all aspects of show business.
If you can hit the high notes, our Musical Theatre major provides extensive training in theatre performance with vocal, keyboard and music theory studies. The program prepares you for opportunities like musical directing or arranging, drama instructing, choreography, acting and performing.
Looking for intensive performance training? The Theatre major prepares you for a career in professional or academic theatre. You will focus heavily on theatre studies and production experiences, as well as dance instruction, throughout your coursework. By experiencing it all, you may find an area of special interest or benefit from a rounded education that covers all aspects of your craft.
Finally, YSU's Theatre Studies major is designed to give you an understanding of various techniques of theatre production. You'll work closely with professors in the classroom and in lab settings and gain a broad understanding of the art of theatre , while also sharpening your skills in production and performance. Major career paths include performance and education.
Majors
Musical Theatre Major

You'll complete an audition consisting of two parts before entering the program. The first will be a vocal audition, where you'll give two contrasting vocal selections of your choice. You'll then schedule a separate acting audition, consisting of two contrasting monologs.

Upon successful completion of the two-part audition, you'll take a combination of required general education studies, electives and major courses. Major courses include a mix of theatre , applied voice, applied keyboard, music theory, dance and vocal ensemble. 123 Credit Hours

Theatre Major

After being accepted into the program through audition or interview, you will take a combination of theatre, dance and production courses. 120 Credit Hours

Theatre Studies Major

You will take a combination of general studies and theatre courses. A minor or double major is also required to complete the program. 124 Credit Hours
Minor
Theatre Minor

The 18-credit minor touches on courses in stagecraft and play production; costume, makeup, scene design, lighting and direction; and theatre history.
Internships and Jobs
OUR GRADUATES WORK FOR:
Youngstown City Schools
Students Motivated by the Arts
Liz Rubino Music & Studios LLC
Fairmont Pittsburgh
Pittsburgh Ballet Theatre
Mosser Casting
Leap of Faith Theatre Production
One More Thing
My favorite part of the program is how many aspects of theatre I have been exposed to. I've been able to try my hand in performance, costume and set construction, design, stage management, playwriting and so much more. There are a great deal of opportunities students can take advantage of during their time here. I am thankful every single day that I transferred to YSU."

Allison Dolphin, Theatre Studies Student