MEETINGS AND EVENTS IN

KILCAWLEY

CENTER

Youngstown State University can provide the ideal setting for your conference, meeting, or seminar. Kilcawley Center, located in the heart of the campus, can accommodate business meetings, as well as formal dinners, social receptions, or conferences. The Center's outstanding facilities and uncompromising attention to detail will ensure your event is a success. Our meeting rooms are tastefully decorated and meet a range of space needs from a small group of eight to lecture-style seating for 800. The Kilcawley staff will provide prompt answers to your questions and will offer helpful suggestions in planning the details of your conference. Our goal is to make your conference planning an enjoyable experience.
SEE KILCAWLEY CENTER

Learn more about the rooms available for your event on our See Our Spaces page. We have 18 rooms that accommodate a variety of events, as well as lounges and common spaces that can be adapted to fit your needs.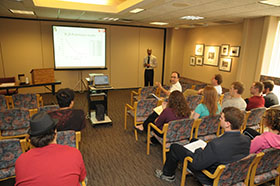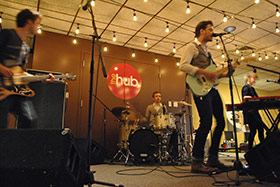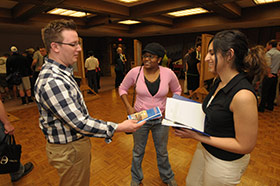 IT'S ALL IN THE DETAILS
Let us know what you need to make your event or meeting successful. Here, you'll find information on some of the essentials.
---
Audio Visual Equipment
We provide a wide variety of audio visual equipment to meet your conference needs at no additional charge. Event planners may reserve TV/DVDs, Multi-Media (computer) projection units, CD/I-POD players, flip charts, podiums, overhead projectors, and sound systems through the YSU Room Reservations Office.
---
Internet Access
High-speed internet access is available in all of our meeting rooms. Guests can reserve a laptop computer (limited quantities) to access the internet.
You can choose from two options for wireless access in the Center:
Wireless access is available thru YSU's Tech Desk. Visit the YSU IT Service Desk website and then click on YSU Self-Help Documents near the bottom of the page. Next, under Wireless Connectivity choose your operating system and follow the guide. Questions? Please contact the Tech Desk at 330.941.1595.
AT&T wireless access is FREE to anyone that has a valid YSU email. Visitors can purchase a 24 hour Wi-Fi pass. Information and directions can be found here.
---
Room Reservation Costs
Room rental fees are charged per day. Daily Space Charges range from $50 to $400.00. Charges for each room are specified in the See Our Spaces There may also be additional fees to if your event requires the building to be open beyond normal hours of operation. Other additional charges to consider are police / security service and parking fees.
---
Dining and Catering Services
After you reserve your meeting space, we will be happy to assist you in contacting University Dining Services for menu planning. Options include banquets, buffets, receptions, box lunches, snacks, and beverages. Any food service offered in our conference rooms must be provided through our University Dining Service.
In your conference planning, you may opt for participants to dine on their own. Kilcawley Center offers several dining options including Wendy's, Chick-fil-A, The KC Food Court, Dunkin' Donuts, Tú Taco and Jamba Juice. On the perimeter of campus, within easy walking distance, are several additional small eateries.
Contact University Dining Services at 330-941-1979 or visit their YSU web site for more information: University Dining
How to Reserve Space in Kilcawley Center

Room Reservations can be made in the Staff Offices on the second floor of Kilcawley Center and is open Monday through Friday from 8:00 am to 5:00 pm year-round. Call or stop in early to ensure the best possible arrangements for your event. Reservations should be requested at least two weeks prior to the event; however, we will gladly assist you in planning a last-minute meeting, providing space is available. For your convenience, feel free to use our online reservation form.
---
OTHER SPACES WE RESERVE
Amphitheater at the Fountain
Campus Core
Heritage Park
Penguin Pop Up
---
Making Reservations
On-line
Make a reservation in Kilcawley Center.
For any on-line scheduling, please do not assume that the space is reserved until you have received written confirmation or have been contacted by the Room Reservations Office.
If you have specific questions or inquiries, contact the office at 330-941-3571.
---
CONTACT US

Kilcawley Center
Youngstown State University
One University Plaza
Youngstown, OH 44555
phone: 330-941-3571
fax: 330-941-1758