YSU earns reaccreditation, launches strategic plan process
The Higher Learning Commission has affirmed Youngstown State University's accreditation through the year 2027, noting that the university is well-managed, extensively engaged and clearly focused on student success.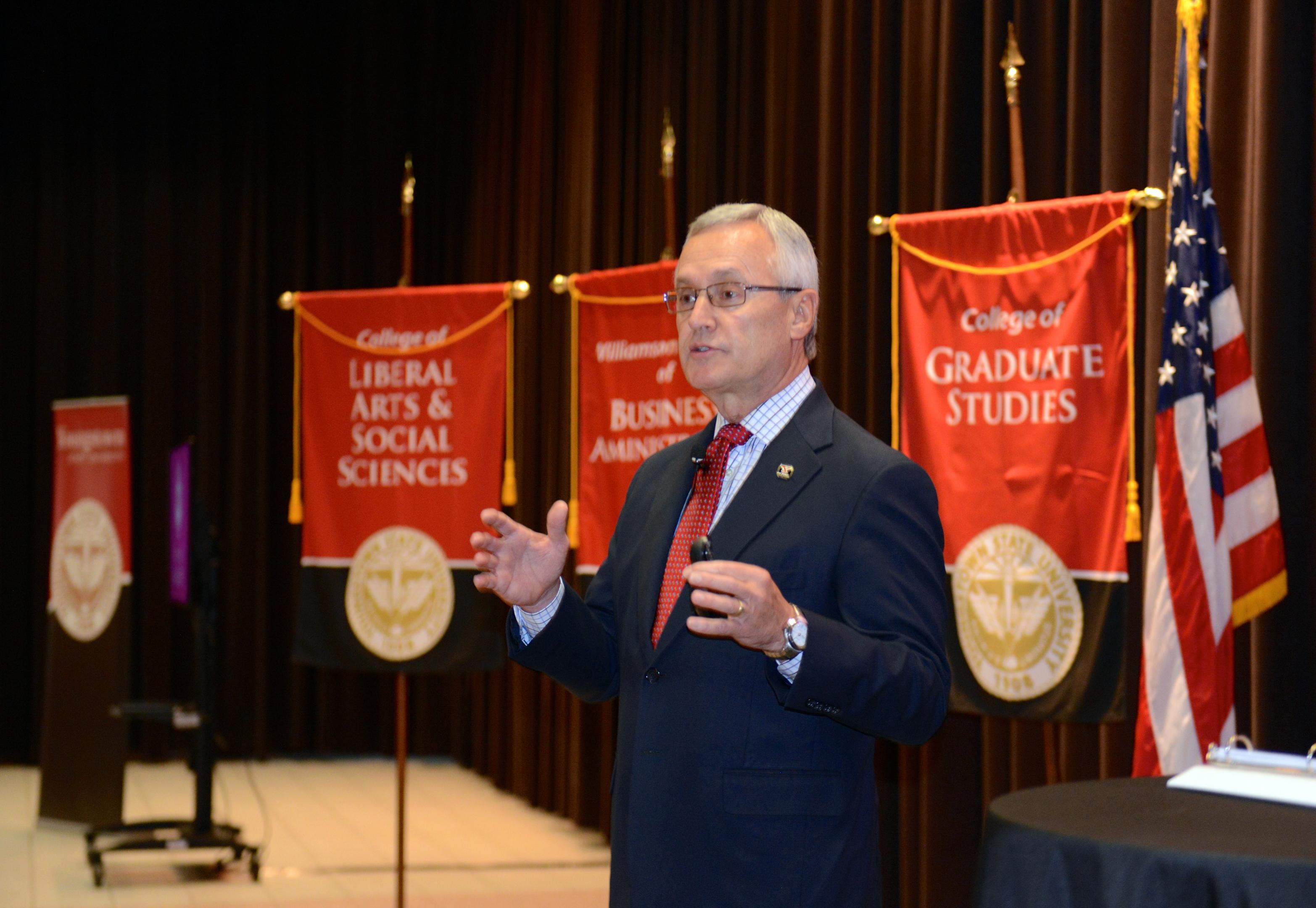 President Jim Tressel announced the HLC results during this morning's annual State of the University address before more than 400 faculty, staff, students and community members in Kilcawley Center on campus.
Tressel also announced that YSU is in the midst of a process to develop a new strategic plan emphasizing academic excellence and student success that will guide YSU over the next several years.
"The Higher Learning Commission's stamp of approval means that students attending YSU can rest assured that they are receiving educational services, both inside and outside the classroom, that meet or exceed quality standards set for institutions across higher education," Tressel said at the address that traditionally marks the start of the academic year.
"In the same way, our new strategic planning process will ensure that we continue to strive to reach even higher in ensuring that our students are successful on campus and in their careers."
Tressel's address focused on many of the university's successes in the past year, including: faculty and staff earned $8.9 million in grants, the most in seven years; the historic $100 million "We See Tomorrow" fundraising campaign hit the $75 million mark, including funding for new endowed faculty chairs and professorships; and incoming freshmen recorded the highest-ever ACT scores and high school GPAs.
One of the bigger successes was HLC reaccreditation, the culmination of a campus-wide, continuous improvement process to assess the university's operations, from academics and student success to facilities and budget. HLC is one of six regional institutional accreditors in the nation, covering 19 states in the North Central region.
A team of HLC reviewers from across the country visited YSU in March, and the commission officially affirmed a positive result earlier this month, scheduling the next comprehensive accreditation review for 2027.
The HLC report noted that YSU "has made tremendous progress in overcoming previous major challenges, most notably in the areas of fiscal health and enrollment," making difficult decisions to eliminate a structural deficit and taking steps to reverse declining enrollment.
During the address, Tressel also announced that a new strategic planning process, led by a group of faculty, staff, students and administrators, is underway across campus. The university's last strategic plan was developed in 2011.
"We aspire to develop a strategic vision that facilitates positive change, builds on our current strengths, improves the culture of community, and positions YSU to be more successful in the face of a constantly changing higher education landscape," Tressel said.
The 18-member Strategic Planning Organization Team will design the planning process, gather information and input, and guide implementation.
A new website, ysu.edu/strategic-planning, provides further details, including links to articles and books focusing on higher education, academics and socio-economics. The site also includes an online method to "Join in the Conversation" and give input on the planning process.