Three new members join YSU Board of Trustees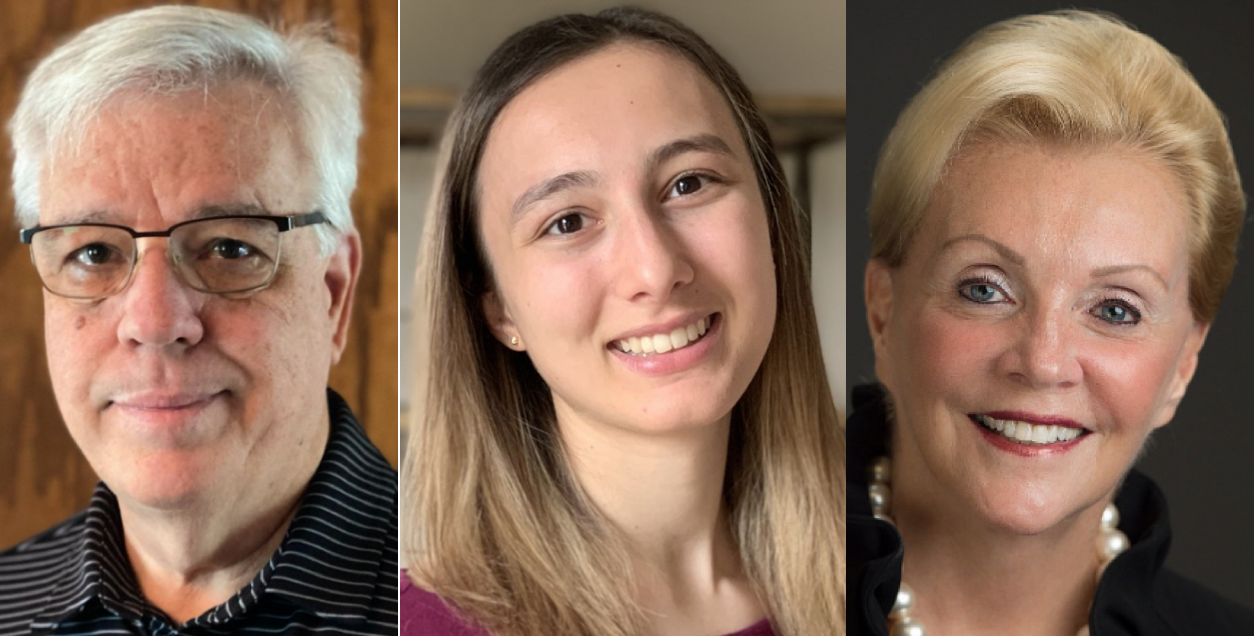 The Youngstown State University Board of Trustees has three new members.

Joseph J. Kerola of Hubbard, president and chief executive of PI&I Motor Express Inc., was appointed to the board by Gov. Mike DeWine. The governor also appointed Galena Lopuchovsky of Poland, a YSU sophomore majoring in Biology, as a student trustee. In addition, the Board of Trustees appointed Helen K. (Lamb) Lafferty, a two-time YSU alum and veteran administrator and faculty member at Villanova University, to the position of national/global trustee.
 
Kerola, who replaces Dave Deibel on the board and will serve a nine-year term, is a third generation executive in the transportation industry and since 1996 the head of PI&E Motor Express, one of the nation's largest flat-bed, metal hauling companies. Previous positions with PI&E include director of Operations, Sales, Insurance Negotiations and Purchasing, director of Central Dispatch, truck driver, tow motor operator and warehouse inventory control and general grounds maintenance. Kerola also helped start and foster a CDL program with the Ohio Department of Rehabilitation and Corrections for the reintegration of felonious offenders. He's also worked with the military to provide career opportunities for service members returning to the private sector, resulting in PI&I becoming one of seven companies chosen to participate in a federal pilot program to aid under 21-year-old service members gain approval in interstate commerce. Among his previous and current board memberships: the Health and Welfare Fund Board of both Teams Local 377 and Teamsters Local 92, the Specialized Carriers and Rigging Association, the Truckload Carrier Association, the Advisory Board of First National Bank's Brookfield Office and the Penn State Shenango Advisory Board.
Lopuchovsky, the daughter of YSU alumni, is a 2019 graduate of Poland Seminary High School and is now enrolled in the BaccMed program at YSU. She replaces Rocco Core on the board and will serve a two-year term as a student trustee. On campus, Lopuchovsky works as a student office assistant in the Office of the President. She's also a Group X Yoga instructor for the Department of Campus Recreation​ ​and is a Peer Leader. She's a trustee in the YSU Honors College, vice president of Finance and Administration for the Panhellenic Council, vice president of Order of Omega (Greek Honor Society), president of the Squirrel Watching Club, and a member of Freshguin Leadership Program, Spirit and Tradition Committee, Zeta Tau Alpha Sorority and the Emerging Leaders Program. She also volunteers for the Penguin Pen Pal Program, the Ohio North Hugh O'Brian Youth Leadership and as a comfort care volunteer at Mercy Health St. Elizabeth's Hospital Youngstown. Lopuchovsky received the 2020 Outstanding Panhellenic New Member of the Year Award and the President's Volunteer Service Award, Gold and Silver Level, for volunteering more than 250 and 175 hours, respectively, in one year.
Lafferty was appointed by the Board of Trustees as a national/global trustee for a three-year term starting July 2020. She joins Eric A. Spiegel as the second national/global trustee on the board. While trustees are appointed by the governor for nine-year terms, the board in December 2017 created the position of national/global trustee, appointed by the board on the basis of career success, state or national prominence, ability to advocate for higher education, and their ability to offer advice to the board and president. They serve three-year terms and do not have voting privileges. A native of Youngstown, Lafferty earned bachelor's and master's degrees from YSU and a PhD from the University of Pittsburgh, followed by post-doctoral work at the University of Pennsylvania, Harvard University and the National University of Ireland-Galway. Her husband, Jim, graduated from YSU with a degree in Business Administration. For nearly four decades, Lafferty has been an administrator and a faculty member at Villanova University in Pennsylvania. She received an honorary degree and gave the keynote address at YSU Fall Commencement in December 2019.