You've Been Admitted!
Next Steps to Becoming a Penguin:
Confirm Financial Aid Offer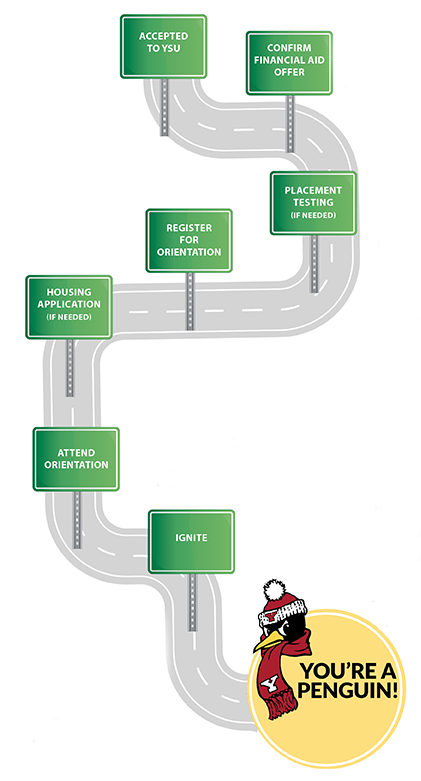 Refer to How to Accept Your Financial Aid Offer Guide* or the YouTube tutorial for step-by-step instructions. You can avoid financial aid issues by contacting the Office of Financial Aid and Scholarships and building a relationship with a financial aid counselor.
Counselors are available Monday-Friday between 8 AM and 5 PM at (330)941-3505
You can also reach the office by email at: ysufinaid@ysu.edu
Placement
Course placement in Reading, Math and Writing will be determined based on testing. For more information please go to ysu.edu/testing. If you require placement testing, please email testing@ysu.edu for instructions on how to begin.
Register for Orientation
Sign up for your First Year Student Orientation date. Due to COVID-19, all orientation sessions will be virtual. Once logged into the Penguin Portal, click on "Register for Orientation" under e-Services for Students. More information on how to register.
On-Campus Housing
We strongly encourage all students to live on-campus in the residence halls for their first year. To apply for on-campus housing please go to housingapp.ysu.edu. Information about the halls, including floor plans, can be found on the Housing website. All questions can be directed to our central email at housing@ysu.edu.
Attend Orientation
Attend a virtual orientation program, where you will meet with an advisor and schedule classes. A portion of the program will be live on the date you select in the reservation system, so be sure to pick a day you are free! More information will come from Orientation prior to your program date.
Department contact: 330.941.2131 | orientation@ysu.edu
FinaL Steps After Orientation
Dining Options: Choose your meal plan through Dining Services
Parking: Sign up for your parking pass on the Penguin Portal
Books: Purchase books, supplies and other merchandise at the YSU Barnes & Noble Bookstore
Ignite
This is a mandatory event the Friday before classes start. IGNITE is an extended orientation where you will start your YSU experience by connecting with the campus community, prepare for classes and find your place at YSU. IGNITE has a variety of sessions to learn about our campus, relationships, academics, involvement and Penguin Pride.