You've Been Admitted!
Next Steps to Becoming a Penguin:
Complete FAFSA and Confirm Financial Aid Offer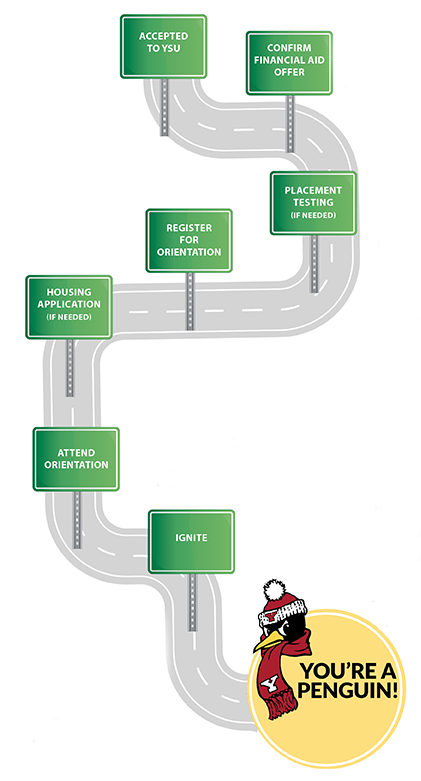 In order to complete the FAFSA: Both student(s) and parent(s) (if applicable) need an FSA ID. The FSA ID allows student(s) and parent(s) to electronically sign the Free Application for Federal Student Aid (FAFSA). Create an FSA ID.
Complete the Free Application for Federal Student Aid(FAFSA). The priority filing date for new students is December 1 and YSU's FAFSA six digit school code is 003145.
If a student/family is selected for the federal student aid process of verification, YSU will request either a signed copy of tax form 1040, or IRS Tax Return Transcript, and additional documents to complete the review of the FAFSA.
A financial aid offer will be issued when the FAFSA is complete. Follow the instructions included with your financial aid offer to accept the awards. Students must login to their Penguin Portal account to view and accept their aid. New students will receive their Penguin Portal User ID and initial password with their admission information.
Click to view a detailed explanation of how to accept your aid at Youngstown State University.
In order to confirm your Financial Aid Offer: Refer to How to Accept Your Financial Aid Offer Guide* or the YouTube tutorial for step-by-step instructions. You can avoid financial aid issues by contacting the Office of Financial Aid and Scholarships and building a relationship with a financial aid counselor.
Counselors are available Monday–Friday between 8am and 5pm by appointment, or walk-in hours: Monday through Friday 10am to 12pm and 2pm to 4pm.
Department contact: 330.941.3505
Appointment line: 330.941.3506
Email: ysufinaid@ysu.edu
Register for Orientation
Orientation is a requirement for all first year undergraduate students. Sign up for a date online by logging into your Penguin Portal and clicking on "Register for Orientation" under e-Services for Students. The online reservation system is available 24/7. If you need to reschedule your session, you can log back into your account again, if necessary. Space in our sessions is in high demand, so register as soon as possible.
Department contact: 330.941.2131
Email: orientation@ysu.edu
Placement testing
Most students will require placement testing prior to registering for classes here at YSU.
YSU waives placement testing if:
You have an ACT Math of 27+ (SAT Math 630) - YSU waives math placement testing for all majors.
ACT Math of 22+ (SAT Math 530) waives placement testing for non-science/non-business majors.
You have an ACT English of 14+ (SAT 480) - YSU waives the writing placement test for all majors.
If you completed at CCP Composition/Writing course at an accredited university.
If you completed a CCP College Algebra/Trig/Pre-Calc or Calc class at an accredited university.
Everyone else MUST complete placement testing in the area that your ACT/SAT scores don't meet the waiver or if you did not submit ACT/SAT test scores. If you require placement testing, please schedule a test session at ysu.edu/testing before attending orientation.
Department contact: 330.941.1343
Email: testing@ysu.edu
On-Campus Housing
We strongly encourage all students to live on campus in the residence halls for their first year! Our residential communities provide a supportive environment as students transition to college and offer continuous opportunities to establish new friendships, attend social events and become involved in organizations and clubs. If you're looking for an enhanced college experience, look no further than University Housing! To apply, please go to housingapp.ysu.edu. More information about the halls, including tour videos of each hall, can be found at housing.ysu.edu.
Department contact: 330.941.3547
email housing@ysu.edu
Attend Orientation
Orientation is a day long program with plenty of opportunities to meet and interact with fellow future penguins! You will also have a chance to meet with an academic advisor and schedule your classes. Please note that because this program runs for an entire day, it is very important to choose a day that works best for you and your schedule.
Department contact: 330.941.2131
email orientation@ysu.edu
FinaL Steps After Orientation
Dining Options: Choose your meal plan through Dining Services
Parking: Sign up for your parking pass on the Penguin Portal
Books: Purchase books, supplies and other merchandise at the YSU Barnes & Noble Bookstore
Ignite
On Thursday, August 24th First Year Student Services will be hosting IGNITE. Traditionally, IGNITE is built around the intention of setting you up with all resources necessary for your first day, but also to celebrate! During this event, you will be given a chance to meet your fellow peers, learn more about the university, participate in group activities, and get excited about the start of your college journey together! After attending orientation, you will continue to receive correspondence via email on IGNITE details. In the meantime, please continue to check the First Year Student Services website for more information on IGNITE.