Facilities
Structure and instrumentation facility
The Structure and Instrumentation facility specializes in the characterization of non-biological materials. Its goal is to serve the educational and research needs of the students and faculty at YSU and at collaborating regional colleges.
In addition to the smaller GC-MS, chromatographic, spectroscopic, physical and analytical instruments, the facility houses:
An X-ray diffraction lab consisting of three single-crystal and one powder X-ray diffractometers, and an X-ray fluorimeter; and
An NMR lab equipped with two Varian multinuclear NMRs operating at 300 and 400 MHz, as well as a Varian EM-360 60 MHz instrument.
The research-grade major instrumentation was purchased through a combination of NSF, state and internal funds.
X-Ray diffraction laboratory
The X-ray diffraction laboratory at Youngstown State is part of the Youngstown State University Structure & Chemical Instrumentation Facility featuring X-ray analysis and electron microscopy laboratories, the NMR spectrocopy lab, several mass spectrometers and a variety of other instrumentation for advanced chemical and materials analysis needs.
The X-ray laboratory is located with the Chemistry Department in Ward Beecher Science Hall, room 5026. It is equipped with several state of the art instruments listed below. Its goal is to serve the educational and research needs of the students and faculty at Youngstown State University and at collaborating regional colleges. We also offer access to our instrumentation for the larger American academic community and corporations on a time available basis. For rates, sample submission procedures or to schedule a visit, please contact the Chemistry Department.
NMR Lab
Refurbished in 2008, the NMR lab is equipped with two new 400 MHz multinuclear NMRs.
New Bruker Avance magnet, robotic sample changer and variable temperature accessories
Triple resonance probe optimized for 13C observation with simultaneous 1H and 19F decoupling
Bruker Avance 400 spectrometer with a refurbished magnet and a multinuclear broadband inverse probe for indirect detection of less sensitive nuclei and multidimensional NMR data collection.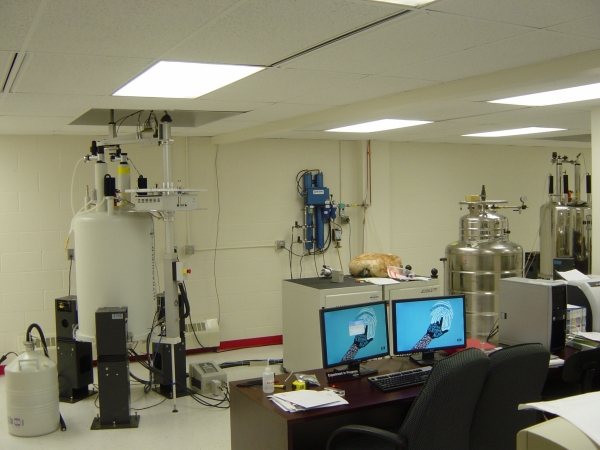 Interested in using our NMR labs? For information or registration please contact Allen D. Hunter or Ray Hoff:
Dr. Allen D. Hunter
330.941.7176
adhunter@ysu.edu
Mr. Ray Hoff
330.559.7666
rehoff@ysu.edu
Need NMR training? Please arrange a time with Timothy Styranec at tmstyranec@ysu.edu or 330.941.3665
Electron Microscopy Facility
Equipment and instrumentation include: