Once a Penguin, Always a Penguin
We know that being a Youngstown State Penguin is more than just walking across the stage at commencement, it's about being part of a community made up of more than 105,000 proud Penguins who have graduated from YSU since the university's founding. We are Y and Proud of all our alumni, and we are here to keep you connected to other Youngstown State alumni across the country, and around the world.
UPCOMING EVENTS
Celebrate YSU's "Dr. Ray Day" on November 9. The campus community is cordially invited to participate in a Tree Planting Ceremony for Dr. Ray Beiersdorfer, professor of Geological and Environmental Sciences who passed away on October 11. Please meet at 3 p.m. at the lawn between Moser and Ward Beecher Halls – rain or shine. Wear a Hawaiian shirt and bring a fist-sized rock to place in a circle around the tree. Feel free to paint your rock or write a message on it.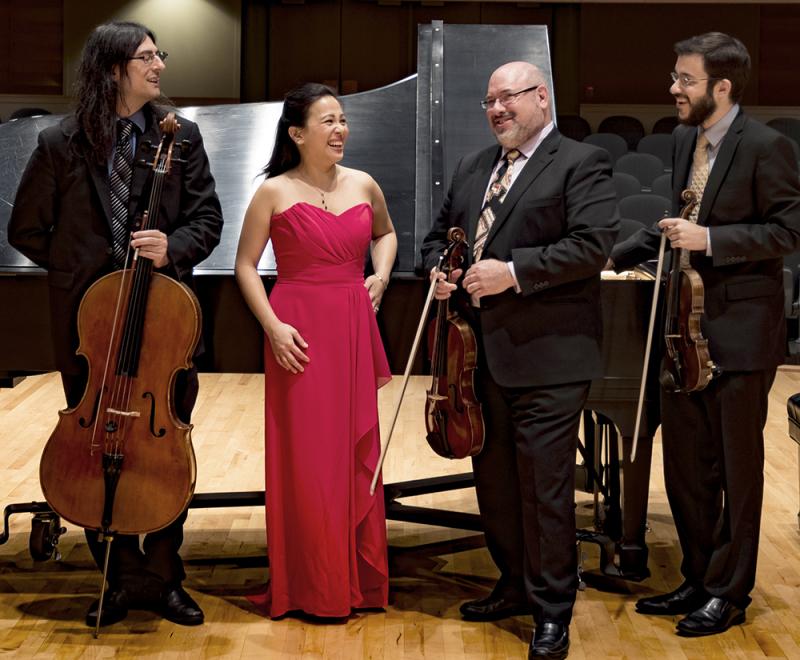 Dana School of Music Trombone Alumni Ensemble, Dinner, Performance, Post-concert Reception Wednesday, November 28. at Stambaugh Auditorium honoring Dr. Michael Crist and introducing new trombone professor Dr. Andrew Mitchell. Click here for registration.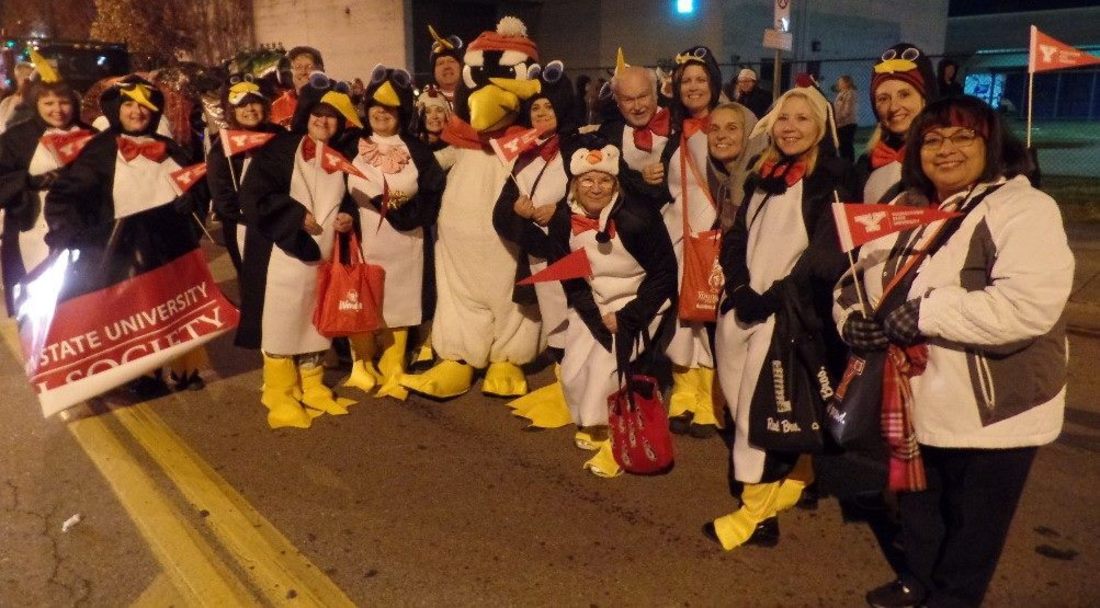 Downtown Youngstown Holiday Parade, Friday, November 30. All YSU Alumni, members of Pete's Pride and YSU Guinness World Record participants are invited to a Pre-Parade Reception – followed by marching in the Holiday Parade. Be sure to wear your Penguin costume if you have one! For more information click here.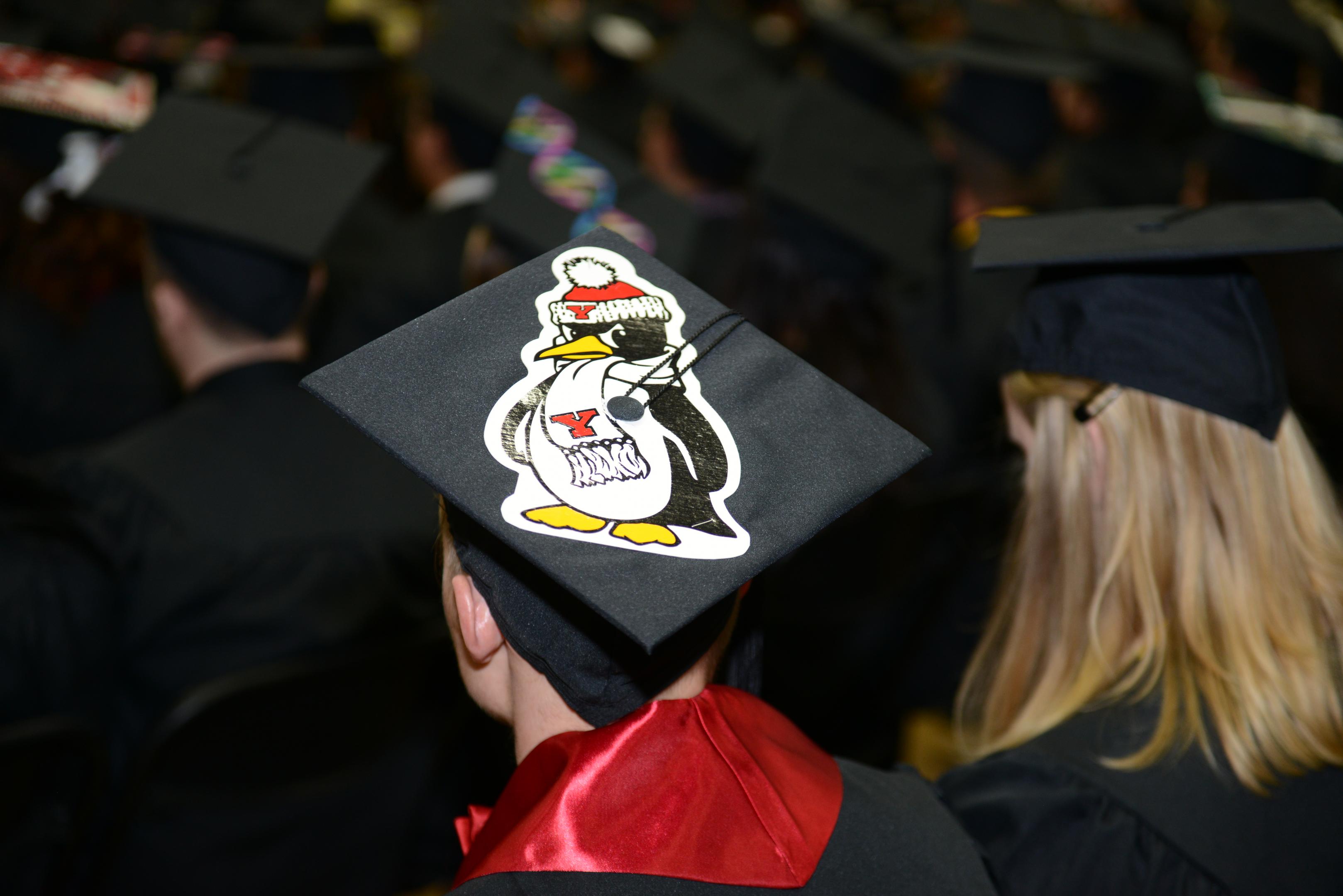 Fall Commencement, Sunday, December 16, 2:00 pm. Celebrate academic achievement of YSU graduates in Beeghly Physical Education Center Gymnasium. For more information click here.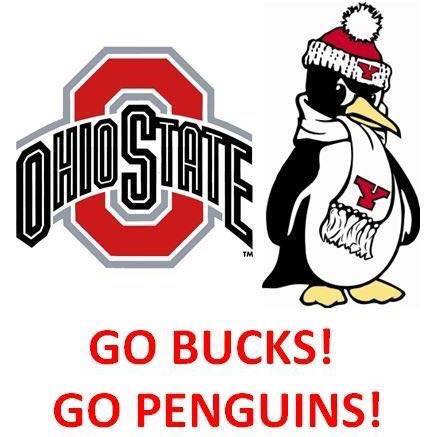 Columbus Alumni Chapter at YSU vs. OSU Men's Basketball Game, Tuesday, December 18, at 7:00 pm. Support YSU athletes and cultivate alumni relationships at the game held in The Schottenstein Center. For more information, contact Heather Belgin at habelgin@ysu.edu or 330-941-1591
RECENT EVENTS

Cheer on the Penguins on November 3 with fellow Tampa Bay alumni! President Jim Tressel will be in attendance, as well as YSU alumnus Sal Guagliardo, Jr. '12, who is a candidate for Tampa City Council. The game beings at 3:30 pm and the event will be held at American Social. Click here for more information.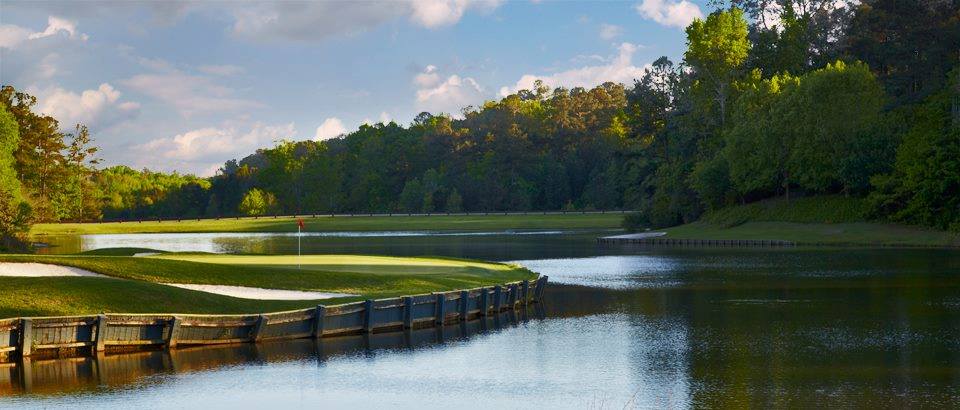 Get together with fellow Penguins at Woodside Plantation Country Club on November 2 at 5:00 pm for the initial event of the new CSRA-Columbia Alumni Chapter! Click here for more information.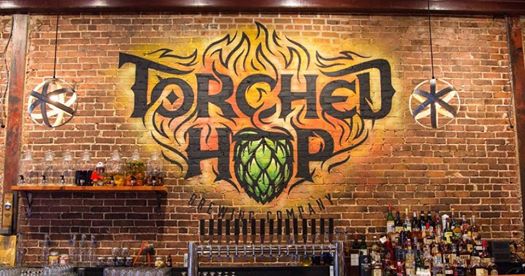 On November 1 at 6:00 pm, join Fellow Penguins at Torched Hop Brewing Company in Atlanta, GA for networking and camaraderie! Click here for more information.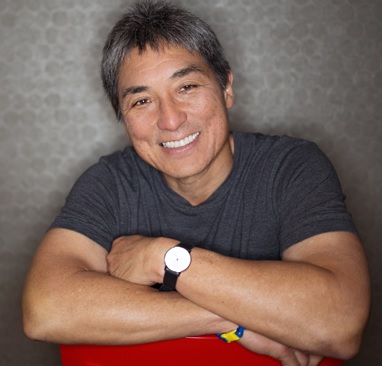 The YSU Thomas Colloquium Lecture series presents Guy Kawasaki, chief evangelist of Canva, an online graphic design tool. He is brand ambassador for Mercedes-Benz, executive fellow of the Haas School of Business at UC Berkeley, and author; on Thursday, October 25th, at 7:00 pm, at Stambaugh Auditorium. Tickets are free, but are required and can be obtained at the Stambaugh Box Office, or online at stambaughauditorium.org.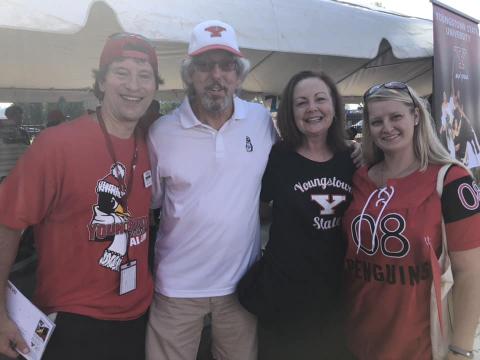 The first ever All Alumni Tailgate Reunion took place prior to the Homecoming game on October 6. It was an afternoon of celebration and music from local band RDNA, meet and greets with the deans and representatives from all colleges, student government and Greek Alumni, selfies with Pete, games, dancing and munchies from local food trucks. The Guinness World Record breaking penguins suited up for the second year in a row and marched in the Homecoming parade.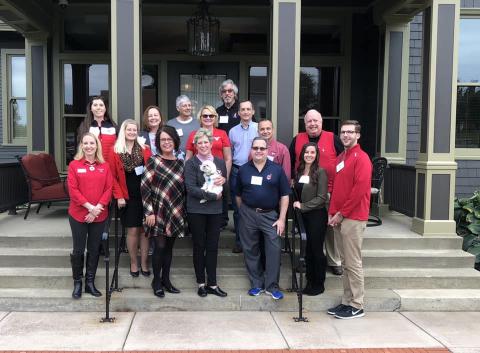 The Chapter Leader's Summit on October 5 got together Alumni Chapter Leaders from around the country for the first time to discuss their chapter events, share ideas and learn more about campus developments at YSU. The day included a campus tour, a working lunch at Republic Pizza, a campus area restaurant owned by YSU alumna Candace Santangelo and current YSU student Josh Santangelo, campus updates from Mike Hripko, Associate Vice President for Research, advice form YSU social media experts and a reception at the Pollock House hosted by President and Mrs. Tressel.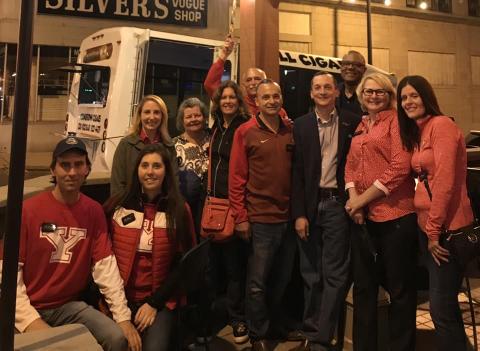 All Alumni were invited to get a glimpse into the history of Youngstown while venturing downtown to experience what is currently happening at the Downtown Penguin Waddle the evening of October 5. The "Waddle" began at the Steel Museum where Donna DeBlasio, Professor of History, gave a talk on the roots of Youngstown. Next the group waddled downtown to visit some newer restaurants in the area. Stops included Whistle and Keg, V2, Bistro 1907 and Suzie's Dogs and Drafts. It was a night of fun and festivity.
SAVE THE DATE
John J McDonough Museum of Art:  2019 Alumni Exhibition – Opening Reception
Join us for a beer tasting and hors d'oeuvres while you view the work of YSU Department of Art Alumni. For more information, contact Angela DeLucia at adelucia@ysu.edu or 330-941-1400
Youngstown Day at the Hyatt Sarasota, Florida, for information call 330-941-7170
The Dominic and Helen Bitonte College of Health and Human Services presents the Alumni Recognition Dinner, for information call 330-941-2139
Skeggs Lecture Series presents Nancy Grace and Dan Abrams, legal correspondents and television journalists, for information call 330-941-2136
Carnegie Hall Bus Trip and Live Performance
Visit New York City, take in the sights and attend the YSU Dana Piano Trio performance at Carnegie Hall on March 22. For more information, contact Catherine Cala at cacala@ysu.edu or 330-941-2752
50th Anniversary Celebration for the Department of Counseling
Alumni and faculty recognition dinner in the Chestnut Room. For more information contact Catherine Cala at 330-941-2752 or cacala@ysu.edu
International Studies Program Awards Dinner
Recognize alumni and faculty whose contributions of programming and philanthropy have benefited international students and programs.  Location and time TBD
Dana School of Music 150th Gala, for information call 330-941-3635
---
There's Always Something Going On
With so many alumni located across the world, there are constantly events for Penguin alumni. Our alumni Facebook page is the best way to keep informed about events and opportunities to engage other Penguins.
Give back by joining pete's pride
Pete's Pride is a volunteer initiative that helps Youngstown State recruit new students, mentor current students and engage recent graduates. As a member of Pete's Pride, you have the opportunity to volunteer at enrollment events, career fairs and community outreach programs.