Faculty can access roster information and final grade submission 24/7 via the Penguin Portal as long as they have an internet connection. The Penguin Portal Banner Self-Service option will display real-time class roster information and enable the submission of final grades online during the designated timeframes of the term.
To see your roster, direct your web browser to the Penguin Portal.
Enter your directory account ID, i.e. username, and password (Same as your e-mail)
Click Login
Click Banner Self Service under e-Services for Faculty and Staff
Click Faculty and Advisors under the Main Menu or the grey Faculty Services tab above the menu.
Click Term Selection

It is very important to select the appropriate term before completing any other processes. The term selected will be used for all term-related pages you select to view unless you select another term.

Select the desired term; click Submit
To display assigned course(s); click CRN Selection under Faculty Menu Options
Select course (CRN); click Submit
The CRN List displays the course(s) that the faculty member has been assigned to teach.
The main menu redisplays after the course has been selected.
The main menu also redisplays after each selected term, course, etc.
Follow steps 1-8 under accessing your course in Banner; then click either Summary Class List (Roster) or Detail Class List (Detailed Roster).
The Summary Class List displays course and enrollment information as well as basic information about the students enrolled—including the e-mail link for each student and the entire class. This link works with your desktop e-mail client (i.e., Outlook, etc.).
The Detailed Class List, or Detailed Roster, can be viewed and accessed through the Faculty services menu or the Detail Class List link under the Summary Class List display, as shown.
Follow steps 1-8 under accessing your course in Banner; then click Final Grades from the main menu (you can also access the final grade submission page via the Student Summary roster by choosing enter under the Final column). Select from the drop-down menu, the appropriate grade for each student; click Submit. To save the grades you entered, you must click the Submit button before leaving the page.
1. Click on Term Selection to select the term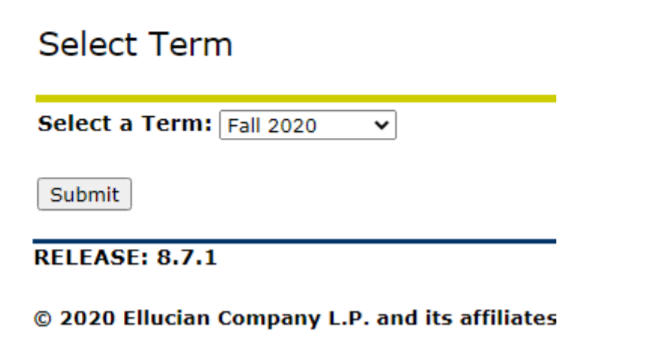 2. Click on Final Grades
3. Select the course you want to enter grades & Submit

4. Using the drop-down box enter the appropriate grade and click Submit

a. If a student has NAF enter the last date of attendance or work submitted using the format of MM/DD/YYY.
b. If you have more than 25 students you must click on the next record set to enter the remaining grades

5. You will receive one of two messages:
a. INCORRECT: date format is not in MM/DD/YYYY. You will get an error message at the top of the page and NONE of your grades will save.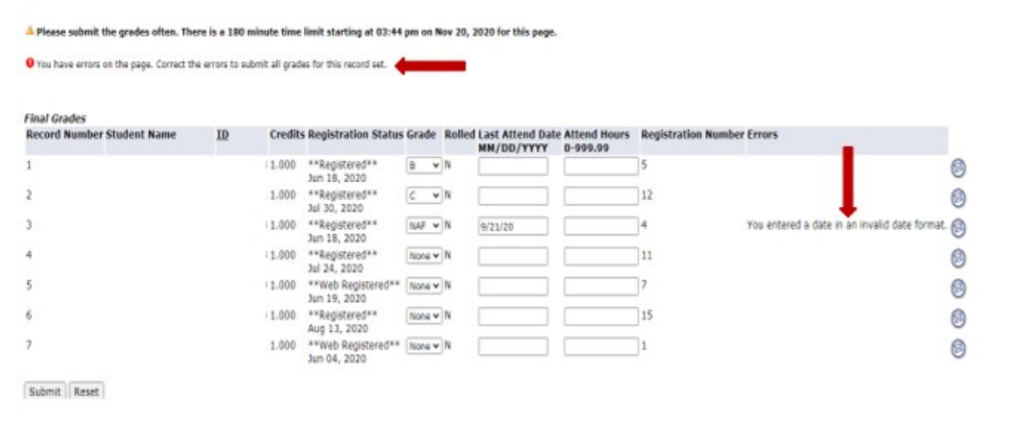 b. CORRECT: Successfully SAVED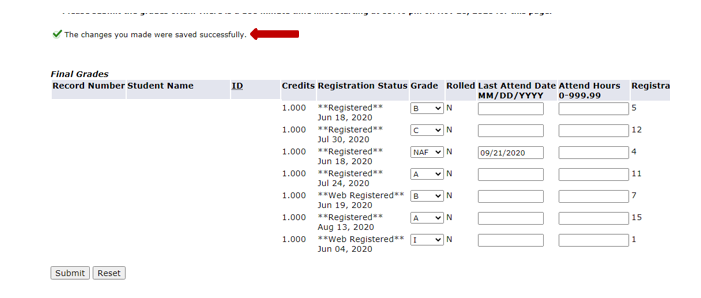 6. You can continue to change a grade as long as the grade has not been rolled to the student's transcript. Once it is rolled it will show as "Y" under the rolled column.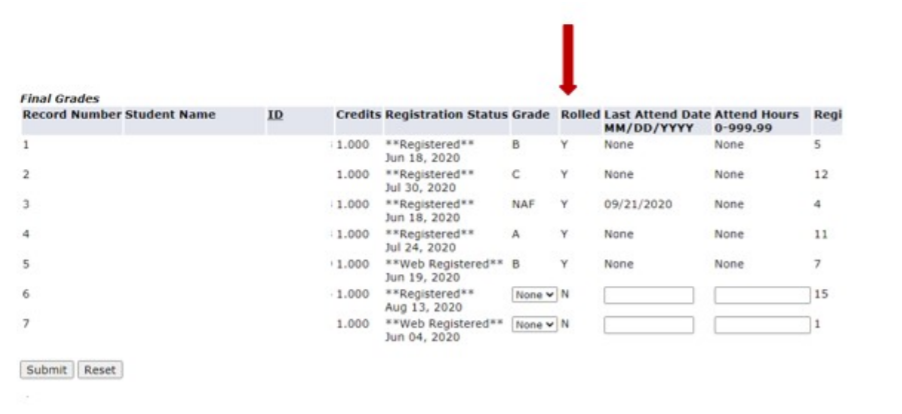 7. After saving your grades to grade another course go back to Faculty and Advisors and Choose CRN Selection to choose a different class.
If you are the primary instructor for a course and cannot access the final grades list to submit your grades, please contact the Office of the Registrar at (330) 941-2217. For Penguin Portal technical assistance, including resetting your password, please contact the Tech Desk at (330) 941-1595.
Final Grade Submission: SUMMER 2022

| Part of Term | Grading Opens | Grade Submission Deadline (always by 9:00 a.m.) | Students Can View Grades on Penguin Portal |
| --- | --- | --- | --- |
| Full Term | Thursday, August 11  | Monday, August 22  | Afternoon of August 22 |
| First Seven-Weeks | Thursday, June 23 | *Tuesday, July 5 | Afternoon of July 5 |
| Second Seven-Weeks | Thursday, August 11 | Monday, August 22  | Afternoon of August 22 |
| AOP Session 1 | Thursday, June 23 | *Monday, July 11  | Afternoon of July 11 |
| AOP Session 2 | Thursday, August 11 | Monday, August 22  | Afternoon of August 22 |
| Workshops | Thursday, August 11 | Monday, August 22  | Afternoon of August 22 |
*Grades continuously rolled every 1-2 weeks on Monday at 9:00 AM until August 8
Deadlines for Deans' Offices to submit graduation evaluations/senior sheets for graduation processing. Students' graduation evaluations not submitted by the deadlines below must be deferred to another graduating term.
Deadlines for Graduation Processing

| Term | Graduation Evaluations/Senior Sheets Due to Records | Final Date to Clear Academic Holds and Submit Any Changes to Records (Grade Changes, Repetitions, etc.) |
| --- | --- | --- |
| Summer 2022 | Friday, August 26, 2022 by 12:00noon | September 6 by 3:00pm |
| Fall 2022 | Thursday, December 22, 2022 by 12:00noon | January 5, 2023 by 3:00pm |
| Spring 2023 | Monday, May 15, 2023 by 12:00noon | May 26, 2023 by 3:00pm |