Youngstown Area Jewish Federation turns to YSU nonprofit interns for staffing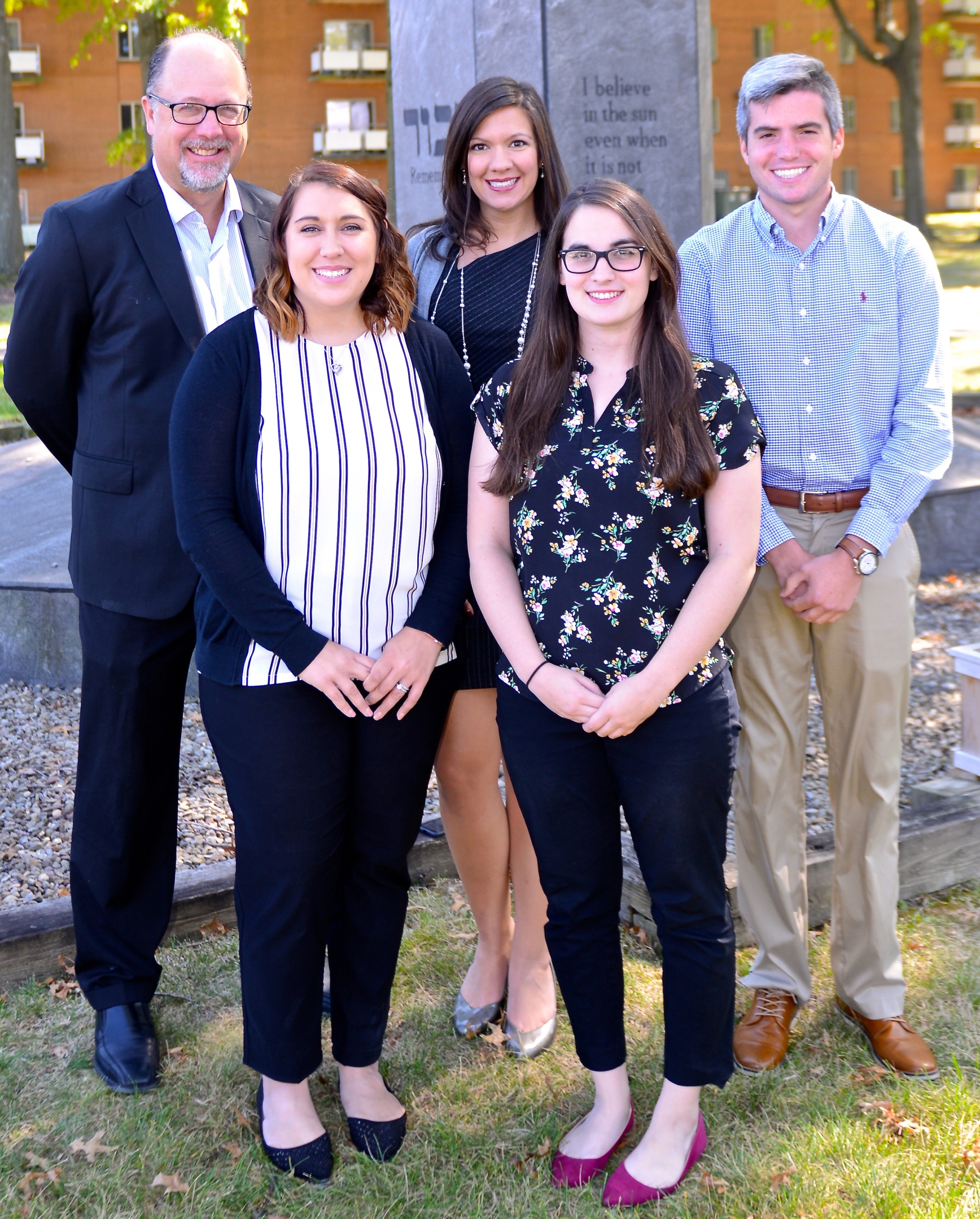 Since 2011, Youngstown State University's Nonprofit Leadership Summer Honors Internship program has given 54 YSU students the chance to test their mettle in the nonprofit and public work sector.
The biennial program provides full-time, 12-week paid internships with local organizations to 10 YSU students. At the session's conclusion, students graduate and disperse throughout the workforce or continue their studies in graduate school. However, one participating organization has kept its interns close to the local nonprofit scene.
The Youngstown Area Jewish Federation has just hired its fourth full-time employee from the program. Pam Stoklosa, 2011, Rita Beish, 2017, and Jason McQuown, 2019, all joined the Federation immediately following their internships with the Federation; Emily Young, a 2017 intern with Meridian Healthcare, was hired in the fall of 2018.
"It's amazing to see over the years how many people have returned to or stayed with the organizations they interned for and to see that years after the fact they continued on working for our community and its betterment," said Young. "It's nice to know there's opportunity to be a piece of that. It sounds cliché, but I can work here and I can make an impact here."
McQuown, the most recent program hire, agreed, adding that working with others from the program adds a special sense of belonging to an already tightly knit employee group and reflects well on the Federation.
Modeled on a program of the Cleveland Foundation, the Nonprofit Leadership Summer Honors Internship Program provides on-the-job experience, weekly visits to participating organizations and peer interaction. Funded by the Raymond John Wean Foundation, it also gives local non-profits the opportunity to build capacity to successfully carry out their mission.
"They all have different purposes. They all have something they're trying to change, and this allows them to do more good," said Laura Dewberry, director of the Center for Nonprofit Leadership at YSU.
Dave Stauffer, chief financial officer of the Youngstown Area Jewish Federation, said it was for that very reason he implemented the program during its inaugural year. With a host of services, such an Assisted Living, Nursing Home, Hebrew Day School and community center, under their mast, having the ability to hire well-trained students with varied backgrounds and skill sets has had a profound impact.
"We've had great experiences with this program every time, and the talent coming out of YSU has been phenomenal," said Stauffer. "It's one of my favorite things to do offering these students an experience and helping them become gainfully employed, and it's great to have this program in our backyard."
Stoklosa was working toward her second degree when she was hired by Stauffer as an accounting intern. She stayed on after graduation and was later promoted to Human Resources director. As a member of the first class of interns, she said she is regularly impressed by its talent pool.
"It's a great opportunity for students to work with nonprofits, and as I continue working with the program, I have been blown away by so many of the applicants," she said.
A Human Resources major and former vice president of the Student Nonprofit Leadership Organization, Beish said she gained keen insight into local nonprofits while seeing firsthand how she could give back while using her business skills.
Young was a 2017 marketing and development intern at Meridian HealthCare. While she loved her experience, she said a marketing career was not part of her long-term plan, and was excited when an opportunity suited to her Business Administration degree became available at the Federation.
"This has been really exciting for me," said Young, who was hired as the Jewish Community Center's Early Learning Administrator in September 2018. "This is the job I saw myself doing when I graduated from YSU. I get to use my skills and work in an environment I am really passionate about."
For more information on the Nonprofit Leadership Summer Honors Internship Program, contact Dewberry at 330-941-1870 or LJDewberry@ysu.edu.