University Theatre presents "The Music Man" concert version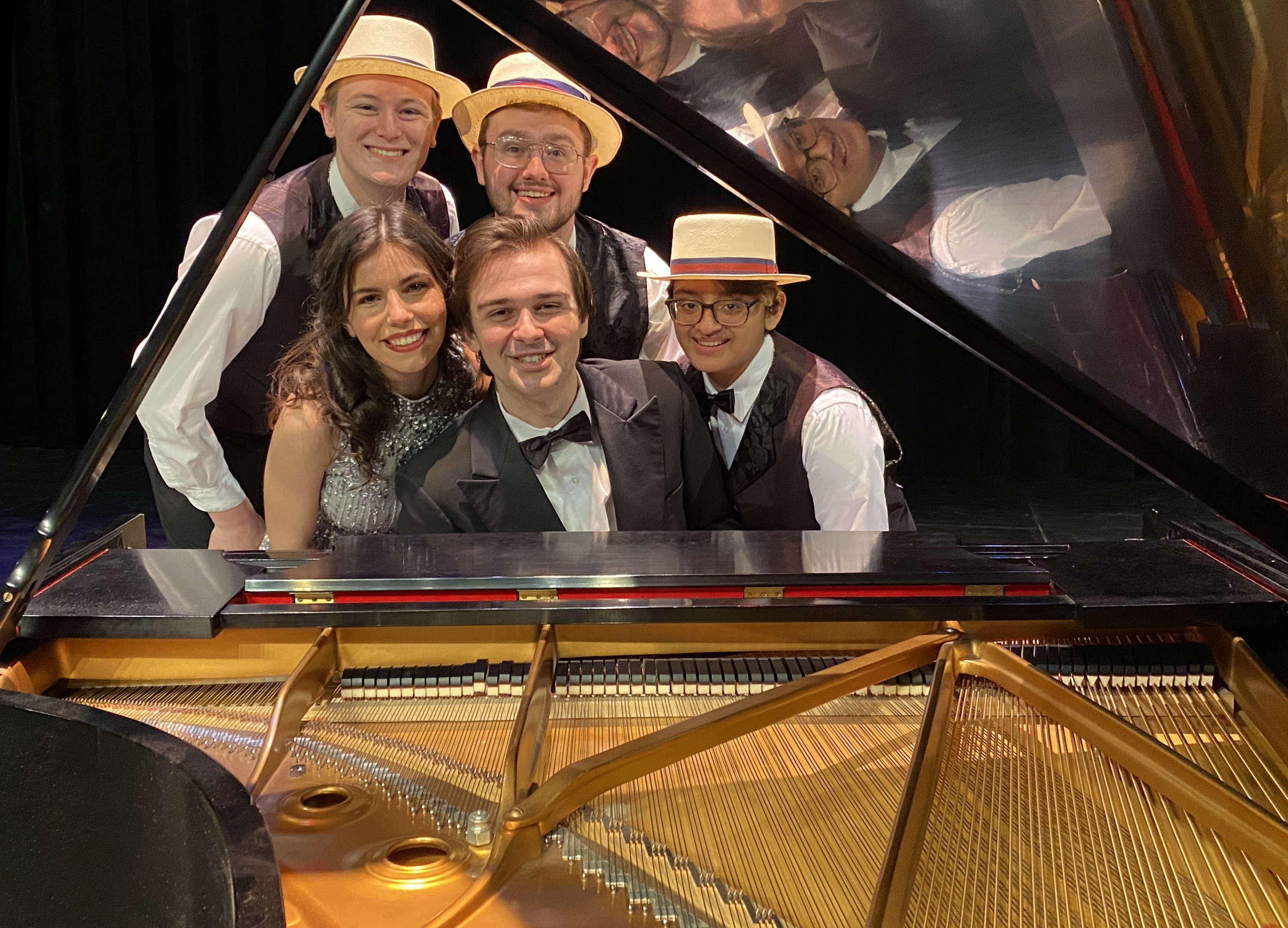 University Theatre presents a concert version of the Tony Award-winning musical comedy, The Music Man, at Ford Theater on the YSU campus Friday, Saturday and Sunday, Feb. 25, 26 and 27.
Friday and Saturday performances begin at 7:30 p.m. with a Sunday matinee at 2 p.m. Adult tickets are $16. Tickets are $8 for non-YSU students, YSU faculty and staff with valid ID, YSU alumni, senior citizens, Penguin Club members and groups of eight or more. YSU student tickets are free with valid ID. Tickets available at 330-941-3105 or www.ysu.tix.com.
"I am happy to share this bit of Golden Age musical theatre with our own greater Youngstown community as we endeavor to bring The Music Man's cast album to life on the Ford Theater stage," said Maria Fenty Denison, YSU lecturer and coordinator of University Theatre. "Our concert version has retained a bit of plot, some staging and a few dashes of choreography just to spice things up."
The concert version features a Musical Theatre Ensemble on stage, conducted by Kent Engelhard, professor in the YSU Dana School of Music. Songs will be sung in order with dialogue and movement in between pieces.
Cast members include John Bearrs, Edinburg, OH; Haley Tura, Canfield, OH; Lexi Cerny, Pittsburgh, PA; Adam Dominick, Lancaster, OH; Meredith Pallo, Sharpsville, PA; Kyle Hudson, Minerva, OH; Minnie Dischert, Hermitage, PA; Trinity Thomas, Youngstown, OH; Dominic Adams, Girard, OH; Sav Bell, Ambridge, PA; Chloe Downey, New Waterford, OH; Noah Landry, Poland, OH; Belle Elliott, Indian Lake, OH; Sam Law, Hudson, OH; Meganne Evans, Boardman, OH; Lauren Ladd, Hubbard, OH; Mitchell Sharp, Beloit, OH; Anthony Vivacqua, Boardman, OH; and Destinee Thompson, Akron, OH.
Members of the Musical Theatre Ensemble include Aeva Richard; Julie Douglas; Zachary Fleischman; Aaron Vagi; Brendan Bennett; Gabriella Sandy; Nicholas Brophey; Peyton Mann; Kyle Zimmerman; Kiera Wilkinson; Noah Landry; Devin Zerjav; and Joseph Callard. Technical staff includes Choreographer Kristy Lynn Moody; Scenic Designer Todd Dicken; Production Manager Technical Director, Sound Designer and Properties Designer Ryan Fitzpatrick; Costume, Wig and Makeup Designer Katherine N. Garlick; and Lighting Designer James Oakry. Jan Crews is the collaborative pianist.
More information at 330-727-7514.