Prof's work topic of national panel discussion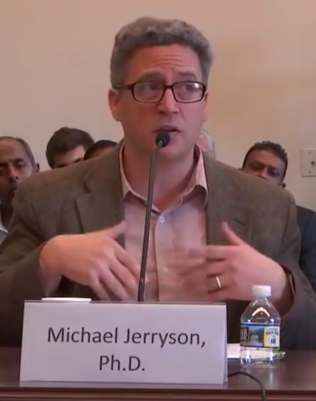 The work of Michael Jerryson, associate professor of Religious Studies, was the subject of a panel discussion at the American Academy of Religion Annual Meeting in Denver late last year.
The discussion focused on the impact that Jerryson's works on Buddhist violence and related topics has had on the fields of Buddhist Studies, Religion and Violence, and on Religious Studies in general, and how his contributions have helped shape the fields. Among the panelists was a representative from the U.S. Institute of Peace at Georgetown University.
Meanwhile, earlier in 2018, Jerryson gave
testimony
before the House Foreign Affairs Subcommittee on Africa, Global Health, Global Human Rights, and International Organizations on human rights in Sri Lanka. 
In addition, Jerryson's latest book, If You Meet the Buddha on the Road: Buddhism, Politics and Violence, was reviewed in The Wire, an independent publication and website based in India; in The Choice, a publication of the Association of College and Research Libraries; and on the American Academy of Religion's online book review website, Reading Religion.