CityScape recognizes YSU alumni's 20+ years of volunteer work

Youngstown State University alumni have been chosen to receive the 2022 David and Pat Sweet Grass Roots Award, honoring more than two decades of helping beautify downtown Youngstown as part of Youngstown CityScape's annual Streetscape Day initiative.
"Our alumni engage in the Streetscape project as representatives of Youngstown State University, demonstrating the important partnership between the university and the city," said Heather Belgin, YSU associate director of Alumni and Events. "They look forward to being part of Cityscape's remarkable beautification efforts each year."
The award from Youngstown CityScape, named after former YSU President David C. Sweet and his wife, Pat, will be presented at CityScape's 12th annual Grass Roots Gala Thursday, Feb. 24 at Basilica of Our Lady of Mt. Carmel Social Hall in Youngstown.
It is YSU's second award in as many months from Youngstown CityScape. In December, the 500-foot-long Andrews Avenue Memory Mural, a collaborative project of YSU's Art Department and Lit Youngstown, received a Youngstown CityScape Beautification Award. Twenty-seven YSU art students and more than 30 volunteers from the YSU Honors College and the community contributed to the project.
The Sweet Grass Roots Award is presented annually to an individual or group making a significant personal and professional commitment to CityScape's mission of revitalizing downtown Youngstown, gateways and corridors through beautification, education and preservation.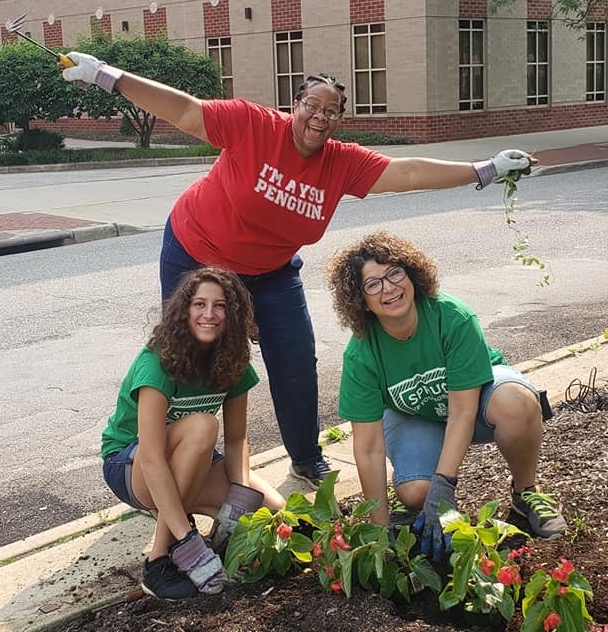 Since 2005, hundreds of YSU alumni, friends and family members have volunteered countless hours to help spruce-up the downtown region, mulching and planting flowers along West Federal Street and up Fifth Avenue near the Madison Avenue Expressway, as well as the hillside below Choffin Career Center. The annual event attracts about 50 alumni on average per year, adding to the event's 600+ volunteers.
"We want to celebrate YSU alumni's long, rich tradition of partnership and service in the downtown community," said Sharon Letson, executive director of Youngstown CityScape.
"This year is the perfect opportunity for CityScape to recognize YSU alumni's dedication and encourage their ongoing participation. The YSU contingent is always an important part of this annual initiative. YSU alumni add so much to the success of every Streetscape Day."
Founded in 1998, Youngstown CityScape is a non-profit community development organization dedicated to the revitalization of the greater downtown Youngstown area. Its mission is to focus on strengthening Youngstown's revitalized urban core which connects downtown, the YSU campus and adjacent neighborhoods and gateways through strategic partnerships. For details, visit www.YoungstownCityScape.com.
"In addition to planting together, the alumni group has always enjoyed socializing over breakfast and joining other volunteer groups for lunch when the work is finished," Belgin said. "It's a reunion of sorts, where they give back to our beloved community."
To attend the gala, make reservations at YoungstownCityScape.org/Events. Cost is $65 per person and includes dinner, entertainment and cash bar. A portion of the proceeds will benefit the Youngstown CityScape Endowment Fund, a component fund of the Community Foundation of the Mahoning Valley.